As a supplement to yesterday's post, I've made the graph below that shows the year-to-year probabilities of each Q15 member being President.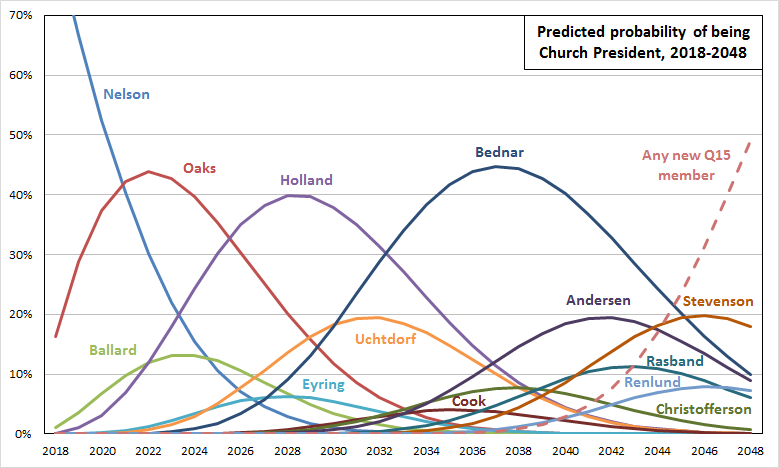 The values come from the same mortality table that I used to run the simulation to find the likelihood of each Q15 member ever becoming Church President. This graph doesn't require any simulation, though. For each Q15 member, I just used his yearly probabilities of survival to come up with yearly cumulative probabilities of survival (i.e., how likely is he to live through this age). Then for each Q15 member, his yearly probability of becoming President is the probability that he survives the year and that all the members senior to him do not. This is found by multiplying probabilities, so for example for Elder Ballard, who is junior only to President Nelson and Elder Oaks, his probability of being President in a particular year is this:
(Ballard cumulative probability of living)*(1 – Nelson probability of living)*(1 – Oaks probability of living)
The results look similar to what we've seen in the past with graphs like this, in that there are big probabilities across periods of years for Elders Oaks, Holland, and Bednar. The one big difference is that, as el oso noted yesterday, President Nelson jumped from a pretty low probability for most of his time in the quorum to 100% when President Monson died. I guess this just illustrates that applying a mortality table that gives general trends to a small group of people as I have here is bound to be wrong in big ways at times.