Do Mormons name our kids after the current Church President? I've known some people who have (or at least I'm assuming that was their inspiration–Hinckley seems like an unusual name to use for any other reason), but I wondered if it was a more general phenomenon.
Unfortunately, I don't have Mormon-specific naming data, nor do I have data from outside the US. What I do have is the Social Security name database, which gives yearly counts of names used by state. So I thought it might be interesting to at least look at whether states with lots of Mormons use names of Church Presidents more often than other US states, especially starting around the time a Church President is called. I assembled the name data and the yearly birth count data from the CDC's Vital Statistics reports as described in this post from last year. As in that post, I got data for the years 1960 through 2014.
I checked the first and last names of all Church Presidents since David O. McKay, although as he became Church President in 1951, I couldn't check whether there was a change at that time. I compared the percentage of babies given those names in Utah, Idaho, and Arizona, and also the percentage in the rest of the US. The Social Security data reports counts separately for girls and boys, so I checked each name for both.  For nearly all the Presidents' names, I couldn't see any evidence of the pattern I was looking for. Either the states with lots of Mormons used the name less than the rest of the country, or they hardly used the name at all, or there was no change around the time the President having the name was called.
There are three exceptions, where there is at least a hint that something is going on. All (not surprisingly) are for boys. The names are Spencer (W. Kimball), (Howard W.) Hunter, and Thomas (S. Monson). Here is the graph for Spencer.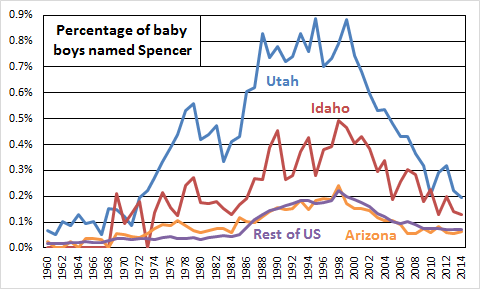 Read More