Day 1: Demote Dieter F. Uchtdorf to regular old member of the Quorum of the Twelve.
Day 2: Talk to the staff at the Ensign and lds.org, and tell them to get the women out of the centerfold in the Conference issues and off the General Authorities page.
Day 3: Get to work editing hymns. In verse 2 of "In Humility, Our Savior," change the beginning of the second verse from "Fill our hearts with sweet forgiving; Teach us tolerance and love" to "Make our hearts obedient to thee; Teach us who we must not love."
Day 4: Schedule a tour to promote Sister Nelson's book The Not Even Once Club.
Day 5: Compose a letter to be read in all sacrament meetings that exhorts members to leave some positive reviews of The Not Even Once Club on Amazon.com.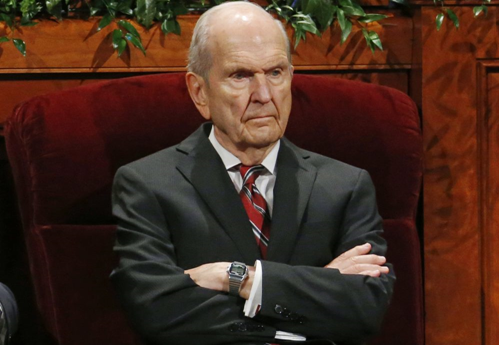 Day 6: Work with Sister Nelson on her manuscript tentatively titled The Don't Even Think About It Club.
Day 7: Announce a new, improved exclusion policy that bans the children of parents in a gay marriage from entering meetinghouses.
Day 8: Demote Dieter F. Uchtdorf to Seventy.
Day 9: Talk to the facilities management staff about getting those pesky "Visitors Welcome" signs taken down from meetinghouses.
Day 10: Send out a decree that all sacrament meetings must include a reading of the Proclamation on the Family.