If you look back through Church statistical reports released in every April Conference (and who hasn't?), you find that it's not exactly the same information that gets reported each year. I don't mean that the numbers change; I mean that which categories of numbers even get reported change. There has been less change in recent years, but if you look back to the 80s, you'll find lots of categories of information that used to be reported that aren't anymore. For example, you'll find number of babies blessed (last reported in 1988), number of boys and men who hold different priesthood offices (1986),  number of proxy temple ordinances (1984), marriage rate (1983), and number of women in the Relief Society (1977).
I thought it might be interesting to look at what categories of information have been reported in statistical reports at different times, as well as how many total categories of information have been reported. This first graph shows how many line items (separate numbers representing different pieces of information) were in the statistical report each year from 1971 to 2014.
This graph shows the number of line items in the statistical report each year from 1971 to 2014.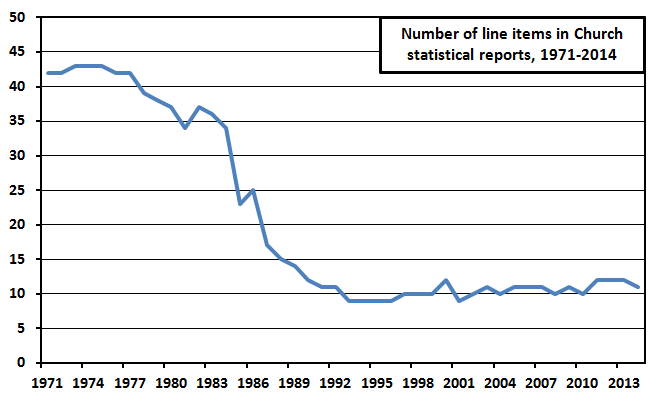 It looks like almost all the change between 1971 and today occurred in the 1980s. In 1980, there were still nearly 40 line items each year. By 1990, the number of line items had fallen to about its present level of 10 or so.
Only six line items are present in every single statistical report from 1971 to 2014. They are counts of the following:
Stakes
Wards and branches (used to be reported separately, recently reported together)
Missions
Total members
Baptisms, children of record
Baptisms, convert
There are some obvious ones you might expect to be there every time but that weren't reported some years. Number of missionaries, for example. That wasn't reported from 1971 to 1976. Or number of operating temples. That wasn't reported in 1977, 1985 to 1998, or 2001.
To look at what type of information is reported, I grouped the line items into larger categories. I did this because there are 72 unique line items appearing in at least one statistical report, and that seems like a bit much to try to cram into one graph. Fortunately, there are handy categories that the oldest statistical reports had line items grouped into, so I just used them. This graph shows which categories had at least one line item in the statistical report each year from 1971 to 2014.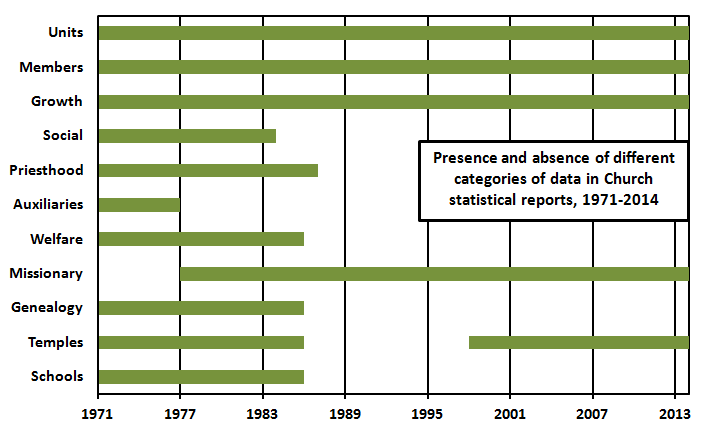 So, for example, the bar for units is present every year. This means that in each year, there was at least one line item in the units category included in the statistical report. These are things like counts of stakes, wards, branches, districts, missions, etc. This is the type of information in the remainder of the categories:
Members: counts of members (in older reports, separated by stakes and missions)
Growth: children blessed, children of record baptized, converts baptized
Social: birth rate, death rate, marriage rate
Priesthood: counts of men holding different priesthood offices
Auxiliaries: counts of women in Relief Society, people in Sunday School, teens in YM/YW, children in primary
Welfare: counts of people assisted, person-days of labor donated, orders from bishop's storehouses
Missionary: counts of full-time missionaries, service missionaries
Genealogy: names cleared for temple ordinances, records microfilmed (in older reports)
Temples: temples operating, planned, under construction, dedicated, re-dedicated; counts of ordinances for the living, for the dead (typically labeled "endowments," although I assume this means count of names for which all temple ordinances were done)
Schools: enrollment in seminary/institute, in Church schools
What drives which categories Church leaders (or employees) decide to include or exclude? When I wrote a post a few years ago looking at the actual numbers in the reports, it looked to me like in at least some cases, categories stopped being reported when they stopped being good news. This is clearest for the social statistics. For example, a long time, birth rates were high, and this was seen as something to be proud of, so they were reported. Then they started falling off, and pretty quickly thereafter, they stopped being reported. The same goes for counts of temples. There was a lull in construction in the 80s and 90s, and for a while, the number of operating temples wasn't even reported. But when the temple building boom started in the late 90s and early 2000s, the count of temples started appearing in the statistical report again.
Of course, this hypothesis doesn't work for many other categories that are no longer reported, like number of women in Relief Society or number of men holding different priesthood offices or amount of welfare assistance given or number of temple ordinances performed. I'm really not sure with those. Perhaps the report was stripped back to the bare bones because conspiring men in the Church's statistics department (rightly!) feared that any numbers they reported would only be enabling to wild speculators like me. 🙂 Or perhaps that's too narcissistic. I really have no idea. I'd love to hear your theories.