I have a priest-aged son, and seeing him administer the sacrament has made me pay more attention to the process than I had since I was a priest myself. One issue that I noticed last week was that the sacrament hymn seemed really short, and my son and the other priest hadn't finished breaking the bread by the time it was over. Of course this isn't all that unusual. The organist just played through the hymn again while they finished. It was only a matter of a few seconds, but it brought to mind that when I was a priest, I always worried about this happening, because I could feel the pressure of everyone in the congregation waiting for me to just hurry up and finish.
This got me to wondering, though, about how long the sacrament hymns actually are. I looked up the 30 hymns listed under the topic "sacrament" in the back of the hymnbook. (They are all grouped together between hymn numbers 169 and 197, except for #146, "Gently Raise the Sacred Strain.") I calculated the length of each hymn given its time signature, number of measures and verses, and suggested tempo (I used the midpoint of the lengths implied by taking the fastest and slowest of the suggested tempos.) I included only the verses actually printed in the music because, at least in my experience, it's typically only those verses that are sung. I didn't make any adjustment for fermatas.
Here's the result. It looks like most sacrament hymns are between 1:30 and 3:00 long. A few are shorter. A few are quite a bit longer.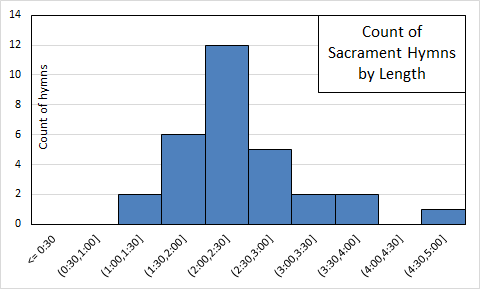 Read More