Michael Austin has a great post up at BCC about how small a percentage of the faculty at the BYUs are women, and what a bad message this sends to students, both female and male. I thought it might be interesting to look at the IPEDS data he used in graphical form.
Here's a scatterplot showing each institution's percentage of faculty who are women as a function of total faculty size.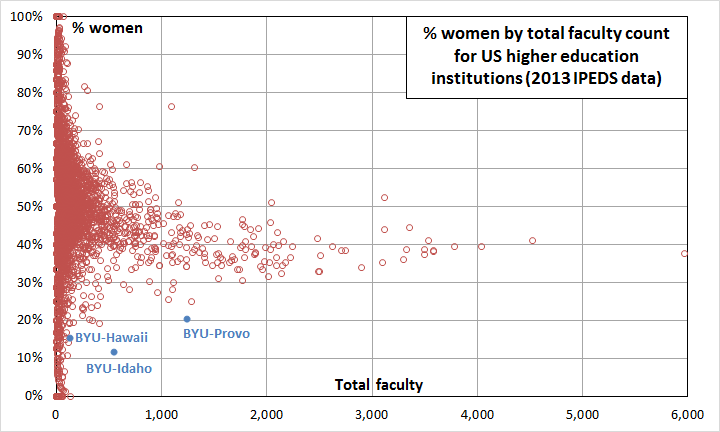 It looks like the smaller institutions are much more variable, but as they get larger, they cluster much more tightly around a percentage of about 40. I've highlighted the BYUs in the bottom left. BYU-Provo is particularly an outlier considering its size. It has 1236 total faculty and 20% women. To find another institution with a lower percentage, you have to go all the way down to the New Jersey Institute of Technology, with 19% and 413 total faculty. BYU-Idaho is even more dramatically different from similar-sized institutions. It has 541 total faculty and 12% women. To find another institution with a lower percentage, you have to go all the way down to Musicians Institute, with 104 total faculty and 11% women. BYU-Hawaii, with 130 faculty and 15% women, isn't the most extreme among similarly-sized institutions like the other BYUs are, but it's clearly at the low end.
To look at this comparison a little more closely, I made a histogram for each BYU to compare it to institutions with similar total faculty counts. Here's BYU-Provo compared to institutions with 1000-1499 total faculty.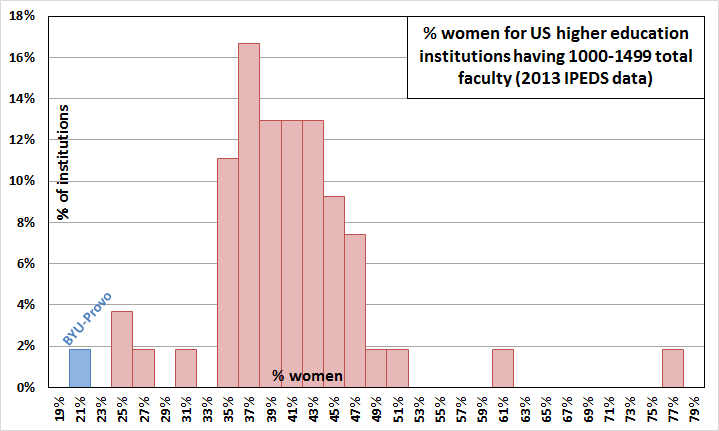 Note that the percentages along the bottom are the middles of the bins, so BYU-Provo falls into the 20 to less than 22% bin (labeled "21%" because it is the midpoint). These are relatively large institutions, so like you can see with the scatterplot, most fall near 40%. BYU-Provo has the lowest percentage.
Here's BYU-Idaho compared to institutions with 400-599 faculty. Note that because there are more institutions, I chose a narrower range to compare it to.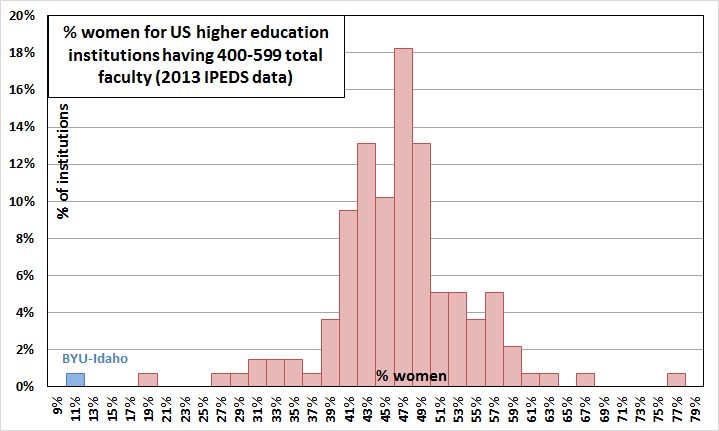 Again, it's clear that BYU-Idaho is even more of an outlier than BYU-Provo is.
Finally, here's BYU-Hawaii compared to institutions with 100-199 faculty.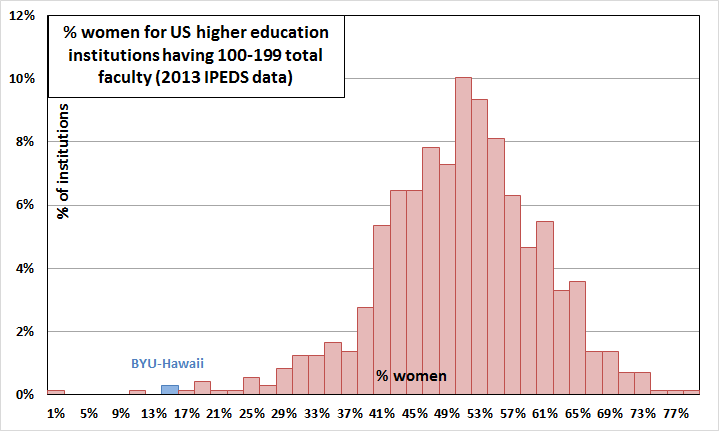 BYU-Hawaii is only one of two institutions represented by the 15% bar, but I couldn't figure out a way to color just half the bar.
I don't have anything to add that hasn't already been said better in Michael's original post, or in Kristine A.'s excellent related post at Wheat and Tares, or in some great comments on both posts. Like I said, I just thought these graphs might be interesting to look at.