President Boyd K. Packer died on Friday at the age of 90. As I did when Elder Perry died, I thought it would be interesting to look at how this changes the probabilities of becoming Church President for the other members of the Q15
Here are their probabilities and average predicted years of being President before and after President Packer's death. These come from the simulation I posted about a few months ago where I used a mortality table to run 1000 scenarios and see in how many each Q15 member would become Church President.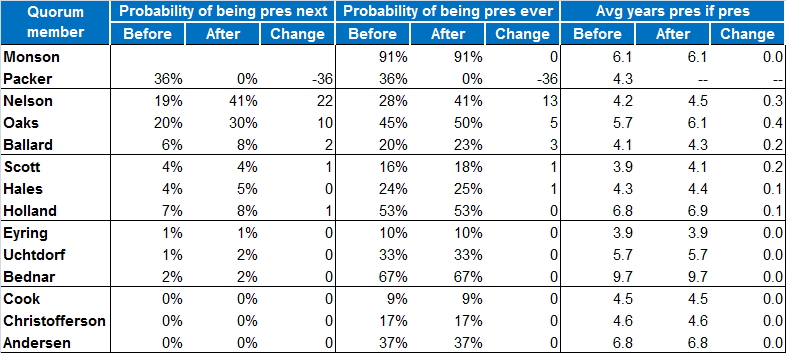 President Packer was virtually tied with Elder Nelson for being the oldest member of the Q15 (they were born one day apart in 1924). This means the mortality tables already expected him to be one of the next to die, so not surprisingly, his death didn't change probabilities much for quorum members well behind him in seniority. But for those immediately after him, particularly Elder Nelson, the change is really big. Elder Nelson moves from a 28% to a 41% lifetime probability of becoming Church President. Elder Oaks moves from 45% to 50%. The simulations are very simple and don't take any observation of health into account, so the fact that both men appear to be healthier than President Monson is isn't taken into account. This means that Elder Nelson and Elder Oaks's lifetime probabilities are probably low estimates.
One other note: If you compare the table in this post with the table in the post I wrote after Elder Perry died, you might notice that Elder Bendar's probabilities dropped off noticeably. The reason is just that he had a birthday in June, so he's a year older. The mortality tables give probabilities by a person's age in years, so rather than having gradual changes throughout the year, they have a one-time change at each man's birthday.