Last week, the Church rolled out a redesigned version of the navigation menus at lds.org. The new menus rearranged links to parts of the site in order to make it easier for site visitors to find what we're looking for.
One change in particular that seems unrelated to usability caught my eye, though. In the old menus, scriptures appeared in their own menu, and General Conference was in a menu labeled "Teachings." Here's a screenshot that shows the old menus. I'm sorry it doesn't show General Conference under "Teachings," as the old menus aren't available anymore so I can't take a new screenshot. I'll just have to ask you to trust me that it was there. Also note that the callout calls the menus "new" because this image is from 2012, when the old menus were introduced.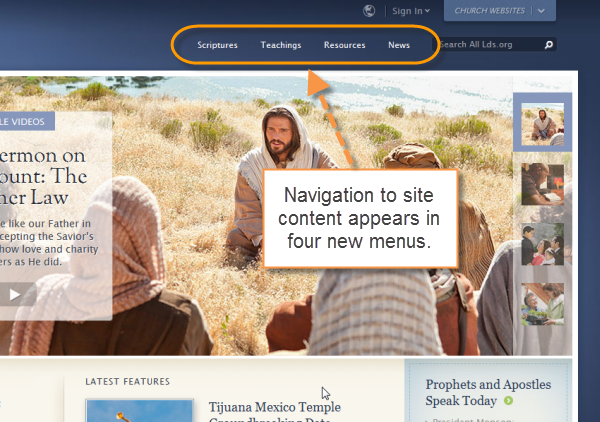 In the new menus, by contrast, scriptures and General Conference are put together in the same menu, which is labeled "Prophetic Teachings":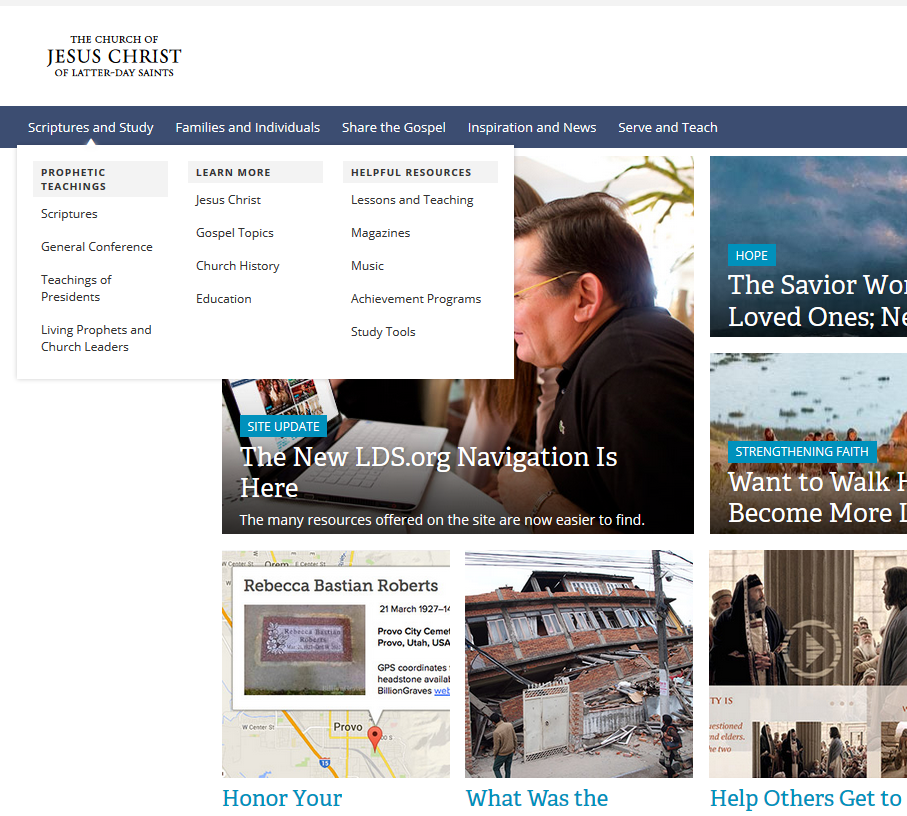 I know this might seem like a small thing, but I had always assumed that the old layout was deliberate in not making Conference equal to scriptures. This is why I found the new layout so striking.
Considering the question more, I probably shouldn't have been surprised. If anything, we probably hold Conference in higher esteem than the scriptures. There's the commonly-made statement that the most recent Conference Ensign should be considered equal to the scriptures. But even more importantly, we have space in our tradition to notice errors in the scriptures, but we really don't have space to notice errors in Conference, at least not in recent Conferences. For the scriptures, we have the Eighth Article of Faith that tells us the Bible might not be perfect, and the Book of Mormon admits to the possibility of faults on its title page, and Joseph Smith famously described it not as a perfect book, but only as the "most correct book." On the Conference side, there's Elder Ballard telling us "We will not and … cannot lead [you] astray," [ellipses and brackets in original] and Wilford Woodruff's statement that we have with OD1: "The Lord will never permit me or any other man who stands as President of this Church to lead you astray."
In the end, I guess, we ignore lots of our scriptures. We don't need explicit guidance to ignore them; we just emphasize the parts that match what we're doing now. The same is also true of old Conferences. If Bruce R. McConkie or Joseph F. Smith or Brigham Young (especially!) said something weird or out of line with our current practice, we just ignore it. It's really the recent Conferences that trump everything else, because everything else in the past can be reinterpreted or ignored as needed. You might laugh at me and say that this is a blinding flash of the obvious, and that of course current revelation trumps older revelation, but I guess I'm just saying I'm a little surprised at how unmoored I feel like we are. It feels kind of like scriptures and older teachings serve no purpose other than as proof texts so that we can argue that there's precedent for whatever we're doing now, whatever it might be.
Anyway, to get back to the lds.org menus, I guess I should expect that at some point in the future, they'll be redesigned again to put General Conference ahead of scriptures. I think that would match better with how we treat them.