Update: Now that Elder Perry has died, I have replaced the continuously updated table and graph with static versions that show the probabilities as of May 2015. I will write a new post with continuously updated probabilities after his replacement is called in October.

Who among the current First Presidency and Quorum of the Twelve is mostly likely to eventually become President of the Church?
Elder Bednar. He has a 70% chance. Here are probabilities for the entire Q15: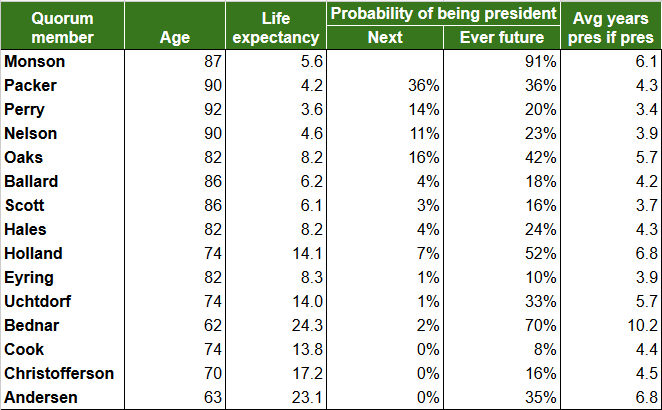 The first two columns are probably self-explanatory, but let me briefly clarify the others. The column labeled "Probability of being president: Next" column tells the probability that the Q15 member will be the next Church President. This is blank for President Monson because he's already the current President. The next column, "Ever future" tells the probability that the Q15 member will ever be Church President. This value isn't 100% for President Monson because it's telling the probability that he'll continue as President in the future for at least one more year. In other words, it's saying that the probability that he'll die in the coming year is 9%. Finally, the last column tells how many years each Q15 member is expected to serve as President, given that he becomes President.
One other important thing to note: If you're reading this post after April, 2015, the data table above, and the graph below will have been automatically updated, so the values might not match the values I'm referring to here in the text of the post. (This is accomplished by putting the data table and the graph in Google sheets and calculating age using a function that looks up the current date.) On the bright side, this means that you can bookmark this post and come back at any time in the future to check for updated probabilities. Well, at least until someone in the Q15 dies and a replacement member is called. Then I'll have to re-do everything and write a new post.
Here's a related graph that might also be interesting. It shows each Q15 member's probability of being President across the next 30 years.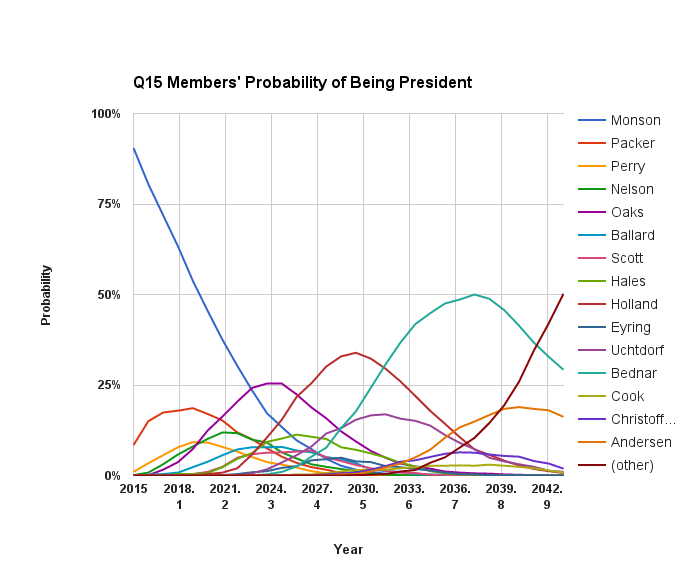 I'm sorry there are so many lines jammed into such a small space. This might help: if you hover your cursor over a line, you'll get a pop-up telling you who it belongs to, and what his probability is at that point. Looking at the graph, President Monson's probability is declining over the next few years, falling to below 50% in year 5. Then there are three increasingly big bumps for Q15 members most likely to be the next Presidents. These are for Elders Oaks, Holland, and Bednar. As I noted in a post a few years ago where I looked retrospectively at Q15 members' probabilities of becoming President, all three were noticeably younger than anyone else in the Q15 when they were called, so it was likely from day 1 of their service that they would end up becoming President. The last bump, rising at the right end, is for any other Q15 member called after Elder Andersen. At 30 years in the future, there's about a 50% probability that someone not yet in the Q15 will be serving as President.
In the comments, please feel free to speculate about who in the Q15 you think will die next, or explain who you're rooting for (or against!) to become Church President.
Method
Here's how I came up with all the numbers in the table and in the graph. I used the new mortality table from the Society of Actuaries (SOA), specifically the section for white collar males. For all ages up until 80, I used values for "employee," and for ages after, I used those for "healthy annuitant." For each Q15 member, I found his age, used a random number generator to draw a random value between zero and one, and then compared this value to the mortality table to find his age at death. (In order to simplify the process, rather than using the raw mortality table, I converted it first into a table of cumulative probability of death at each age.) Once I had each Q15 member's age at death, it was a simple matter to figure out, for each member, whether he would be President or not. If he outlived all members senior to him, he would become President. If not, he wouldn't. To find if a member would be the next President, I checked that (1) he outlived President Monson, and (2) President Monson outlived all other members between the two of them in seniority.
I repeated the entire process 1000 times. I would like to have done more, but I wanted the process to be manageable in a not-too-large Google sheet. I calculated the probabilities as the proportion of the 1000 runs in which the event occurred (e.g., the member became President).
Note that because the SOA tables are yearly, ages and lengths of service are always whole numbers, so for example, in one of the 1000 runs, President Monson serves 8 more years, followed by President Packer serving as President for 2 years and Elder Oaks serving as President for 6 years. There are no fractional years in the runs. Of course the averages of the 1000 runs typically aren't whole numbers, though, as you can see in the table at the beginning of this post. One exception to rounding values to years is that each Q15 members' age is taken as of the current month, although day isn't taken into account (meaning effectively all birthdays are assumed to occur on the first of the month).
Acknowledgements
Several people gave me advice that was helpful in doing the analyses for this post. Geoff Nelson, who blogs at Rational Faiths, suggested that I update my 2009 post on this topic, and also that I put the results in Google sheets so they would be automatically updated as time moves forward. Also, gibbyg, a friend of mine (and occasional commenter here) who's an actual actuary, pointed me to the SOA mortality tables and advised me on how to use them. A commenter named Timer first suggested on the 2009 version of this post that I use a standard mortality table rather than trying to make up a custom one. Finally, a blogger who went by the name MoHoHawaii made the first version I had seen of the of the graph in this post. You can see his graph here.