Which hymns are sung most often in General Conference? My impression is that the Mormon Tabernacle Choir is always opening Conference with "The Morning Breaks," and every other congregational hymn is "Redeemer of Israel," but I've never actually looked to see if that's true.
I looked on lds.org, and the Conference summary pages list hymns (sometimes with video recordings!) along with talks back to April 1996. (To get them displayed, you just have to click "Show music" near the top of the page.) This seemed far back enough to give me some data to work with, and it allowed me to avoid having to wade through Conference Reports at the Internet Archive, so I used these pages to get information on hymns sung in Conferences between April 1996 and October 2014 (including RS and YW sessions).
For each hymn sung, I noted the name of the hymn and who sang it. I categorized who sang in three groups: Mormon Tabernacle Choir, other choir, or congregation. The "other choirs" are typically from stakes close to Salt Lake, although in the 1990s, they also include a group called the Mormon Youth Chorus that sang pretty regularly in Conference. Whenever two groups sang together, I counted it for the least skilled group, so for example, the common intermediate hymn combination of MoTab plus congregation I counted as congregation. One other note is that other choirs (but never MoTab, at least not in these data) frequently sing hymn medleys, but the Conference summary pages don't always say what hymns are included in the medleys, so I just lumped these all together as medleys rather than counting the individual hymns that make them up.
There are some errors in the data on the Conference summary pages. For example, occasionally the singer of the hymn isn't listed–it's just shown as "The Church of Jesus Christ of Latter-day Saints." And sometimes the title of a hymn is mistyped. I was almost always able to fill in the missing or incorrect information by watching the accompanying videos or looking at Conference Reports. I suspect that there are a few remaining errors in the data for Relief Society and Young Women's sessions, though, because these sessions don't appear in Conference Reports, and there isn't always a video recording on the Conference summary page. The possible errors are almost all in who was signing (whether the congregation was included or not), though, rather than in what hymn was being sung.
Results
In total, I found 1103 hymns sung in the 19 years of Conferences I looked at. By group, the Mormon Tabernacle Choir sang 488, other choirs sang 400, and the congregation sang 215. This table shows the breakdown by session.
Session

Count of Hymns

MoTab
Other choir
Congregation
Total
Average
Women's/RS/YW
0
138
25
163
4.3
Saturday morning
160
35
38
233
6.1
Saturday afternoon
5
119
38
162
4.3
Priesthood
6
108
38
152
4.0
Sunday morning
198
0
38
236
6.2
Sunday afternoon
119
0
38
157
4.1
I had never realized that MoTab was so consistent in singing in some sessions and not in others. It looks like Saturday afternoon and the women's and priesthood sessions pretty much always feature other choirs, and MoTab takes the other three sessions. I'm also surprised at just how many hymns are sung in the Saturday and Sunday morning versus afternoon sessions. There are half again as many in the morning sessions. As I probably enjoy the average hymn more than the average talk, I should probably make it a point to watch these sessions if I'm not going to watch every session.
But that's all just preliminaries. I said I was going to look at which hymns get sung the most. Here are the top ten lists for the Mormon Tabernacle Choir, for other choirs, and for the congregation.
Mormon Tabernacle Choir Top 10

Hymn
Source
# times sung
The Morning Breaks
Hymns #1
14
Redeemer of Israel
Hymns #6
11
High on the Mountain Top
Hymns #5
10
Guide Us, O Thou Great Jehovah
Hymns #83
10
How Firm a Foundation
Hymns #85
9
We Thank Thee, O God, for a Prophet
Hymns #19
8
Rejoice, the Lord Is King!
Hymns #66
8
Come, Come, Ye Saints
Hymns #30
8
Praise to the Lord, the Almighty
Hymns #72
8
Press Forward, Saints
Hymns #81
7
Ha! I was right about "The Morning Breaks." MoTab has sung it in over a third of conferences in the data (14 times in 38 conferences). Most of the rest of the list isn't too surprising. I wouldn't have guessed that "Guide Us, O Thou Great Jehovah" or "Praise to the Lord the Almighty" would be that common, though.
other Choirs Top 10

Hymn
Source
# times sung
Hark, All Ye Nations!
Hymns #264
11
I Know That My Redeemer Lives
Hymns #136
9
More Holiness Give Me
Hymns #131
9
Lord, I Would Follow Thee
Hymns #220
8
Beautiful Savior
Children's p. 62
8
I Need Thee Every Hour
Hymns #98
7
The Morning Breaks
Hymns #1
6
Guide Us, O Thou Great Jehovah
Hymns #83
6
Let Zion in Her Beauty Rise
Hymns #41
6
Jesus, the Very Thought of Thee
Hymns #141
6
I like "Beautiful Savior," so I'm happy to see that it was the number one non-hymnbook choice of other choirs.
Congregation Top 10

Hymn
Source
# times sung
We Thank Thee, O God, for a Prophet
Hymns #19
25
Now Let Us Rejoice
Hymns #3
20
Redeemer of Israel
Hymns #6
19
High on the Mountain Top
Hymns #5
15
How Firm a Foundation
Hymns #85
15
Come, Ye Children of the Lord
Hymns #58
13
Guide Us, O Thou Great Jehovah
Hymns #83
12
Rejoice, the Lord Is King!
Hymns #66
11
Let Us All Press On
Hymns #243
10
Praise to the Man
Hymns #27
8
I think what's interesting here is that even though the congregation sings only about half as many hymns as either MoTab or other choirs, our most often sung hymns are sung about twice as often. This means that the congregation really is singing the same hymns over and over in a way that MoTab and other choirs aren't. I would guess that the thinking of whoever is choosing the congregational hymns is probably that they want to make it easy for attendees to participate in congregational singing, so they try to stick mostly to the most commonly-sung and familiar hymns.
A tangential question is which hymns actually are the most commonly-sung and familiar. The choosers of the congregational hymns are, I'm guessing, influenced by which hymns are most familiar, but by having hymns sung in Conference, they're also influencers of which hymns become most familiar. If they had arbitrarily chosen to have us sing "Rise, Ye Saints, and Temples Enter" (hymn #287) every Conference for the past 20 years, for example, that hymn would now probably be one of the more familiar ones to Church members, and would likely be sung a lot in ward and branch meetings. And thinking along those lines, my co-blogger Katya has been doing a survey of which hymns are sung most in wards and branches, so I look forward to seeing her results, and seeing how well they match up to the congregational hymns sung most in Conference.

Getting back to the main topic, I also want to show a complete list of hymns from the hymnbook and how often they're sung by each group. The tables below each have one cell for each of the 341 hymns in the hymnbook. The cells are colored by how often the hymn has been sung. The legend is to the right of this paragraph. The gray cells–labeled "dup title" in the legend–are for hymns that have the same title as a hymn earlier in the hymnbook, so I can't distinguish them by title alone. For example, hymn #326 is "Come, Come, Ye Saints" for a men's choir. In all cases, I counted a hymn for the first occurrence of the title in the hymnbook (so in the case of "Come, Come, Ye Saints," for hymn #30). If you're interested to look up any of the hymns by number, here's the hymn lookup by number page at lds.org.
Mormon Tabernacle Choir
There's a clear focus on the familiar hymns near the beginning, but it also looks to me like MoTab might be trying to also sing at least sometimes from a broad range of hymns in the hymnbook. Maybe the goal is to introduce us all to the hymns we're less familiar with.
Other choirs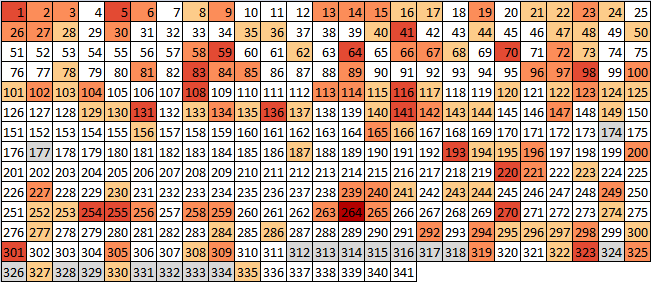 This looks a lot like MoTab in breadth, but there's not the concentration at the beginning. Perhaps this is because "other choirs" includes a whole bunch of different choirs directed by different people with different selection preferences.
Congregation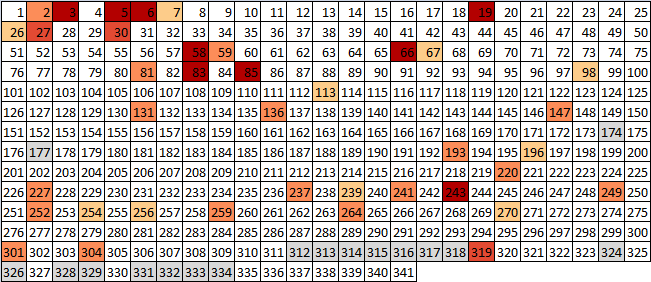 This is about what I expected given the top 10: a whole lot of singing a small number of hymns over and over.
One last question is how often each group sings hymns from non-hymnbook sources. Of course the hymnbook is by far the most common source for hymns sung in Conference, but MoTab and other choirs sometimes sing hymns from the children's songbook, new hymns published in Church magazines, or even occasionally, from non-Mormon sources. This table shows how often each group sings hymns from each source. Note that if a hymn appears in both the hymnbook and the children's songbook (e.g., "I Am a Child of God"), I counted it for the hymnbook.
Source

Count of Hymns

MoTab
Other choir
Congregation
 Hymnbook
413
325
215
 Other Mormon
56
73
0
 Non-Mormon
19
2
0
 Total
488
400
215
It looks like the Mormon Tabernacle choir feels freer to go to non-Mormon sources than do other choirs. Also, not surprisingly, we in the congregation aren't ever asked to go outside the hymnbook.
________________________________
Credits: Thanks to Rachel Whipple of T&S who I'm sure raised this question sometime last year (although I can't find where). Thanks to ColorBrewer for the color scheme in the hymnbook tables.