I wrote a post last year in which I tried to assess which Conference talks were most liked by Church members. The method I used was very much a kludge: I looked at the change in Facebook likes for each speaker during the session in which he or she gave a talk. Fortunately, a friend pointed out to me that there's a much simpler way to measure this. The individual web pages for each Conference talk have a count of how many people liked the talk itself on Facebook. So of course this was data that I was interested in going back to look at.
The Facebook like buttons were added to all Conference talks, going back to 1971. Beyond a couple of years ago, of course, there aren't many likes since most old Conference talks (other than a few classics) probably aren't referred to all that often. I might go back later and look at the older talks, but for now I was just interested in the Conferences recent enough that someone could hear a talk in Conference, and then later in the week look it up on lds.org and click like, so I limited myself to 2012 through 2014–the last six Conferences.
There are three things to note about the data. First, I got the like counts a couple of days ago, so they're already out of date. Second, for like counts over 1,000, the like button shows a count in thousands. I got exact counts by querying Graph Search directly. (I found this on stackoverflow somewhere, but now can't recall where. The method is to point your browser to the URL http://graph.facebook.com/?id=<URL of talk>.) Third, the like counts for the most recent Conference are lower than for previous Conferences, probably because it has only been a few weeks since Conference occurred, and people haven't had lots of chances to re-read or re-hear a talk and go back and like it.
Here are the ten most liked talks from the past six Conferences.
The average talk has about 2,200 likes, so President Uchtdorf's and Elder Holland's top talks both got over ten times the average. Elder Holland takes four of the top ten spots, and President Uchtdorf and Elder Bednar each take two. Also interesting, just thinking about the content of the talks is that Elder Oaks's talk that takes the #3 spot is his response to OW, but President Uchtdorf's talk that takes #10 is his talk where he reaches out to people who have left the Church and famously points out that Church leaders have in fact made mistakes before. I'm just guessing based on my own preferences and my suppositions about people I know, but I wonder if it isn't different groups of people who are liking these two different talks.
Like I mentioned above, talks from the most recent Conference have fewer likes in general. It's also the case that the 2012 Conferences generally have fewer likes, possibly because the like buttons hadn't been added to the pages yet at the time the Conference occurred. In order to adjust for this generally different level of likes, I converted each talk's like count into a percentage of all likes for the Conference in which it was given. For example, President Uchtdorf's talk that took the #1 spot received 35,430 likes in a Conference where talks received a total of 181,235 likes, so his talk received 35,430 / 181,235 = 20% of all the likes. Elder Holland's talk that took the #2 spot was given in a Conference that received 84,214 total likes, so his talk got 24,479 / 84,214 = 29% of all the likes.
Here are the top ten talks by percentage of likes for the Conference.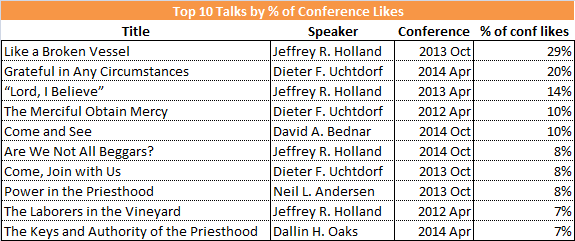 Seven of the talks from the previous table appear again here, although somewhat re-ordered. Elder Holland and President Uchtdorf are even more dominant than before, together taking the top four spots, and seven of the top ten.
This raises the question of which speakers generally receive the most likes. Here are the top ten. Note that I've excluded administrative stuff like sustainings of Church officers and statistical reports, as well as two talks (one by President Monson and another by Elder Ochoa) that received such low like counts (24 and 9) that I think there must be an error with them.
Here are the ten speakers who received the most total likes for their talks across the six Conferences.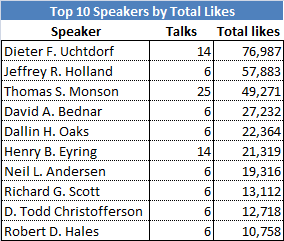 The top spots probably aren't surprising. It's President Uchtdorf and Elder Holland taking the top two positions. President Monson takes #3, but then he's given more talks than anyone else. That's an obvious thing to adjust for–number of talks given. This next table shows the top ten speakers in terms of average number of likes for their talks.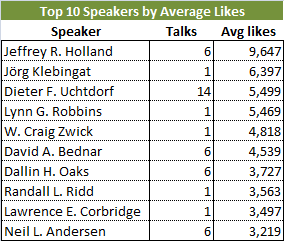 Elder Holland takes over the top spot, and a bunch of Seventies who score well with a single top jump onto the list. Of course, this ranking doesn't take into account the adjustment for different total numbers of likes for each Conference (the adjustment I made between the first and second tables in this post). This next table shows the top ten speakers in terms of the average percentage of all likes for the Conference that their talks get.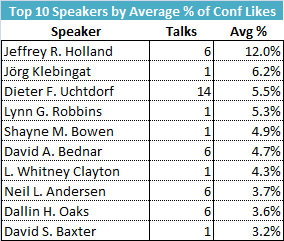 Elder Holland really shines here. His average talk gets 12% of the likes for an entire Conference, which is pretty remarkable given that the typical Conference has about 37 talks, so the average talk should get about 1/37 = 2.7% of likes. It's also impressive that he almost doubles his closest competitors in like percentage. President Uchtdorf also does well, particularly given the number of talks he has given. He has not only scored high in percentage of likes, he has scored consistently high while giving over two talks per Conference.
Finally, here's a list of all speakers who have given at least one talk in the last six Conferences, with their stats.

I love that we can get such fine-grained data as to see how much people like individual talks! Of course I realize that talks that are often liked on Facebook might not actually be the talks people in general like the most. And I might even concede that speakers shouldn't be speaking to be liked (or perhaps not only to be liked), but only if you press me on the point. 🙂
I'm interested to hear your reactions to any of the data, as well as your thoughts on what might make Facebook likes a good or a bad measure of how much people really like a Conference talk, or if you really want to speculate, what might make it even a good or bad measure of quality of a Conference talk.