I support Ordain Women and the call for Church leaders to ask God for new revelation on women receiving the Priesthood. I am impressed by the many women and men who eloquently express their pain and their faith through blog posts and Facebook comments, hoping and praying for change in the Church they love. I admire their courage as they make themselves vulnerable by putting their bodies in line, and politely asking to attend the Priesthood session of General Conference. I am saddened that such direct actions seem to be the only way to enter meaningful dialogue with General Authorities. And frequently I am discouraged by the reactions to Ordain Women from some of my brothers and sisters, fellow members of the body of Christ, fellow Mormons.
"You are prideful. Why don't you just follow the Prophet? Why don't you use proper channels? If you don't like the Church the way it is, why do you stay? You should just leave and find another church."

As a believer, a returned missionary, a temple attender, a former Young Men's president who has served in Elders Quorum presidencies and High Priest Group leadership, as a current Primary pianist and early-morning seminary teacher who tries to help old families load up their U-hauls and new families have someone to sit by in sacrament meeting, who has imperfectly but earnestly been a home teacher for 30 years, I am wounded by these criticisms. They make me feel rejected by my own people. They say to me that my way of being a Mormon is unacceptable.
Even so, in my soul I do not doubt that I am acceptable unto God, and I believe that my support of Priesthood ordination for women is an essential way that I live out my faith in God and my leaders and my fellow members and the 9th Article of Faith–"We believe all that God has revealed, all that He does now reveal, and we believe that He will yet reveal many great and important things pertaining to the Kingdom of God."
But the criticisms still wound me.
In this month's Ensign, President Monson refers to the painting by Joseph Mallord William Turner that he envisions as To the Rescue. The painting shows a courageous crew heading out from the safe shore in a rickety rowboat, into the storm where a ship is nearly lost, desperately shining its distress lamp through the darkness. President Monson compares the crew to the loving, faithful church members who seek out their dear ones who have left church activity, lost and in peril from the storm of life.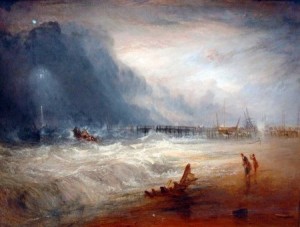 To you, dear crew members–my friends, family, fellow ward members, who have loved and cared for me through the years but who may not understand my support of Ordain Women–I am in need of the Rescue. I am in the Church but am also out in the waves. Not because I struggle in sin or wander in fear or apathy or ignorance, but because the shore has become a painful place, sometimes crushing my soul on its rocks. Sometimes I wade out into the storm because I am not welcome on the beach, my ideas and dreams perceived as a threat to other beach-goers.
Dearest crew members, here is how you can rescue me. Widen the shoreline a bit. Make it a safer place for me. Don't tell me to leave. Grow comfortable with the idea that my difficulties with the beach need not detract from the enjoyment and protection you derive from it. Experiment with being OK with my questioning, questing presence on the sand, side-by-side with your firm believing presence. Please don't fear that my different beliefs must necessarily corrupt yours. Rescue me by accepting me.
One of my favorite Primary songs sums it up nicely:
I know you, and you know me.
We are as different as the sand and the sea.
I know you, and you know me.
And that's the way it is supposed to be.
I help you, and you help me.
We work together and we're starting to see.
I help you, and you help me.
And that's the way it is supposed to be.
I love you, and you love me.
We reach together for the best we can be.
I love you, and you love me.
And that's the way it is supposed to be.