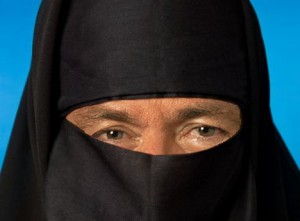 The Public Affairs Department of The Church of Jesus Christ of Latter-day Saints announced Sunday morning that, effective immediately, Elder Dieter F. Uchtdorf of the Quorum of the Twelve Apostles will sport a burqa-like head covering to all future public appearances.
"Recently it's come to our attention that Elder Uchtdorf has, for some time, apparently, been arousing lust in Young Women and TwiMoms throughout the Church," spokesman LaHortense Sticklefritz revealed in a recent press release. "In an effort to maintain the dignity his high and holy office merits, Elder Uchtdorf has graciously agreed to don several additional layers of inhibitive fabric when in public as an act of charity toward his fellowwoman."
An anonymous participant in the Young Women's program in attendance at General Conference expressed dismay at the news. "The European one?" she asked, seemingly incredulous. "Ooohhh! He has a hot bod! Do you know what type of hair gel he uses? I'd hate to see him, like, cover it up with a turban or whatever."
"Polls have disclosed that his sexy and daring taste in ties, his bronzed skin, his mellifluous German accent, and his suave James-Bondian mannerisms all conspire to incite intrusive and unwanted sexual thoughts in innocent females of the Church the world over," Sticklefritz affirmed. "We just couldn't stand by idly once we recognized: Elder Uchtdorf has become pornography to some of the women who see him."
Uchtdorf nobly accepted complete responsibility for all objectifying language used in reference to him. "Perhaps I haven't been as sensitive as I might have to women's needs to watch the Conference of the Lord while maintaining absolute sexual purity in their thoughts, and for this I apologize profusely," he told a ZD reporter in a somewhat muffled voice from behind layers of fabric in a private interview Friday. Asked whether the additional clothing would be burdensome or demeaning, Uchtddorf insisted it was an honor to demonstrate his commitment to God over convenience or comfort. "Sometimes we forget that our clothing choices can inhibit others' efforts at complete sexual repression," he added. "For this the world groans in sin."
Elder Uchtdorf's restrictive head covering marks only the most recent in a series of increasingly draconian measures the Church has adopted with respect to body modesty.
"The world would have us believe that there's no sartorial solution to the societal scourge of sexual seductiveness," Sticklefritz stated. "Critics claim the only ways of completely purging the public square of sexual attraction are chemical or medical. But in the Church we know better. Clothing is key."
Not all Church members agree. "I just think the modesty rules are getting more and more byzantine," remarked Hoglah Wigglesworth, a women's studies major in her third year at the University of Celestial Navel-Gazing and an advocate for family-friendly nudism. "Women are supposed to act feminine, but they're also supposed to hide the fact that they have female bodies. We're supposed to dress 'modestly,' but that seems to mean we should dress like we have money. Our clothes are supposed to be 'nice'—which in our culture means fitted—but they should also disguise our figures—in other words, be frumpy. I don't get it."
Others have raised questions about the alleged timelessness of these principles, which Sticklefritz contends "were put in place by a loving Father in Heaven before the foundation of the world. From the beginning of time God has prohibited women from showing their belly buttons or their collar bones in public."
"I think our leaders understand body modesty exactly backwards," remarked anthropology professor Vashti Featherruffler, who teaches an undergraduate course in sartorial semiotics at Brimstone College. "Not counting our genitals, we generally cover up parts of our body in order to sexualize them; we don't cover them up because they're inherently sexual. Collar bones and belly buttons aren't sexual in every culture. Neither are breasts. By fixating on rigid modesty norms we're only making our public spaces more sexually charged, not less so."
Others concur, marveling at the changes in body modesty evident even within the Church. "Can someone explain to me why Moroni's robe was open to his bosom?" asked Rufus Ketzer, a construction worker in the Salt Lake valley who characterized Uchtdorf's new headwear as "a ludicrous abomination." "Were the heavenly modesty police not on duty that day, or are the eternal standards different in the celestial sphere?"
But in a private interview with ZD staff, Sticklefritz insisted a "sartorial magic bullet" is within reach. "We have faith that we can stop all sexual attraction in its tracks with clothing alone. It's just going to take a lot of fabric and a little heat exhaustion."
The TwiMoms salivating over Uchtdorf's dashing figure would seemingly disagree. "If I can still see his eyes and hear his voice, he'll still be a heartthrob to me," confessed LuLu Shizbam, a mother of four who hosts a local Uchtdorf fan-club in her home. "There's just no stopping it."