I'm in favor of modifying the scriptures to give them gender-inclusive language. I've always thought that the strongest argument for this is that gender-exclusive language makes them insulting to women. But I recently encountered another argument that I also find quite persuasive: women find it more difficult to read the scriptures as addressing them.
I heard this argument while listening to a Daughters of Mormonism podcast a few months ago. Sybil, the host, points out that there is a lot of research that indicates that "when women read masculine gendered texts, they do not identify with what is being presented." She discusses a particular study that looked at how women and men interpreted persuasive communication that was either gender-inclusive or gender-exclusive. The study found that "inclusive language increased the persuasive effects on women, it had no detrimental effects on men." (The podcast gets into many more aspects of the issue; the points I'm talking about are about 5-10 minutes in.)
I'm sure this point isn't new, but it's new to me. I think it's an interesting complement to the argument that gender-exclusive scriptures are insulting. That argument is often dismissed as women just choosing to be offended at unimportant issues. But the point that women are less likely to see themselves as being addressed by texts written with gender-exclusive language, well, that doesn't seem to be a matter of anyone choosing anything. It's just a question of usability. It appears that the scriptures are simply not as easy to use for women as they are for men.
So, for example, when women read Lehi saying "men are that they might have joy," or later that "men are free according to the flesh," they're less likely than men are to see it as applying to them. I wouldn't be surprised if, as a result, women therefore found it more difficult to be engaged with what they're reading and get anything out of the experience of reading.
A possible objection to this argument is that the difference is trivial. If the scriptures are a little less usable for women, so what? They can figure it out; it's not like it's completely impossible for them to decipher where they're being addressed or talked about. To this, I would respond that (1) we don't actually know how big the effect is, and (2) we're encouraged to read our scriptures daily, so even a very small difference in usability can matter a lot.
What if our scriptures were printed in a way that colorblind people had a more difficult time reading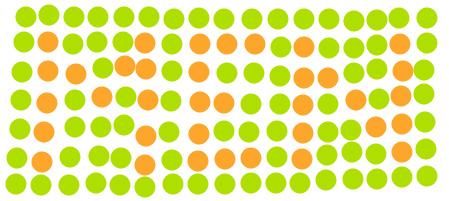 them? Say the words were a little red and the background a little green. So a person with red-green colorblindness could make the words out, but it would be difficult. If there were a way to reprint them that made them easier for colorblind people to read while not making them any more difficult for people with normal color vision to read, shouldn't we take advantage of it? If I understand Sybil's description of the research she cited, gender inclusive language would provide just such a solution: it would make scriptures more usable for women, while not reducing their usability for men.
Of course, I realize that rewriting the scriptures to give them gender-inclusive rather than gender-exclusive language would be much more difficult than simply reprinting them on with different colored ink on different colored paper on this example.
First there's the problem that it's sometimes difficult to say when "men" means "men" and when it means "people." For example, I once had a Gospel Doctrine teacher who, in discussing D&C 76, read from verse 32 "they are they who are the sons of perdition" and told us that of course this meant only men could be sons of perdition since it says "sons," and then not five minutes later read from verse 69 "these are they who are just men made perfect," and told us that of course this meant "just men and women made perfect."
Second, and more importantly, there's the Church's general conservatism. If we aren't going to give up the KJV for a more recent Bible translation or embrace Grant Hardy's more usable edition of the Book of Mormon, it seems quite unlikely that we're going to have our scriptures rewritten to make them gender inclusive.
The truly unfortunate thing is that even if the unimaginable happened and our scriptures were rewritten with gender inclusive language, it wouldn't address their far more glaring lack of women's voices. But I guess that's a topic for another post.