My ward's high councilman warned us recently not to Google "Mormon."
It wasn't as totally out of the blue as I make it sound. It was during Fast and Testimony meeting. Someone told a story about talking to a friend about the Church. I wasn't paying close attention and didn't catch the details. I assume he said something about telling his friend to just Google us up, or if the friend already had. Anyway, the high councilman stood up afterward and said that we shouldn't suggest that people Google "Mormon," but instead we should point them directly to Mormon.org.
I can understand his motivation. After all, there's all kinds of Mormon stuff out there that hasn't been approved by Correlation, not to mention genuinely anti-Mormon stuff. That said, though, I think actually telling people not to Google "Mormon" is probably a bad idea if you really don't want them to because it raises the obvious question of why you shouldn't do it. Googling works really well for finding out lots of other things, and it's very easy to do for anyone who's at all curious. The problem with this question is that the answer leads to more questions about why Church history isn't taught more truthfully. This leads of course to the inoculation discussion that's a topic for another day (and it's already been thoroughly done at T&S and BCC).
Actually, what I wanted to get to was the question of just what would come up if I Googled "Mormon."  So I did. (Two important things to note are that I did not include "news" results, and I did this search just before the Tony Awards, so it's likely at least somewhat out of date.) Here's what I found–at least the first 50 results–in handy graphical form: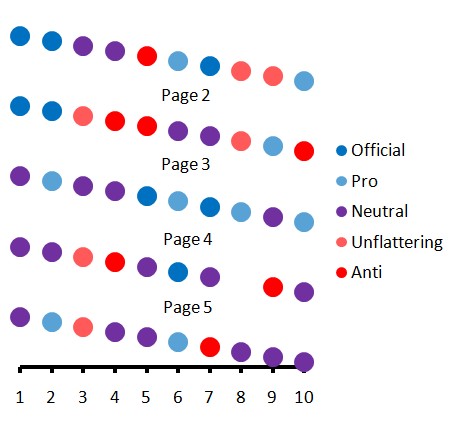 You might quibble with how I categorized results, so let me tell you about my categories. Official sites are those owned by the Church, like lds.org and the Mormon Tabernacle Choir site. Pro sites are those that are so positive that they would probably make it past Correlation. This includes sites like Famous Mormons and About Mormonism. Neutral sites are things like Wikipedia articles or the BBC page on Mormons. Unflattering sites are ones that aren't anti-Mormon in aim, but might have content that would disturb some Mormons. These include Affirmation and Nicole Hardy's New York Times article "Single, Female, Mormon, Alone." Anti sites are those actively opposed to the Church. These include Recovery from Mormonism and the Christian Apologetics and Research Ministry's page on Mormonism.
The most difficult line to categorize was probably between "neutral" and "unflattering," as I'm sure there are Mormons who would find parts of the Wikipedia articles unflattering (polygamy). I know a lot of Church members reacted negatively to Helen Whitney's PBS documentary "The Mormons," which I also categorized as "neutral."
But looking at the graph, I'm surprised at how many positive hits there are at the top. Church-owned sites take the top two slots, three of the top ten, and five of the top twenty. Pro-Mormon sites take two of the top ten and three of the top twenty. Only one of the top ten matches, and only seven of the top fifty, are actually anti-Mormon. I wonder if my high councilman would be pleased to know this. Perhaps not. Thinking again of Helen Whitney's documentary, I recall some commenters on the Bloggernacle pointing out at the time that much of the negative response from Church members may have been a result of their having heard and seen the Church portrayed almost entirely through the glowing eyes of Correlation. Because of this, any discussion of the Church that had even a neutral tone sounded jarring to them. So it's likely my ward's high councilman would be appalled that there are any anti-Mormon websites at all, and likely unhappy with a lot of the unflattering ones too.
My only real disappointment was that I didn't turn up any sites from the Bloggernacle.