I have a small stuffed bear by the name of Juliana (named after the dashing Dr. Julian Bashir of Star Trek: Deep Space Nine). I got her as a birthday present about ten years ago, and she quickly developed a unique personality. She has a somewhat sad look to her, which has led to much speculation in my family about her possible involvement in a life of crime. It's a well-known fact among my siblings that Juliana is very interested in money. But does she belong behind bars? When I was studying at a Catholic university a couple of years ago, I maintained that whatever her previous history might have involved, Juliana had now reformed and was planning to become a nun. But this assertion was met with serious skepticism by certain of my sisters. Juliana's true character remains a source of much dispute.
My sister Kiskilili was kind enough to put a present for Juliana in my stocking this past Christmas, a pink sweater that says "Angel." The year before, however, my sister Melyngoch literally framed her, putting her inside a frame with a stack of money. Juliana has been involved in many family activities, and the stories about her are numerous. For a stuffed bear who's never uttered a word, she has a striking amount of personality.
Juliana gets "framed"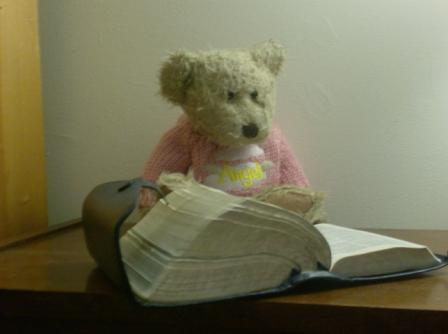 Juliana models her Angel sweater while studying her scriptures
Juliana has gotten somewhat more ragged as the years have gone by. Several years ago, I pondered the theological question of whether it would be possible to perform a sort of transmigration of her soul, to purchase a new and similar-looking body and move her personality over to it. (Incidentally, this was not the first time I'd had such an idea; I used to tease my youngest sister by telling her that a stuffed monkey of mine which she loved was going to turn into a camel after his first birthday.)
In the end, however, I couldn't do it. A new bear just wouldn't be Juliana. Which leads me, yet again, to wonder about the question of what happens in the Resurrection, when my own soul gets transferred into a new body. In what sense will that still be "me"?