In his General Conference talk, Elder Oaks discussed divorce, expressing his concern that Church members are often too hasty to divorce. I agree with his general conclusion; there probably are couples who divorce who would be better off not divorcing and whose children would be better off if they did not divorce. But I'm concerned that the model of marriage and divorce he assumes is incomplete, and that following it could induce people to stay in genuinely bad marriages.
In his talk, Elder Oaks cites the experience of a bishop who had counseled many couples having marriage problems. The bishop reported that the couples who did what he asked–committing to keep the commandments, attend church, read scriptures, and pray–were invariably able to keep their marriages together. Elder Oaks also cites a study by the Institute for American Values (IAV) that found that people unhappy with their marriages who divorced were no happier five years later than people unhappy with their marriages who stayed together.
Putting together what the bishop said and what the IAV study said, the model Elder Oaks is assuming is this: If you are unhappy with your marriage, you should be willing to work to make it better, which will increase the chance you will stay married, which will in turn make you more happy. On the other hand, if you are not willing to work on your marriage, you're more likely to divorce, and less likely to be happy.

But both the bishop's data and the IAV data are also consistent with another model. In this alternative model, willingness to work on one's marriage, likelihood of divorce, and happiness are not causally related. Rather they are all indicators of a single variable that might be called marriage quality.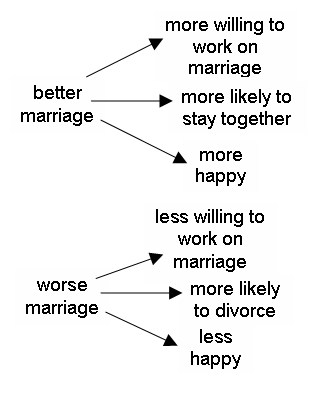 If this model is correct, people who are more willing to work on their marriages are still less likely to divorce and more likely to be happy (consistent with the data). But these relationships are not causal. Working on your marriage doesn't prevent divorce or make you happier. It's just that because you're in a better marriage in the first place, you're both more likely to be willing to work on it if times get tough and less likely to divorce.
The authors of the IAV study acknowledged this possible alternative explanation:
One might assume, for example, that unhappy spouses who divorce and those who stay married are fundamentally two different groups; i.e., that the marriages that ended in divorce were much worse than those that survived. There is some evidence for this point of view. Unhappy spouses who divorced reported more conflict and were about twice as likely to report violence in their marriage than unhappy spouses who stayed married.
But they thought this explanation was unlikely to account for their results:
On the other hand, if only the worst marriages end in divorce, one would expect greater psychological benefits from divorce. Instead, looking only at changes in emotional and psychological well-being, we found that unhappily married adults who divorced were no more likely to report emotional and psychological improvements than those who stayed married.
I don't agree with the authors. I think the alternative model is more likely. It seems clear that the marriages that ended in divorce were worse than those that didn't, which is consistent with the second model in which a single variable–marital quality–predicts both probability of divorce and happiness. As the authors note, violence was much more common in marriages that ended in divorce (21%) than in those that did not (9%). People who ended up divorcing were also quite a bit younger on average (37 years) than those who stayed together (44 years). This is important because, as the authors note in another context, "marital satisfaction typically declines with time," suggesting that people who had reached a particular level of unhappiness by age 37 were probably in worse marriages (with more steeply declining levels of happiness) than those who reached the same level of unhappiness by age 44. Finally, the lack of difference in well-being between unhappy people who stayed married and unhappy people who divorced that they cite as an argument for divorce not doing people good is odd given that married people are typically noticeably happier than unmarried people, so for a group of married and unmarried people to be similar in well-being suggests that the people who divorced were actually doing well.
Although we don't have it, I suspect that if there were more information available from the bishop Elder Oaks quoted, it would support the alternative model as well. The bishop did say that people who followed his council were able to avoid divorce "100 percent of the time." Such a striking result, a zero percent divorce rate, seems consistent with the model where some people are in better marriages to begin with, even when they go to their bishop for help, and are therefore both more willing to listen to their bishop and to stay married.
The important question in choosing between these two models is this: Given that people become unhappy with their marriages and divorce, what would have happened if they had instead stayed together and worked on their marriages? If Elder Oaks's model is correct, then staying together and working on their marriage will make husbands and wives happier and their children better off. If the alternative model is correct, though, only people in generally good marriages who are temporarily unhappy will be willing to work on their marriages and avoid divorce. People in chronically bad marriages, though, will derive no benefit from trying to work on their marriages or from staying together, because these variables are not causally related to happiness. This would be the case especially for people whose marriages are chronically bad because of the bad behavior of their spouses.
Elder Oaks's major point appears to be that the threshold of marital unhappiness for considering divorce has been set too low. While I agree that this threshold is probably set too low by some people in some circumstances, I worry that it's still set too high by other people. People who are physically or sexually abused by their spouses, or whose spouses cheat on them, should not have to spend time feeling guilty that they didn't work hard enough on their marriage before filing for divorce. If the alternative model above is correct, as I suspect it is, having one spouse work on a marriage that has already been horribly damaged by the actions of the other spouse is likely to be counterproductive.