In Elder Ballard's recent address to CES teachers, he warned his audience several times of the dangers of the internet to their students. For example, he admonished teachers to
Teach [students] about the challenges they face when relying upon the Internet to answer questions of eternal significance. Remind them that James did not say, "If any of you lack wisdom, let him Google!"

Wise people do not rely on the Internet to diagnose and treat emotional, mental, and physical health challenges, especially life-threatening challenges. Instead, they seek out health experts, those trained and licensed by recognized medical and state boards.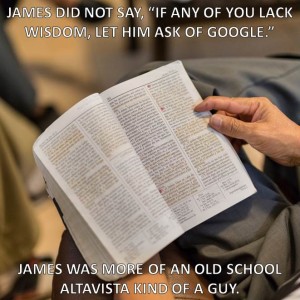 Why do Church leaders not want young people looking for for answers on the internet? One often-cited answer to this question is that they don't like the information students might find–information that will likely contradict the carefully curated view of the Church and its history that is typically taught at Church and in seminary and institute classes. For example, students may learn that perhaps Joseph and Emma's marriage wasn't quite so idyllic as it is often portrayed, what with him marrying many other wives, typically behind Emma's back.
Elder Ballard specifically mentions this problem of negative information in his address. He says that CES teachers should introduce students to faith-promoting approaches to controversial topics so that students will measure any more negative interpretations that they encounter later against what they heard first from their teachers.
I think Church leaders are concerned with more than just information when it comes to the internet, though. There are two other things that people also find there that I suspect they also dislike: validation and voice.
Validation. My sister and co-blogger Kiskilili resigned from the Church about a decade ago. She felt that she couldn't reconcile the sexism of the Church, and particularly of the temple, and by implication of God, with the idea of God being loving or the Church being good. While still a member, she met with several of her bishops so they could try to help resolve her concerns. In about 2004, one of her bishops told her that he didn't know what was wrong with her because he didn't know anyone else who shared her concerns. And, I think it's important to point out, this happened in the Boston area, hotbed of Mormon feminism, where Exponent II had been launched thirty years before.
Although this happened in the internet era, this is probably a typical response of a local leader to a Church member expressing a concern: you're the only one. It was a lot more difficult for members who had concerns about the Church to find anyone else who shared their concerns. This arrangement worked to the advantage of Church leaders, whose job of managing issues raised by Church members was simplified by being able to keep people who shared the same concern apart, which in turn made it easier to convince anyone with concerns that they were idiosyncratic, and never related to some larger pattern.
The internet has largely destroyed this arrangement (although as Kiskilili's experience shows, the change hasn't happened all at once). Members with concerns about an issue in the Church have a much easier time finding others who share their concern today than they did in the 1980s or before. Witness the response to the introduction of the exclusion policies last November. If this had happened in the pre-internet era (even assuming the information on the policies had been quickly distributed), perhaps a lot of bishops would have each met with a member or two from their wards and told them that their feelings about the policies were unique, and that everyone else thought the policies were fine, so they should just get in line. Instead, what we got was a big online outcry, where people who didn't like the policies had their concerns validated by others who had a similar response, regardless of where they lived or what wards they attended. Church leaders had to put together a hasty response, and then a clarification a week later. That people were able to gather online and share concerns to force this response was clearly a point of frustration in Michael Otterson's piece of the Church's response.
I think it's this worry about people finding validation for their concerns among other Mormons online that motivates the boundary that GAs and PA people have mentioned repeatedly, where they say it's okay to have questions or concerns about the Church, but it's just not okay to share them. Church leaders don't want members finding validation for their issues, and they're particularly worried about this happening online, where validation can be so easy to find.
Voice. The Church is designed to prevent feedback from rank-and-file members from reaching the decision-makers at the top. Oh, sure, letters from members are sometimes quoted in Conference, or stories of ordinary members are told, but these are clearly carefully selected to make a particular point. It's obvious that these letters and stories aren't providing feedback, but rather they are selected precisely because they do not do so. There is also a letter from the First Presidency that's read in sacrament meeting every year that helpfully reminds members not to try to contact GAs directly, because any concern they might have can be resolved at the stake level. Communication is supposed to be a one-way street: Church leaders talk to members; members do not talk to Church leaders.
The internet, on the other hand, provides endless opportunities for people to express themselves. Many posted items, whether news articles or images or videos, have a comments section. People can use Facebook or Twitter or other social media to express themselves. They can write on blogs or produce podcasts or videos. Big companies and powerful politicians have forms and email addresses that allow people to contact them (although of course such communication is likely to be filtered by low-level employees or staffers). The medium is the message, as Marshall McLuhan said, and the message of the internet medium is that everyone can join the conversation.
The voice that the internet provides to ordinary people goes very much against the top-down ethos of the Church. Tellingly, although there is a feedback form on lds.org, the form carefully points out that it's only for feedback about the website itself. Along similar lines, the Church's guidelines for using social media encourage members to use it only "so long as it supports the mission of the Church, improves relationships, and facilitates revelation among children of our Heavenly Father." The approach the Church takes is very much like the point Bruce R. McConkie famously made to Eugene England about Church doctrine: "It is your province to echo what I say or to remain silent." Members are not expected to have our own voices online unless we use them to amplify GAs' voices.
It's definitely some of the information that's available online that Church leaders don't like. But it's also the validation and voice members can find there that leaders don't like. What do you think? Are there any other reasons I've missed?