Monday was a terrible, horrible, no good, very bad day. I was actually surprised at how badly I took the news of Kate Kelly's excommunication. When I heard about it, I just felt sick, and even my usual coping strategy of information-seeking didn't work very well. Every Facebook post and news story I read just made me feel sicker and want to cry more. I had expected beforehand that excommunication would be the outcome. Or at least I told myself that I was expecting it. Given how difficult hearing the actual news was for me, though, I guess I had been holding out more hope than I realized that the outcome would be something else–anything else.
But that was Monday. Today, I'm trying to think about the future, specifically, the future of the LDS female priesthood ban. I really believe that it will one day be lifted. I just have no idea when. But because I find it soothing to crunch numbers and speculate, I've gone ahead and done that in this post. I realize, though, that this is little more than guessing.
Now that Kate has been excommunicated, and action has also been taken against at least one other OW board member, it seems clear that the current Quorum of 15 is not, on the whole, open to the idea of ending the female priesthood ban. Even if they are not actively directing the actions against OW, they're certainly not stopping things either, so it's probably fair to guess that they're at least mostly opposed.
I wonder how long it will take the Quorum to come around to ending the ban. Nate Oman suggested in a post at T&S back in January that they probably don't want to give in to OW partially because they don't want to be seen as open to being pushed around by people who ask questions. I think that's probably true. But I wonder which members of the Quorum this would apply to. I think it's reasonable to guess that the more senior they are, the more ownership they would feel of decisions (or non-decisions) like these. So while part of me worries that, like the children of Israel waiting to get into the Promised Land, we might have to wait for a complete replacement of the Quorum before there's any possibility of a sympathetic group, I do wonder if perhaps the more junior members of the Quorum might be open to reversing previous policies by the time they become senior members.
Of course the obvious next question is this: How long does it take for the Quorum to turn over? I looked back to the start of David O. McKay's presidency (1951) and counted how often a Quorum member died. It looks like the average is one death every two years (although there's a lot of variability around that: from 1995 to 2004, for example, there were no deaths in the Quorum). Taking that average, the senior half of the Quorum (say the most senior eight of the 15) might be replaced in about 16 years, and the entire Quorum in about 30 years.
I thought I could do a little better than that rough estimate by looking at the ages and life expectancies of current Quorum members. I used the CDC's 2009 life table for White males to run a little simulation of Quorum member longevity 10,000 times. I've described the simulation at the end of this post.
This chart shows the results. I looked at the time to replacement of 30 possible subgroups of Quorum members: the most senior one, the most senior two, and so forth through the most senior 15 (i.e., the entire Quorum), as well as any one, any two, and so forth through any 15 (again, the entire Quorum). These "any" groups are defined as the first members to die, regardless of their seniority. There are 10,000 results for each subgroup, so rather than try to show them all, I've just shown percentiles from the results. Percentiles are found for each group by lining up the 10,000 results in order by size, and then picking out results that are a certain percentage of the way through the list. I chose the 10th, 25th, 50th, 75th, and 90th percentiles.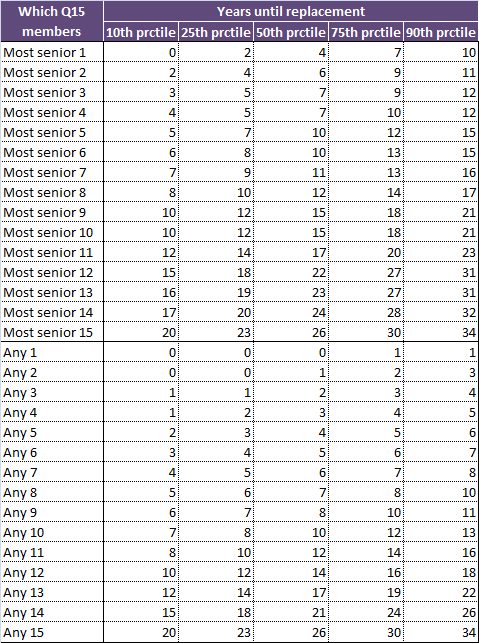 In case percentiles aren't easy to think about, it might be helpful to think of them as probabilities. They tell the chances of a subgroup being replaced (dying) in the specified number of years or fewer. For example, the most senior four members have a 10% chance of all having died by the time four years have passed (because their 10th percentile is 4 years). They have a 90% chance of all having died by the time 12 years have passed (their 90th percentile is 12 years). The 50th percentile (median) tells how long until the subgroup has a 50/50 chance of all having died. If you could only pick one number to summarize the result, this would be a good choice.
My guess was that maybe the most senior half of the Quorum would have to be replaced before they might even possibly imagine lifting the female priesthood ban. The simulation says there's a 50/50 chance that they'll all have died in 12 years. In 17 years, there's a 90% chance that they all will have died. Anyway, the reason I put the whole table up is so that you don't have to be limited to my speculations. If you want to know how long it will be before the most senior 10, or any five, are replaced, for example, you can look at the appropriate row to find out.
Twelve years sounds like a long time. It's shorter than the 16 suggested by the average of one replacement every two years. But how many people will leave the Church, formally or informally, during that time? How many of my family members, how many of my friends will be chased out by either formal discipline, or more likely, by what RJH of BCC described so well as the "Dolores Umbridge wing of the Church"? And 12 years is just a guess about how soon the Quorum might begin to have a glimmer of a thought that the female priesthood ban should end. Even if I'm right, how long after that might it take for a consensus to be reached so the ban can actually be lifted? Years? Decades? The timeline looks bleak.
But I still think I have reasons to hope. First, maybe I'm totally wrong about the timeline, and the issue will be taken up by the Quorum in just a few years. Second, it seems clear that OW is continuing to gather strength and support, and will persist in its good work of bringing attention to the ban (perhaps even eventually the attention of the Quorum), whether Kate is on the Church's membership rolls or not. Third, I'm also hopeful that, as many other people have pointed out, because OW has pushed the boundary of what women's issues might be talked about in the Church, it might be easier now to address some of the many other discriminatory problems in the Church that don't require ordination to solve. (For examples of such issues, see Nat Kelly's list in this fMh post or Chelsea's list in this WAVE post.) Finally, I am encouraged by stubborn people like fMhLisa, who said the following (in a Trib Talk yesterday, at the very end) about whether she was going to act differently at church:
Even though I feel like there has been a strong signal sent out that perhaps they don't want us, I. don't. really. care. I want the women who are struggling. I want the gays who are struggling. I want everybody who has questions to feel like they belong, and so I'm going to speak up more because I want them to know I want them.
I can't say that my reasons for hope somehow cancel out my discouragement over Kate's excommunication or my guess that it will be years or decades before the Quorum considers ending the ban. But I must say that I am happy to find that I have a nonzero number of reasons to be hopeful.
________________
I used the CDC's 2009 life table for White males (follow the link and see Table 5). For each Quorum member, I assigned the probabilities of death in the next year based on his current age, and then for all subsequent ages up to age 130. (Note that the life table only goes to 99. I expanded it by taking the change between age 98 and 99 and adding it to the age 99 value. This has little effect on the results, as even 90-year-olds are not good bets to live to be 100.) Then I simulated a bunch of random numbers between zero and one and compared them to the probabilities assigned to each Quorum member to find his implied life expectancy. As soon as a random number for a member fell at or below the probability of dying in a given year, I counted him as having died for purposes of the simulation, and went on to the next Quorum member. I repeated the process 10,000 times for each Quorum member.
In each one of the 10,000 simulations, I checked how many years it took for subgroups of Quorum members to die. I defined groups in two ways. The first is the most senior X members, where X is a number ranging from 1 to 15. For example, the group of the most senior two members is President Monson and President Packer. The second way of defining a subgroup is any X members, where X is again a number ranging from 1 to 15. The subgroup of any two members isn't defined as any particular members, because it's just the first to die, whoever they are. In one simulation, for example, the first two to die might be President Monson and Elder Nelson, but in another simulation, the first two might be President Packer and Elder Perry.
One important limitation to note is that an actuary friend of mine has told me that the avoidance of smoking increases longevity across the lifespan (i.e., its effect is not just in making it more likely a person will live to old age, but also in making it more likely they'll survive from old age to older age). I haven't adjusted the life table probabilities for the fact that the Quorum members don't smoke, though, because I wasn't sure how large of an adjustment would be appropriate. This means that the values in the table are more likely too small than too large (i.e., Quorum members will live longer on average than the simulation thinks they will).