Has there been an increase in modesty rhetoric in the Church in the past few years, or are we just imagining things? I wrote a post a few years ago to try to answer this question by counting articles in Church magazines by year that used the word modesty in discussing dress. I found that yes, there had been an increase, particularly in the New Era and the Friend.
The question is one that I've seen come up a lot in the Mormon-themed Facebook groups where I participate, so the post still gets linked to now and again. I've wanted to update it, though, to make three changes: (1) add 3 more years of data, (2) improve my counting of mentions of modesty, and (3) count separately for modesty discussions aimed at women/YW/girls and men/YM/boys.
I used Google to search the Ensign, New Era, and Friend on lds.org for mentions of modesty. The search string I used was this: modesty or modest or immodest site:lds.org/ensign [This is for the Ensign. For the New Era, the final term is site:lds.org/new-era/; for the Friend, the final term is site:lds.org/friend/]. I initially used a longer set of terms that included words like clothing and dress, but I found that these vastly increased the number of matches I had to look through, and every one I saw that talked about modesty in dress actually used a version of the word modest, so I settled on using the reduced version of the search. Also, an advantage of using Google (versus using the lds.org search tool like I did in my previous post) was that it captured General Conference talks, where lds.org appears to index them separately from Ensign articles in general.
Rather than bore you with more details of how I got the data, I'll show you the results, and discuss the data details afterward. Here are five-year moving averages for number of articles per year in each of the three magazines since 1971. In case it's not clear, the different magazines are represented by different colors; the women's/YW/girls' line is always solid, and the men's/YM/boys' line is always dashed.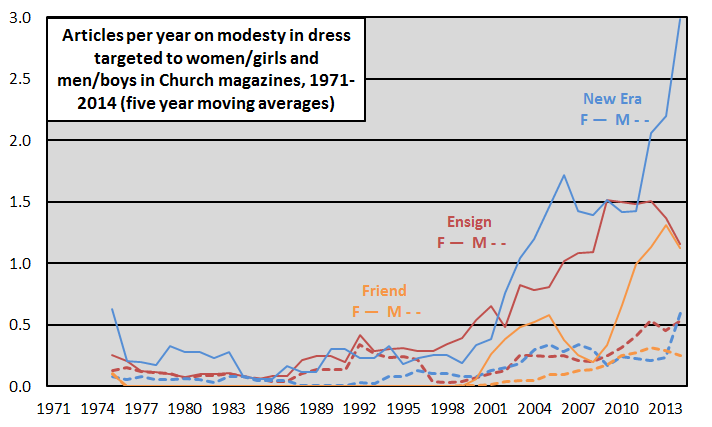 A few observations:
The increase in modesty rhetoric appears to have started around the turn of the millennium. (In my previous post, the data were too grossly categorized in time to see this clearly.)
Women/YW/girls have definitely had more modesty rhetoric targeted at them. The increase for men/YM/boys is slight in comparison to the increase for women/YW/girls.
Looking at results for the New Era, it's clear that YW have the most modesty rhetoric aimed at them, and its volume still appears to be increasing.
The downturn for girls the Friend looks small, but I'm actually very encouraged by it. In my search, I found no modesty references in the Friend since May 2013. This may not sound like a big deal, but there have been several such articles per year for the previous several years, so I wonder if it might not represent a genuine change.
In fact, jumping off from that trend in the Friend, I went back to look at the June 2014 issue, since the last month included in the study (given when I did the searches) was May 2014. (Note that in the analysis above, I scaled the 2014 results by multiplying by 12/5, since I only had five months of observation.) I found an article with a modesty-related title, but it was clearly an error, as the content had nothing to do with modesty. Here's a link to the article. And, since the error will probably eventually be corrected, here's a screenshot: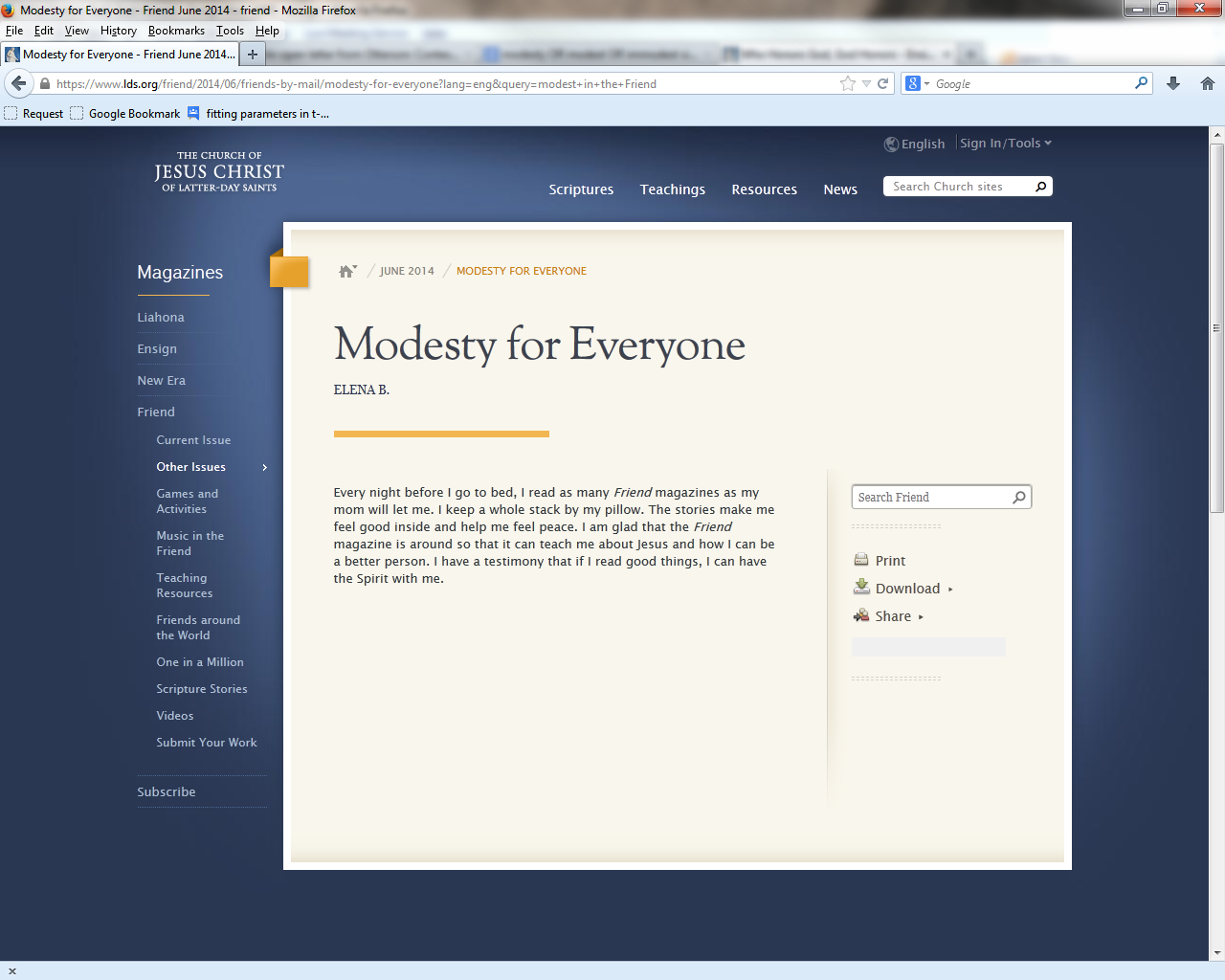 In the final version of the issue, you can see that this article is on the "Friends by Mail" page, and its title is "Reading Good Things," rather than "Modesty for Everyone."
It's possible that I'm reading too much into this, but this looks to me like a last-minute decision to drop a modesty-related story for a non-modesty-related story. I wouldn't think too much of this, but following a year of silence on the topic, I wonder if it might not be evidence of a real trend. My original post on this topic was motivated in part by dismay about how often children are being told they need to be modest. I think it would be great if this rhetoric could be toned down across the board, but it seems particularly inappropriate to harp on children and tell them they need to cover up for modesty's sake. An end to (or even a decrease in) modesty rhetoric in the Friend would definitely be a positive step.
I'd love to hear about any other trends you noticed in these data, or any related issues, in the comments!
Addendum: A friend of a friend pointed out that I should have divided counts of modesty articles by total counts of articles in Church magazines each year rather than just report the counts. In effect, in that analysis, I was assuming that the total article count per year was constant. Rather than count all articles in every issue every year, I sampled two issues from each year–March and September–and used these to estimate total articles per year. (From 1979 to 1985, the Friend has no September issue listed on lds.org, so I substituted October for September.) For the New Era and the Friend, this means I simply multiplied the count of articles for the two months by six (since I had sampled one sixth of the year). The Ensign was slightly more complicated because it includes  General Conference reports which have more articles than the typical issue. In addition to March and September, then I also counted the number of articles in the first Conference issue of the year (meaning May in recent years, but June or July back in the early 1970s). Then I estimated the total number of articles for the year as 2 x Conference issue count + 5 x (March + September issue count). Finally, I divided the estimated article counts on modesty discussed above by these estimated total article counts per year. The resulting graph is below. Rather than a count of articles, it now shows the percentage of articles in each magazine discussing modesty in dress and aimed at women/YW/girls or men/YM/boys. The pattern of results is largely the same as in the original graph.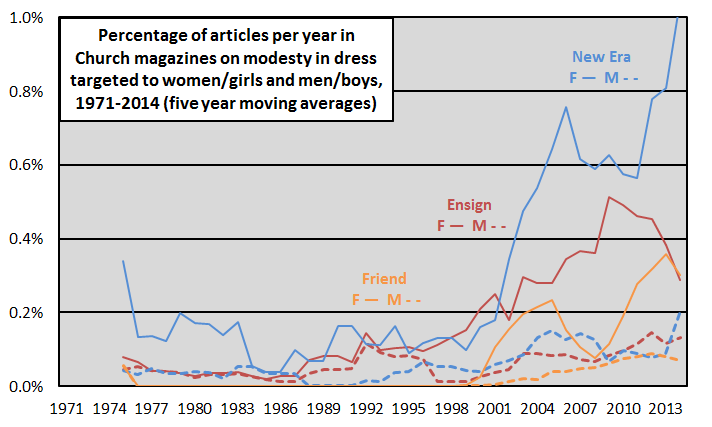 _________________
Here's the rest of the discussion on how I got the data. For each result from the Google search, I read the linked article and answered three questions about it:
Is the article actually about modesty in dress, or is it about another sense of the word modest? (For example, there are many uses of modest where it is used to describe people's houses or their wealth/means.)
If yes, to whom (female or male) is the article directed? Or whose modesty is it discussing? I counted this in the following categories: women only, mostly women, both women and men, mostly men, or men only. Many articles that discuss modesty do not explicitly mention whether they're directed to women or men; I scored such articles as "both."
If yes, what proportion of the article is about modesty in dress? I counted this in the following categories: more than 2/3, 1/3 to 2/3, less than 1/3, and nearly zero. I used this fairly gross measure to avoid having to make a lot of fine-grained judgment calls between narrow categories. With these categories, most articles are easy to score. Virtually all articles that are more than 2/3 about modesty are 100% about modesty. At the other end of the spectrum, there are a lot of articles that have only a passing reference to modesty in dress, and I scored these as nearly zero. A fair number also fall in the less than 1/3 category; this includes articles that have several subsections, and only one subsection discusses modesty.
Next, I converted these categories into estimated article percentages about modesty in dress addressed to women and men. For the female/male breakdowns, I converted the categories into percentages like this:
Women only: 100% F; 0% M
Mostly women: 80% F; 20% M
Both women and men: 50% F; 50% M
Mostly men: 20% F; 80% M
Men only: 0% F; 100% M
For the proportion of the article discussing modesty, I converted the categories into estimated percentages like this:
More than 2/3: 100%
1/3 – 2/3: 50%
Less than 1/3: 25%
Nearly zero: 5%
Finally, I scored each article with its percentage discussing modesty addressed to women and to men. I calculated these by just multiplying the applicable percentages. For example, for an article that was less than 1/3 about modest dress, and addressed mostly to women, the calculations would be as follows:
For women: 25% [less than 1/3] * 80% [mostly women] = 20% article
For men: 25% [less than 1/3] * 20% [mostly women] = 5% article
For each year, then, I summed up the calculated percentages for women/YW/girls and for men/YM/boys in each magazine to find the estimated article counts. For example, if calculated percentages for men for a particular magazine and year were 5%, 15%, and 30%, these would be summed up to yield an estimated 50% of an article.