Notes from a train trip from Emeryville, CA to Indianapolis, IN
7 April 2014
10:04 PM
I'm already packing, and it's not even midnight. Impressive, I must say. I'm done with my suitcase; what I'm figuring out now is what to bring with me in coach. I don't generally pay for meals on the train (they're pricey), so I have to rely on my own provisions. So I'm gathering enough snacks to last three days: grapes, carrots, crackers, granola bars, rolls, peanut butter, cheese, cookies, m&m's.
I used to spend forever deliberating over what books to bring, but no longer. My Kindle is well-stocked, so I can jump between epic fantasy and psychological thrillers, or whatever else I might be in the mood for.
I'm half-heartedly cleaning, in between checking Facebook and the bloggernacle. Three of my younger sisters have been out to visit in the past six weeks, and thanks to them, my apartment is both much cleaner and much more cleared out than it used to be. (Elbereth did some serious cleaning and organizing, Amalthea carried books into storage (as did my co-blogger Petra), and Melyngoch the pie-maker organized my kitchen.) But there are still odds and ends everywhere, and I know it will drive me crazy if I don't have things reasonably tidy before I leave.
8 April 2014
 8:33 AM
I'm at the familiar Emeryville Amtrak station. I left later than planned, as I always seem to end up doing, but fortunately made it here in plenty of time to get a suitcase checked to Indianapolis. It's a busy station, with lots of lines passing through it, so several trains come and go while I'm waiting. The cars on the train that's outside right now have fun names—the one I can see says "Pajaro River." The California Zephyr, which is the line I'll be riding, has cars with somewhat less exciting names, such as "610" and "611."
The conductor is giving us information about the Zephyr. He says, "Is there a quiet car on the train? No! You have to talk to each other." He tells us to sit on the left side for the best views. (Veteran that I am, I think smugly to myself that I already knew that.)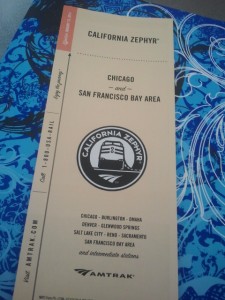 9:23 AM
On board! Boarding involves walking up to the front of the train—coach cars are in front; sleepers are in back—and climbing up the narrow steps to the second level of your designated car. (You have to get a special ticket to ride on the first level.) They sort you into cars based on your destination. There are a group of Amish (or a similar group of people) boarding in front of me, speaking a Germanic language. I often see such groups on the train. Once they went into the lounge car and sang hymns in the evening. I was in the car just ahead so I could hear it, and I thought it was a lovely way to end the day.
The train is surprisingly un-crowded this morning. Not only do I have the double seat to myself, I don't think there's anyone in any of the five seats around me. This is really unusual, but I'm not complaining. I know there are people who love the social aspect of riding the train, but while I like the friendly atmosphere, I'm okay with not much talking.
I'm in coach, as usual, given that the sleepers are significantly more expensive. I did ride in a sleeping car once, but I didn't enjoy it as much as I thought I would—it was like being in a closet, and I didn't even sleep all that well. I ride the train enough, however, that I'm sure I'll try it again at some point. But for now I'm okay with doing this.
An older couple just came by and asked about the view car. I told them to keep going, that they would recognize it when they saw it. It's covered with windows, and the seats face outward. When we're going through the Sierras later today, it will be full of people with cameras.
10:15 AM
Announcement: "Sorry about the brief stop here. One of our engineers forgot something, and his wife is dropping it off for him." This conductor has a sense of humor.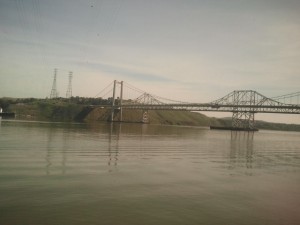 Outside Martinez, CA
11:02 AM
We're in Sacramento. More people are getting on and it's getting noisier. Two men in front of me are having a lively discussion about how college football players shouldn't be paid. College isn't a training camp, says one emphatically. Get your education.
1:19 PM
The train's been stopped for a while. I'm not sure why. It's the sort of thing that's not terribly uncommon. If you're in a rush, trains are not the way to go. Sometimes they arrive on time. Sometimes they don't. It's probably worth knowing this before you board; on every trip I hear irate passengers complaining that they will never ride the train again.
I've been dozing on and off. I was awake for much of last night, and putting my feet up and watching the scenery go by is very peaceful.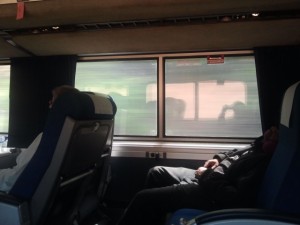 Person sleeping in the seat across from me
I don't have phone service at the moment, which means no internet. The Zephyr doesn't have wireless, but I've been using my smartphone as a tether. For the first couple of years that I did this, I didn't have a smartphone, so train trips meant a complete break from the internet. I'm ambivalent about the shift to having it again. One of the things I like about being on a train is the sense of being in a bubble, being away from the rest of life. Reconnecting myself to the online world takes away from that somewhat. I do it anyway, but my phone service is on and off enough that my contact is limited. Which is a good thing, I think.
Someone two rows behind me has been talking on her phone about Mormons. My ears perked right up when I heard the word. I checked her destination tag—everyone has a tag above their seat that says where they're going—and sure enough, she's headed to Salt Lake City. (I'm headed to Chicago, where I'll change to the train that will take me to Indy.)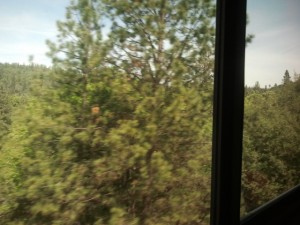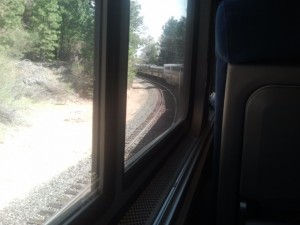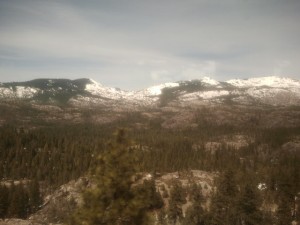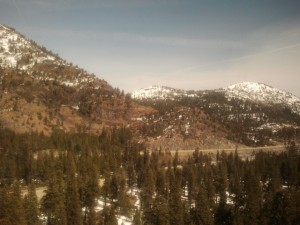 Looking out the window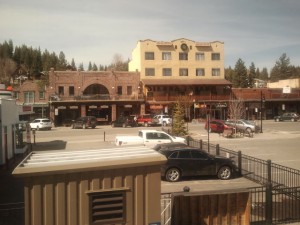 Truckee, CA
4:02 PM
We're in Reno. It's been a pleasant afternoon; a relaxing ride through the mountains. Two talkative people in front of me had an extended conversation about, among other things, the price of gas in different states, and airports to avoid. Now they're complaining about the prices of snacks in the lounge car, which I agree are outrageous.
I've been listening to music on my Zune, playing on my laptop, and just watching the scenery go by. I've also been texting Melyngoch, who tells me that my niece and nephew (Eve's kids), are excited to see me. I'm really excited to see them, too; I'm happy for the ride to be slow, but I'm also looking forward to what lies at the end of it.
The dining car periodically makes announcements about dinner reservations. As I mentioned earlier, I don't do the dining car thing, because it's out of my price range. It's an interesting thing, though—to maximize space, they practice community seating, which means that unless you happen to be in a group of four, you'll be sitting with people you don't know. It goes along with the general ethos of the train, of getting to know strangers—something I resist, I admit, but I nonetheless respect.
The train has gotten a lot more crowded, but it's far from full. It's been years since I was on a train that had even a few seats open. I don't know if that will change as we get further east, or if I somehow picked the right days to travel. But I'm enjoying having a double seat to myself—I'm comfortably spread out, with pillow and blanket and various electronic devices and snacks.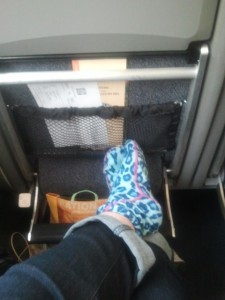 Putting my feet up
The person behind me, who just boarded, is telling his wife on the phone that he got a seat with a lot of legroom. I'm smiling because all of the seats have a lot of legroom, but really I'm smiling because he sounds happy and excited to be on a train, and I always love hearing that.
Yikes! They just announced that there's a medical emergency on board, and the paramedics are here. I hope the person in question is okay. I start thinking about what kind of medical emergency I might have on a train in the middle of nowhere as we continue our trip. I don't know, but I do doublecheck that I've brought my meds. Yes. Good.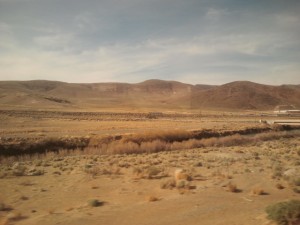 Getting further into Nevada
7:18 PM
Things are quieting down for the evening. We just left Winnemucca. I'm eating cheese and crackers, and listening to the soundtrack to The Village. I love this music: it's beautiful and haunting, and it works well for riding a train and watching the desert go by as the sky gets darker.
It's dark enough that I can see my reflection in the window, and I keep not recognizing myself because of the blonde hair. Melyngoch cut and dyed it while she was visiting (she's a woman of many talents!), and I'm still not used to it.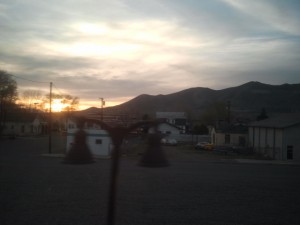 Sunset in Winnemucca
9:35 PM
We're leaving Elko, which is the last stop before Salt Lake City. I've done the trip from Emeryville to Salt Lake so many times that I'm half-expecting to get off there. I actually dreamed the other night that I forgot that I was going all the way to Indiana, and got off the train too early. But with any luck, I'll be asleep when we hit Utah (scheduled arrival time into SLC is around 3:00 am).
And I'm going to end this post for the night. See you in the morning!