A couple of weeks ago I wrote a post discussing the negative responses that have come from a few Church members in response to Ordain Women. My mom read my post and wrote this sweet email which I am posting with her permission. Thanks, Mom!
My dear son,
I have been thinking a lot about the thoughtful commentary you wrote in which you reference the image of a boat searching the tempestuous waves for the lost soul, but that you do not feel lost, just wounded and hurting on the shore.
I've wondered what image might be meaningful to me in this situation. The one that comes to mind is the painting that hung on my bedroom wall when I was very young.
An injured lamb lies on the ground near a sparse bush, unable to get up. The wind whips the snow all around. The lighting indicates dusk of day. A collie dog ("Lassie" always comes to the rescue) stands beside the lamb, howling to summon the shepherd.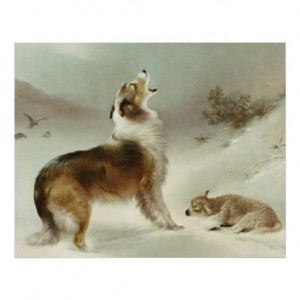 I asked my parents why the dog didn't run to find the master and bring him back to the wounded lamb. They interpreted the scene:  The dog doesn't want the lamb to be alone and unprotected. The dog will stay and keep calling until the shepherd comes.
Until now I haven't thought of explaining why this painting has particular meaning for me.  But as I have thought of you—loving the gospel and faithful in the church but hurting because of some of the teachings—this painting gives me an image of how I would like to be. I don't know if it is possible, but I would somehow like to be nearby.
I love you very much,
Mom