Over at Doves and Serpents, Heather Olsen Beal recently blogged about a Friend article in which a four year old girl learns the importance of not wearing clothes that show her shoulders. The article was also discussed at fMh, and Heather, Erin Hill, and Chelsea Fife were guests on a Mormon Matters podcast, where they used the article as a jumping off point for discussing how modesty is taught (and could be taught better) in the Church.
In the discussion, following Heather's post, she raised the question of whether this focus has changed over time, whether the practice of drilling even prepubescent children on modesty of dress is a new thing:
I think the rhetoric we were getting from church leaders and publications 20 years ago was much more sane and reasonable. I feel like it's gotten ratcheted up to the nth degree. It's no longer a modest position; it's extreme.
That modesty is being pushed harder and with more detail now than it used to be is my impression too, but I wondered whether I could find any data that would support or refute this conclusion.
In an attempt to give a (preliminary) answer to this question, I searched lds.org for uses of the word modesty in Church magazines since 1971. I quickly found that many of the uses were not what I was looking for because they were discussing lack of vanity or moderation or one of the broader definitions of modesty. To be sure I was getting only the clothing-related references, I checked each one, and included in my counts only those where it was clear that modesty of dress was what was being addressed.
Here's a graph showing how many references to modesty of dress I found in the Ensign, the New Era, and the Friend by five year period since 1971. There are two details you might want to take note of. First, it appears that lds.org is indexing General Conference separately from magazines in its advanced search, so I believe the Ensign counts do not include General Conference talks (even though they are printed in the Ensign). Second, I put 2011 in with the 2006-2010 time period, but I also reduced the counts proportionally so they would still tell number of articles per five year period.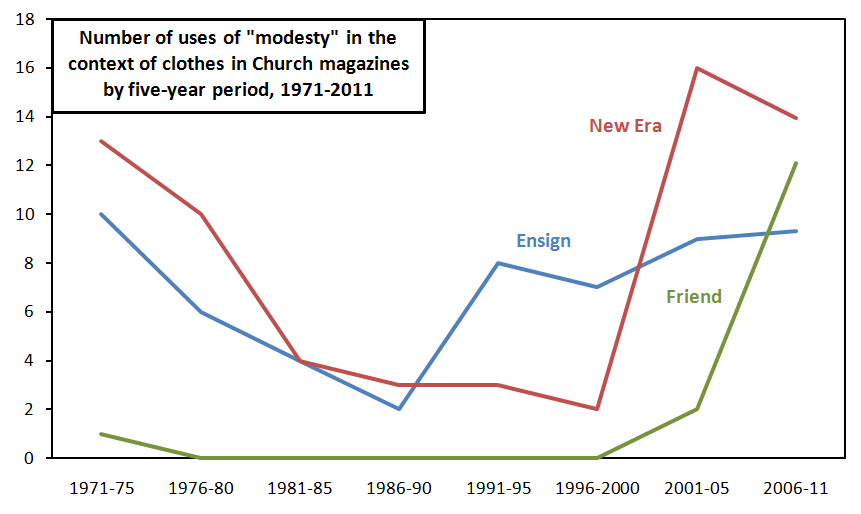 So it looks like Church leaders' concern for modesty was higher in the 1970s, fell very low in the 1980s, recovered in the 1990s, and has been increasing recently. Particularly interesting, and by "interesting," I mean distressing, is the dramatic increase in discussion of modesty of dress in the Friend. From a level of zero (which seems about right to me), the number of articles on modesty in the Friend has jumped to almost match the number in the New Era.
So, even with all the usual caveats like that I didn't include General Conference or manuals, and that I didn't look for different forms of the word (like modest, or immodest), these results certainly appear consistent with Heather's assertion that modesty is being pushed harder now than it was 20 years ago. These data also suggest that modesty discussions are being targeted more to children than they used to be.