Pew's 2007 Religious Landscape Survey (of the US) found that 56% of respondents who identified as LDS were women. Is that a lot?
Women in the US are more religiously observant in general, but even against that background, Dave of T&S has argued that 56% is a lot. Here's where his conclusion comes from: If you look at this chart from the Pew survey, you'll see Mormons are third highest in percent women. (Sorry the link points to a PDF. Although I can't link to it directly, you can get the same chart by going to the Comparisons page, clicking "Demographics" and then "Gender Compositions of Religious Traditions.")
But this chart is misleading if we're interested in where the LDS Church stands relative to other churches in terms of what percentage of members are women. The chart aggregates people into broad religious traditions rather than considering individual churches. For example, Protestants are grouped into Evangelical, Mainline, and Historically Black, and Jews are all lumped together. The same thing happens with Mormons, which include other followers of Joseph Smith's restoration in addition to Latter-day Saints, but here it makes little difference, as LDS make up 96% of the Mormons surveyed.
In order to get a better picture of the gender gap in the LDS Church compared to other churches, I looked at two more detailed charts in the Pew survey report. First, I looked at this one, which breaks out religious traditions into churches for everyone but Protestants, and then I looked at this one, which breaks out Protestant denominations. Using these charts allows us to compare the gender breakdown of churches to other churches rather than comparing the LDS Church to broad religious traditions, as the first chart effectively does.
In order to get a better look at the data, I put the percentage female for each church/denomination in the following chart. It is sorted by percent female.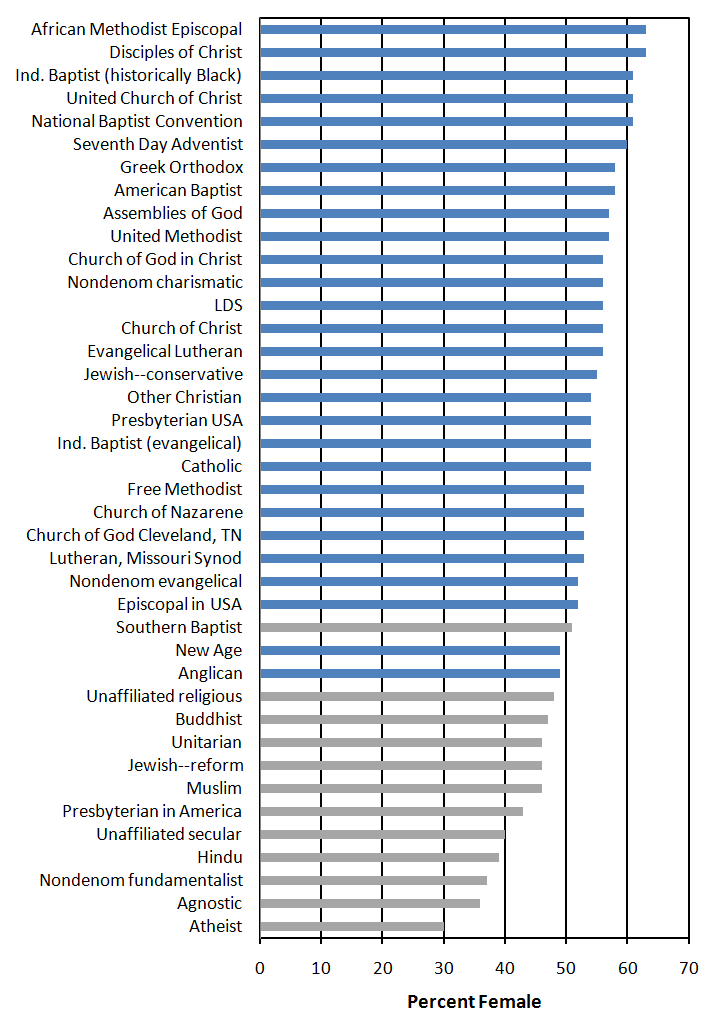 LDS are certainly on the high side, but not dramatically so. We're lower than 10 other churches, tied with 4, and higher than 25 (actually 22 if we ignore those who aren't religious–unaffiliated secular, agnostic, and atheist).
But even beyond our unremarkable position, there's still the question of which differences between churches are even large enough that we can be confident they're not just a result of the particular sample of people interviewed. In order to answer this question, I used a series of statistical tests (Fisher's exact test) to compare each other church against the LDS Church in terms of their percentage female.
In the chart above, churches whose percentages female are reliably different from the LDS percentage have gray bars. Churches not reliably different from the LDS church have blue bars. Not surprisingly, it's the churches at the low end that the LDS Church can be statistically distinguished from. (Note that the difference with Southern Baptists is reliable while the differences with the next two aren't because lots of Southern Baptists were interviewed and the ability of the test to distinguish differences depends on sample size.) But more interesting is the fact that the LDS percentage is statistically indistinguishable from percentages from 27 other churches.
So, the Church is in the upper half (maybe on the border of the upper third) of churches in terms of gender gap. But, and this is a big but, the sample size by church in the Pew study isn't big enough to draw firm conclusions about most of the differences between churches. Therefore, I think it's clearly an overstatement to say that the LDS Church has an unusually large gender gap.