A couple of years ago, a friend gave my family a copy of Bookcraft's The Book of Mormon for Latter-day Saint Families. My wife and I have been reading it with our kids. It has a lot of useful features that make it more appealing for kids: it's an oversized book with pictures, maps, subheadings within chapters, big print, and definitions of difficult words in the footnotes.
But the footnotes aren't limited to definitions. There are also broader explanations, discussion questions, and quotes from General Authorities. Most of these and unobjectionable, but a few are a bit bizarre. For example, here's a footnote to 1 Nephi 5:11, where Lehi looks at the brass plates and sees "that they did contain the five books of Moses":
This reference in the Book of Mormon adds support to the knowledge that Moses wrote the first five books of the Bible: Genesis, Exodus, Leviticus, Numbers, and Deuteronomy.
I guess I would have thought that Joseph Smith was just applying the commonly understood term "five book of Moses" when he translated this, rather than suggesting that they necessarily must have been written by Moses himself.
Another fun footnote is a discussion question that accompanies 2 Nephi 2:25:
How has Adam's decision to eat the forbidden fruit blessed you?
Really? Adam's decision? And here I thought that one positive of Mormonism's view of women was that we at least acknowledge Eve's decision to eat the fruit as a good one. But now that it's good, it's attributed to Adam? Not even to both of them? This footnote actually falls in line with the consistent use of sexist language in the footnotes, which seems all the more odd given how many general authorities now make it a point to make gender inclusive generalizations when quoting from the scriptures.
Here's an explanation for the phrase "a virgin shall conceive" in 2 Nephi 17:14 (quoting Isaiah 7:14):
A young woman who is pure, chaste, and who has not had intimate relations with a mortal man will become pregnant.
I take it from that "mortal man" caveat that the editors of this book want to leave the door open for the "God had sex with Mary" theory of Jesus's conception. (To be fair, the similar footnote to the word "virgin" in Alma 7:10 omits the word "mortal.")
These footnotes, at least when they're odd, seem to have literalist (dare I say a fundamentalist?) slant. I wanted to look at them more completely, though, to see if there was actually any evidence of this in the entire set of them rather than a few chosen strange ones. Now if I were good with texts, I would have tried to answer this question by doing some kind of content analysis. But I'm not good with texts; I'm good with counting.
So to answer my question, rather than looking at the content of the footnotes, I decided to look at who was quoted in the footnotes. It would clearly signal different editorial slants if, say, the footnotes quoted Hugh B. Brown a lot versus if they quoted Joseph Fielding Smith a lot.
I looked through all the footnotes in the book and counted up who got quoted or referred to in each. Of course many footnotes were simple explanations and didn't quote anyone. I ignored them in the count. I also ignored references to other scriptures, counting only quotes of other people or references to sources outside the scriptures. I counted 714 total references.
Who was quoted most among Church Presidents?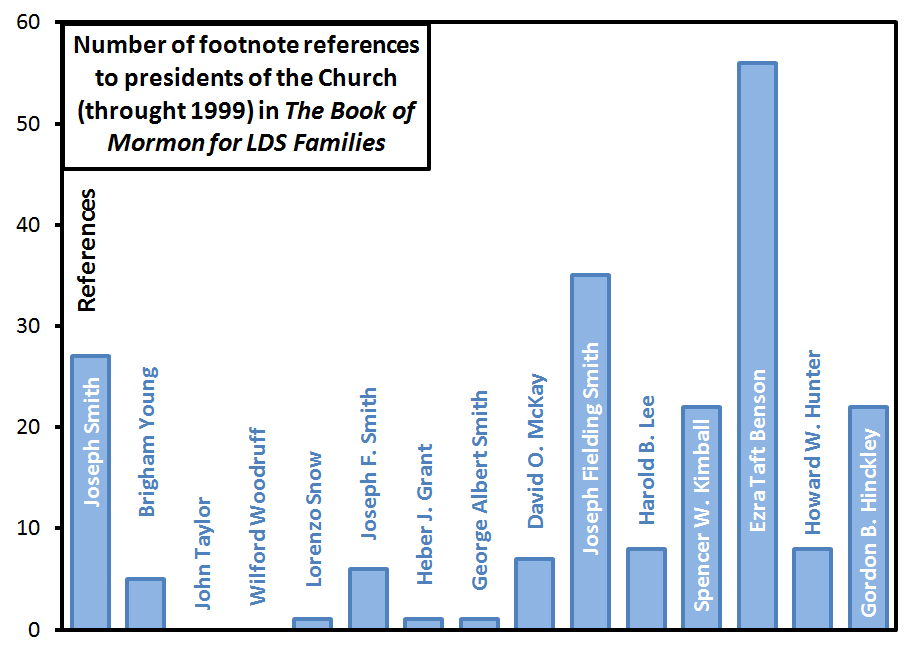 Ezra Taft Benson was the clear favorite among Church Presidents.
Who was quoted most among members of the First Presidency and Quorum of the Twelve (as of 1999, when the book was published)?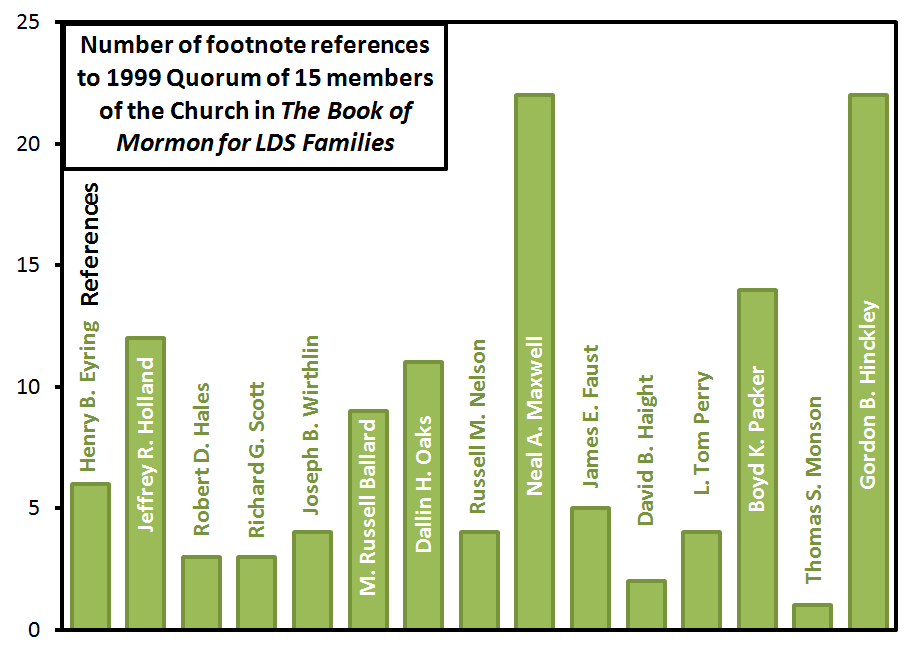 Notice that the scale of the vertical axis has changed, as the then current members with the most footnote references had only 22, versus 56 for Ezra Taft Benson. I don't see a clear pattern here. It's not terribly surprising that the Church President at the time rated the most references among members of the 15, I guess.
So who was quoted most overall? (Again, watch for a change in the vertical axis.)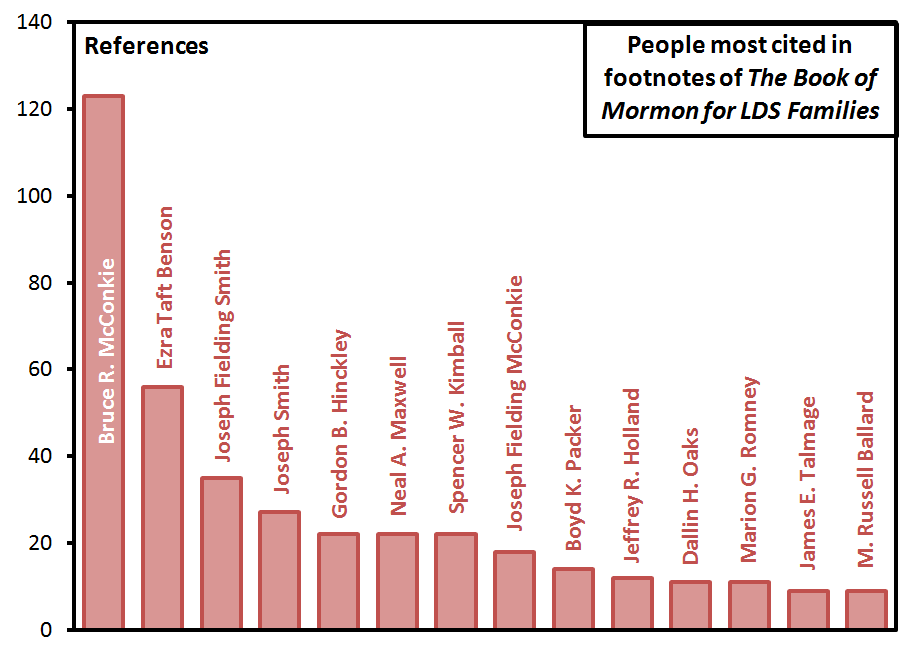 Bruce R. McConkie was quoted 123 times–over twice as often as the person quoted next most often–and more than the next three people combined.  Joseph Fielding Smith, despite his brief tenure as President, took the #3 slot overall. Bruce R.'s son, Joseph Fielding McConkie, with 18 quotes, was the most often quoted non-General Authority. (Hugh Nibley was next with 8.) The results don't all point in the same direction: Gordon B. Hinckley was quoted quite frequently, for example, and he definitely seemed to me to be less conservative than the McConkies and Smith. But on the whole, these results do suggest that the editors of The Book of Mormon for Latter-day Saint Families had preferences for Bruce R. McConkie's (and Joseph Fielding Smith's) definitive-sounding literalist interpretations of scripture.
(Oh, and in case you were curious, I found a grand total of one woman quoted in the footnotes. Aileen H. Clyde, former 2nd counselor in the Relief Society General Presidency, was quoted in a footnote to Mosiah 5:7 .)