While the Proclamation on the Family was nominally written by all 15 men serving in the First Presidency and Quorum of the Twelve at the time it was issued, it seems likely that some of them were more central to the project than others. For some reason, I've always thought it was Elder Nelson's baby, although I'm not exactly sure why. Maybe it's just because divine gender roles seems to be his favorite topic.
In any case, the writers aren't likely to tell us who was most and least involved, but I wonder if they might have revealed this information to us indirectly. It seems reasonable to assume that those who were most enamored of the project would quote from and refer to the document most often. So I went back and checked who has referred to the Proclamation the most.
I searched lds.org for documents that (1) were written by one of the Quorum of 15 as of September 23, 1995, when the Proclamation was issued, and (2) referred to the Proclamation. The second part proved to be a little more difficult than it might at first appear, because GAs don't always refer to the Proclamation by its official name ("The Family: A Proclamation to the World"). I ended up searching for all documents containing both the words "family" and "proclamation," and then manually checking the results so I could discard any spurious matches. (Sadly, although they did refer to it in different ways, I didn't find any instances where they called it the "FamProc.")
Here are the results.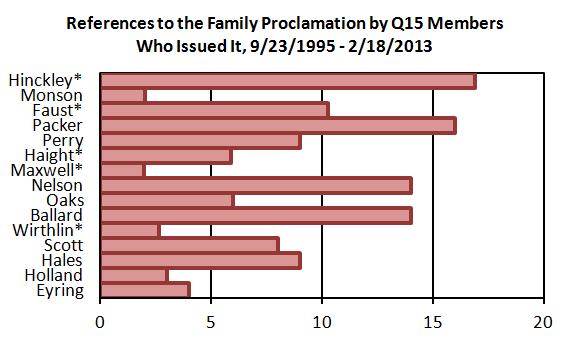 An asterisk indicates a man who has since died, and whose reference count I have therefore adjusted to account for the fact that he did not have as much opportunity as the others to refer to the Proclamation. For example, President Hinckley made 12 references to the Proclamation, but he only lived 12.34 years after it was issued. If he had continued to refer to it at the same rate and had lived all the way until now (17.40 years), he would have made a total of (12 references/12.34 years)*17.40 years = 16.92 references.
President Hinckley, President Packer, Elder Nelson, and Elder Ballard look like the clear leaders in referring to the Proclamation. That being said, there is another adjustment for President Hinckley that I did not make, which is that as President of the Church, he gave far more Conference talks (at least three times as many) and wrote more Ensign articles (home teaching messages, for example, always come from the First Presidency) than an ordinary member of the Quorum of the Twelve like Elder Nelson. Given this fact, it appears that President Hinckley was not quite as enthusiastic about the Family Proclamation as President Packer, Elder Nelson, and Elder Ballard have been, and I think it's not unreasonable to guess that they were likely its primary authors.
This method of trying to answer the question is, I admit, extremely crude, but I am somewhat comforted by the result aligning at least somewhat with my intuition. That Elder Nelson and President Packer rank high is no surprise: both seem very traditional in their view of family structures. Elder Ballard is somewhat of a surprise to me, though.
Also, it looks like President Monson might not have been that involved, which is interesting. I wonder if we'll hear an uptick in the already high levels of family-focused rhetoric when the Presidency passes to someone else. It's not surprising that Elder Maxwell doesn't appear high on the list; if he had, the Proclamation might have more lines like "presiding priorities prevent equality eventualities."
I'd love to hear any thoughts you have on who wrote the Proclamation, particularly if they're based on whispered rumors from the Church Office Building. 🙂