Likely everyone has come across the following internet/facebook meme, but just in case you've been backpacking in the Andes for the last two weeks with no wifi, or don't have well-meaning conservative facebook friends, or have blocked all the well-meaning conservative facebook friends, or just aren't on facebook precisely so you can avoid things like this, here you go: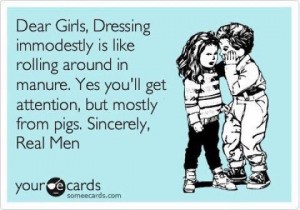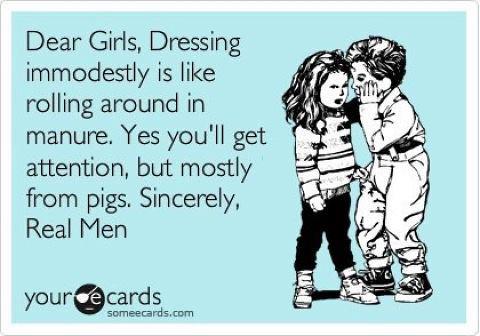 While I find this meme pretty immediately offensive, I nonetheless recognize that on the surface of it, it is trying to communicate something I would willingly call, in a nascent way, feminist: Girls should not feel like they need to put their bodies on display in order to be romantically interesting to the opposite sex, and the guys whom they should be interested in romantically are not the ones who expect them to be falling out of their clothes to get their attention. On that level, this meme does recognize that men's sexual expectations shouldn't dictate what women put – or don't – on their bodies.
This is what the meme is saying explicitly. And I'm pretty well on board with its explicit meaning. The men I want to date  are not the men who care if they've seen me in a cocktail dress, and the men who might take notice of me in a cocktail dress (would that I had one), but not otherwise, are not men whose attention I want or need.
The problems I have with the meme are in what it argues implicitly, where  it pretty well pulverizes its kernel of feminist sensibility: Men do still get to dictate the value of women's dress, just it's the "real men" instead of the "pigs," who may (ostensibly, anyway) want the opposite of what the "pigs" want (i.e., modestly-dressed rather than scantily-dressed women), but are nonetheless angling to tell women what to do with their bodies, and on the authority of their masculinity (they're REAL MEN! after all) no less. Of course, this has all been thoroughly discussed/deconstructed/defended (/parodied/re-memed/etc.) all over facebook (or at least, the parts of facebook I frequent), and I'm not aiming to start arguing about it here.
What I find interesting — and worrisome — about the life of an internet meme like this is the way it exposes the various, and often dissonant, reading practices of those who respond to it. Those who appreciate and are satisfied with its explicit argument are often resistant to a reading of the argument it makes implicitly, especially where that argument complicates or undermines it explicit value. Because there are positive things about a text's explicit meaning, the thinking seems to go, it doesn't matter what else is there; any attempt to uncover and examine the implicit meaning or symptomatic assumptions of a text is heard as an attack on and denial of the explicit meaning; those who are close-reading the text and finding other ideas in it are clearly only doing so because they have misunderstood what it explicitly says; and, the inevitable trump card: Any problems you have with it, you are just reading into it yourself — the problems are with the reader, not the text. (Because you, you feminist man-hating nazi-wench, are just always on the prowl for things to be offended by! And probably also for an excuse to dress like a slut!)
On the other hand, those who are disturbed by an implicit reading of the meme are perhaps too hasty in brushing by its explicit meaning, failing to acknowledge that there is any positive value at all to the sentiment the meme intends to communicate — after all, we who read closely know what the text really means, right? And so we find ourselves at an impasse, where the explicit-readers resent the excess of unfavorable meaning the implicit-readers find, and the implicit-readers are irritated by the boorishness of the explicit-readers who refuse to see what's under the surface, but not all that hard to get to.

I appreciate the frustration of those who want to simply enjoy a text and not have it always under attack by closer readers than they. I've been in that position myself. I love Tolkien, and am terribly impatient with readings that seem to reduce him to his racism and sexism and elitism; I just want to enjoy The Lord of the Rings in peace, and not always have to worry about the colonialist implications of the oliphaunts. I've seen a seminar on the lyric take a series of medieval Arma Christi poems and gloss past all their strangeness, beauty, and pathos to find that they are only oppressive agents of Catholic hegemony, like everything else medieval and religious. Aggressive agenda-driven readings can be infuriating. But I also know that, while examining Tolkien's less-than-savory identity politics might not exactly be my cup of lembas, I can't feel like a responsible reader if I pretend they aren't there at all. And while there is a great deal more to say about medieval religious lyric than just its role in the power structures of the day, one also can't just pretend that there is no Catholic hegemony or that the lyrics entirely transcend it.
There are a lot of ways to read a text critically; some of them are better than others, some some are shortsighted, and some just stupid, but I think the worst way is to simply refuse to do it at all — to only ever take a text at face value. Yet I've found that when gender is on the table in any church context, this posture of resistance to critical reading seems to be the norm. I've been told by home teachers that I don't like Twilight because I'm just reading my own issues into the text (it's true, I've probably let my bad history with dating vampires interfere with my enjoyment of the story); I've been told by Relief Society sisters that if I find C. S. Lewis to be condescending towards his female characters, it's because I'm just finding what I'm looking for in his books (yes, I went to Narnia hoping to dig up some good old-fashioned misogynistic paternalism); and of course, Johnny Lingo always gets a pass as "cute" or "funny" or merely "dated" (and it hits not just gender but also race, class, and empire, a veritable cacophony of  white male colonialist privilege).  None of these are canonical LDS texts  or authors, any more than the facebook meme above is, and there is no reason for Mormons in particular to defend them, but I've found that Mormons in particular do, when the criticism is rooted in gender.
It's constantly disappointing to me that reading a text's implicit argument is taken as such a negative move rather than an ethical one, by the very people who claim to care so much about the morality of the texts they consume. Shouldn't careful reading of a text's ethic and values, whether explicit or implicit, be an essential practice for Mormons, with our 13th Article of Faith, and our For the Strength of Youth pamphlets and our cultural caution against R-rated movies? We're so very invested in discriminating in the kinds of media we allow into our lives; why the resistance to the kind of critical thought that would allow us to really know what that media is? I'd think Mormon parents would want to consider whether they want their daughters to see the kind of romantic comedy that reduces women to categories of sexually available party girls or frigid, repressed career bitches; whether they want their sons to see the kind of action movie that has exactly one female character who's a love interest and an excuse for the male protagonist to show his gentler and sexier side in between slaughtering Nazis/terrorists/mafia kidnappers/Treadstone agents. I'd think we, with our Young Women's values, wouldn't want to perpetuate the notion that a woman's value can be reduced to her physical beauty, which can in turn be manufactured by adequate capital, e.g., being purchased for the generous price of eight cows.
I'd even think, though I'd evidently be largely wrong, that they'd want to think seriously about the kind of facebook meme that puts "men" in the position of telling "girls" how things are and what they should do about it.