Who among the current First Presidency and Quorum of the Twelve is mostly likely to eventually become President of the Church?
Elder Bednar. He has a 55% chance. Here's the complete list, ordered by probability of becoming President. Of course, President Monson ranks at the top since he already is President.
Quorum Members' Estimated Probabilities of Achieving Presidency, September 2009
Name

………….

Probability President

..

Rank

..

…..

Age

…..

Future Life Expect
Mean Yrs Pres if Pres
Monson
1.00
1
82.1
7.5
7.6
Bednar
0.55
12
57.3
23.9
12.5
Holland
0.50
9
68.8
15.2
7.5
Oaks
0.48
5
77.1
10.0
4.9
Packer
0.41
2
85.0
6.3
3.2
Uchtdorf
0.32
11
68.8
15.1
6.8
Andersen
0.30
15
58.1
23.2
9.8
Hales
0.29
8
77.1
10.0
3.8
Nelson
0.23
4
85.0
6.3
2.4
Ballard
0.21
6
80.9
8.1
3.4
Perry
0.20
3
87.1
5.5
2.4
Christofferson
0.19
14
64.8
18.1
6.8
Scott
0.18
7
80.8
8.1
3.1
Eyring
0.15
10
76.3
10.4
3.6
Cook
0.14
13
69.0
15.0
5.3
In this table, "Rank" means order in seniority, and "Mean Yrs Pres if Pres" estimates the number of years each man would be President assuming he becomes President. For President Monson, this is an estimated number of future years as President, not counting the time he has already served in the position.
Where do these probabilities come from? Well, the answer is a little long and tedious, so to avoid boring most of you, I've put a description of my method at the end of this post, after all the fun stuff.
Looking at the table, the connection between age and life expectancy is probably clear, as well as the connection between age, rank, and probability of becoming President. Often a figure makes such connections clearer, though, so I put the data in a figure. But before I get to the figure for September 2009, let me give a little background in the form of figures based on similar data from the calling month of each new President going back to President McKay.
Here's what the Quorum looked like when David O. McKay took over as President in April 1951.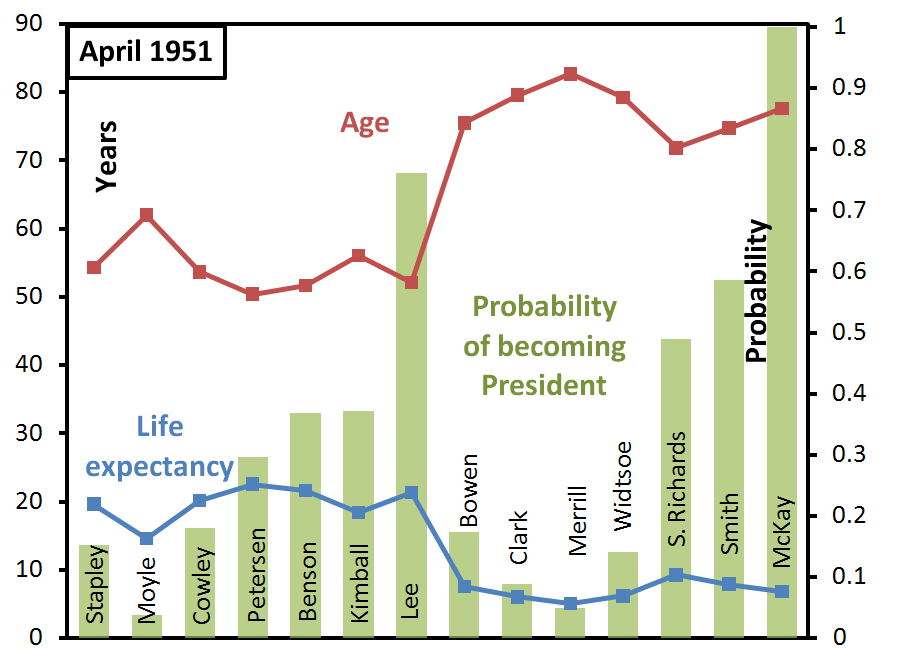 This is what the parts of the figure mean:
Members of the Quorum are listed from least senior (most recently called) to most senior (called longest ago).
The red dots (connected with lines to make them stand out more) represent age in years. Years are shown on the left vertical axis.
The blue dots (also connected with lines) represent life expectancy in years, also measured along the left vertical axis.
The green bars represent probability of becoming President. Probability values are shown on the right vertical axis.
President McKay of course had a probability of 1 (100%) of being President. Joseph Fielding Smith and Stephen L. Richards also had fairly good chances, which makes sense given that they were second and third in line, and both a bit younger than President McKay. But by far the best chance for any Quorum member was for Harold B. Lee, at nearly 70%. Why? Well, looking at the age points, he was 20 years younger than everyone senior to him, and so a really good bet to outlive them all.
Also worth noticing is the fact that the four Quorum members between Richards and Lee–John A. Widtsoe, Joseph F. Merrill, J. Reuben Clark, and Albert E. Bowen–had very little chance of reaching the Presidency. All were older than the three men ahead of them in seniority.
Finally, future Presidents Spencer W. Kimball and Ezra Taft Benson weren't exactly unlikely candidates at this point, with chances of about 1 in 3, but it was only the surprisingly early death of Harold B. Lee that really gave them a good shot.
Okay, here's the Quorum when Joseph Fielding Smith took over as President.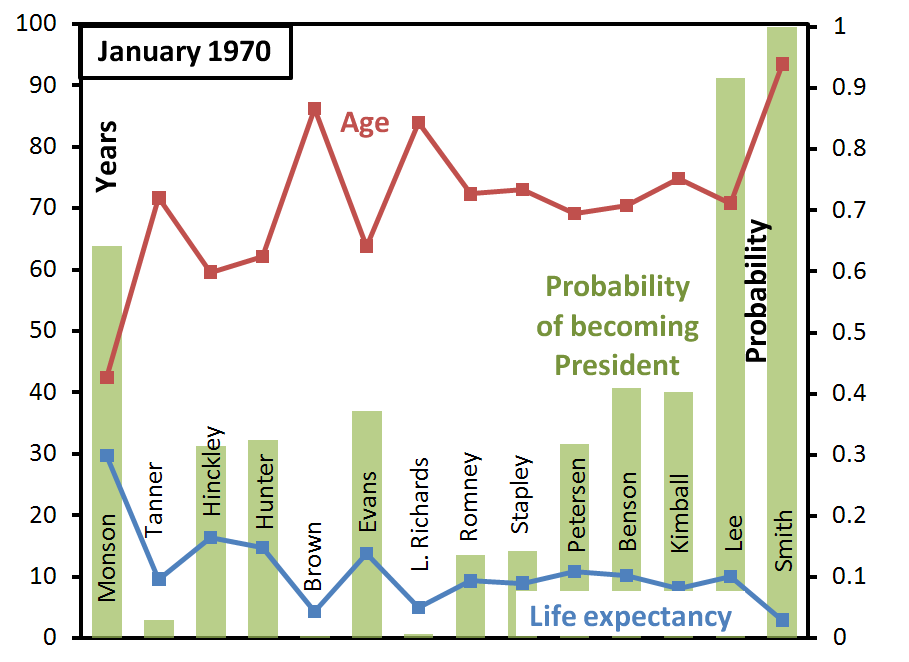 At this point, Elder Lee appeared to be a virtual lock for reaching the Presidency. Future Presidents  Howard W. Hunter and Gordon B. Hinckley had joined the Quorum, and appeared to have fair chances to reach the Presidency. Richard L. Evans looked like a pretty good bet at this time, but he was to die at 65. Thomas S. Monson had joined the quorum by this time, and you can see like Harold B. Lee, he was so much younger than anyone senior to him that he appeared to be quite likely to end up as President.
Interestingly, there were three Quorum members at this time–LeGrand Richards, Hugh B. Brown, and N. Eldon Tanner–who had virtually no chance of becoming Church President.
Here's the Quorum when Harold B. Lee became President.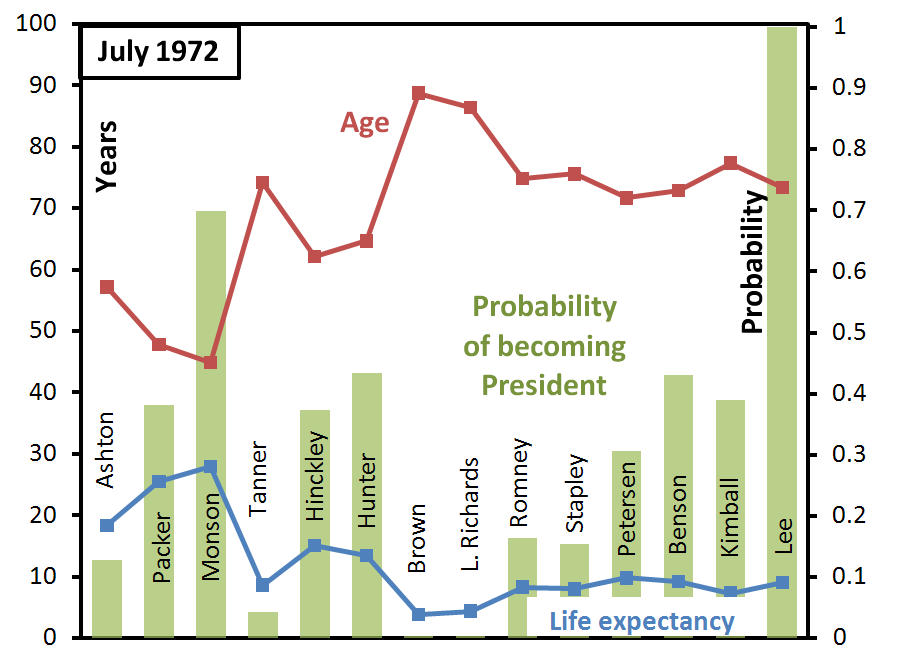 Not much changed during President Smith's brief tenure.
Here's the Quorum when Spencer W. Kimball took over as President.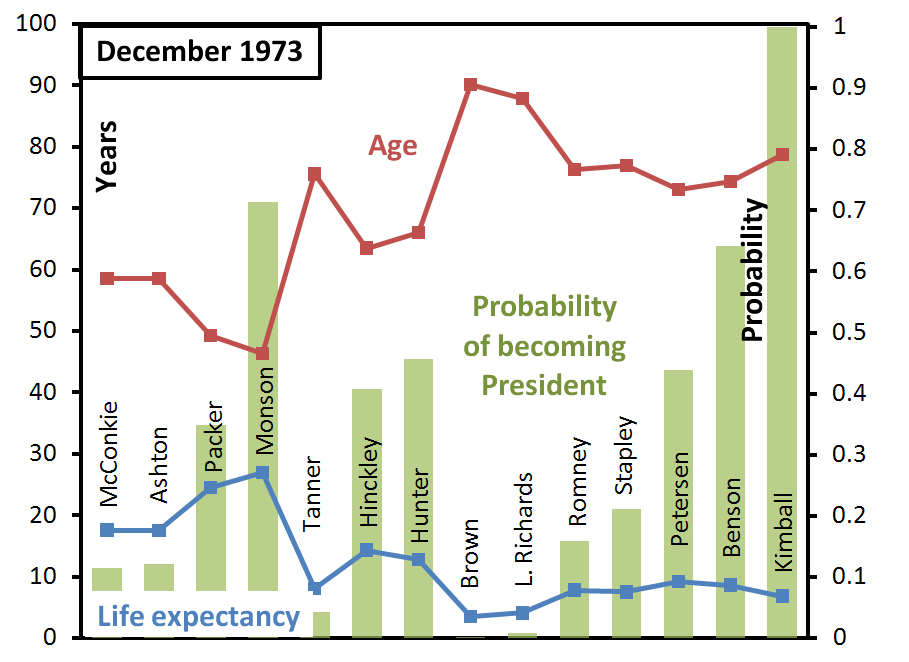 President Lee's death really altered probabilities for some Quorum members following him. Most obviously, it allowed President Kimball, who was four years older than him, to become President. But it also bumped up probabilities for Elders Benson and Petersen, both of whom were only slightly younger than President Lee. Farther on down the Quorum, his death had less of an impact, as much younger Quorum members were already quite likely to outlive him.
Here's the Quorum when Ezra Taft Benson became President.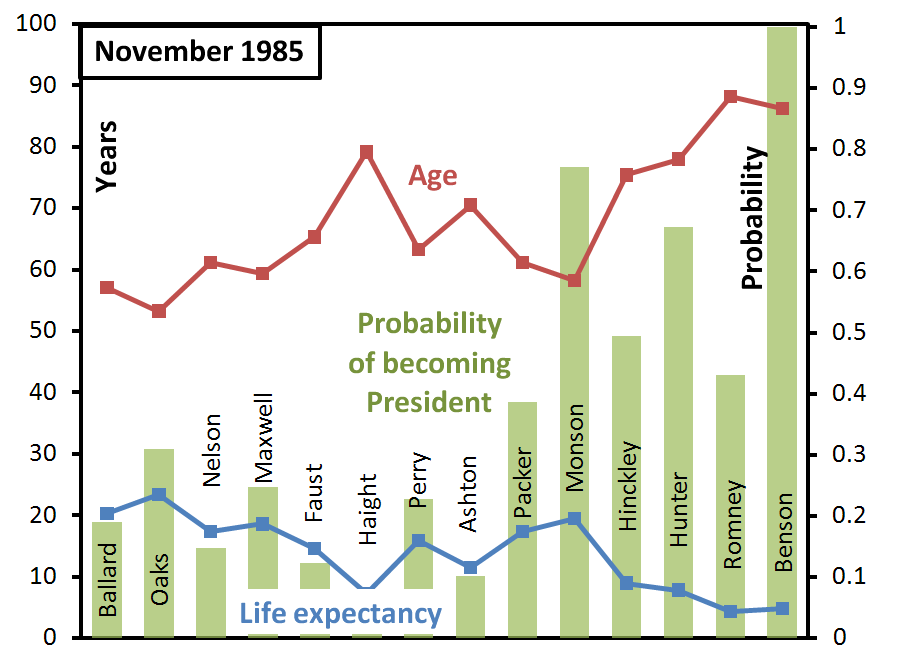 President Benson was followed in seniority by a cluster of Quorum members who were quite likely to become President too. Marion G. Romney was only a little older than President Benson, and Elders Hunter, Hinckley, and Monson were all quite a bit younger. Farther on down in the Quorum, David B. Haight had a near zero chance. Dallin H. Oaks, on the other hand, had entered the Quorum with a relatively good chance, as he was noticeably younger than anyone senior to him.
Here's the Quorum when Howard W. Hunter became President.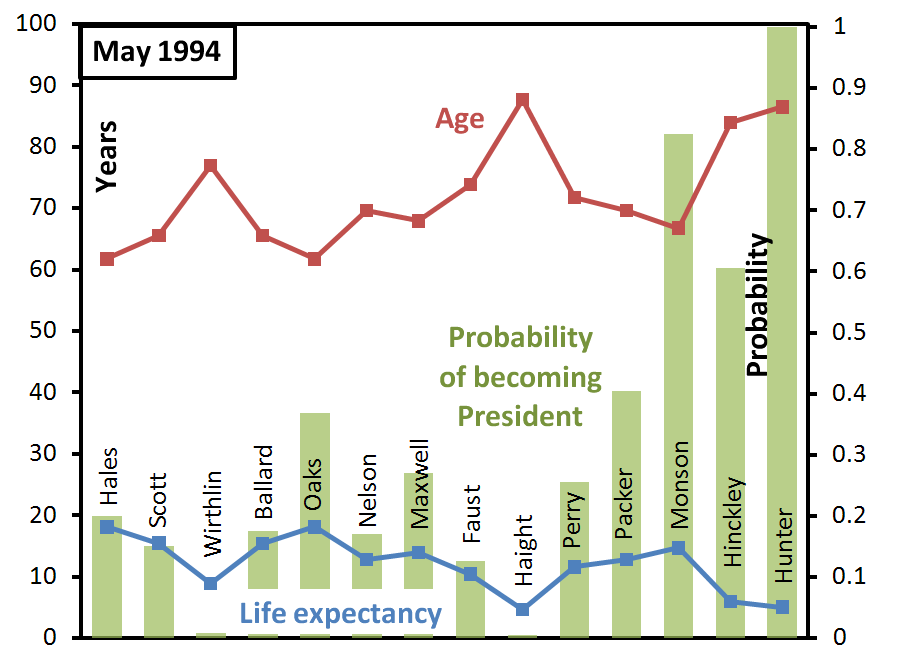 Future Presidents Hinckley and Monson were well positioned at this point. President Hinckley was only a little younger than President Hunter, but he was second in line and so had only to outlive one man. President Monson still had the advantage of being dramatically younger than anyone senior to him. Boyd K. Packer also began to emerge as a possible future President. He was (and is) older than President Monson, but had moved far enough up the ladder of seniority to be positioned to reach the Presidency if President Monson died young. Further on down in the Quorum, Elders Maxwell and Oaks stood out as likely candidates.
Here's the Quorum when Gordon B. Hinckley became President.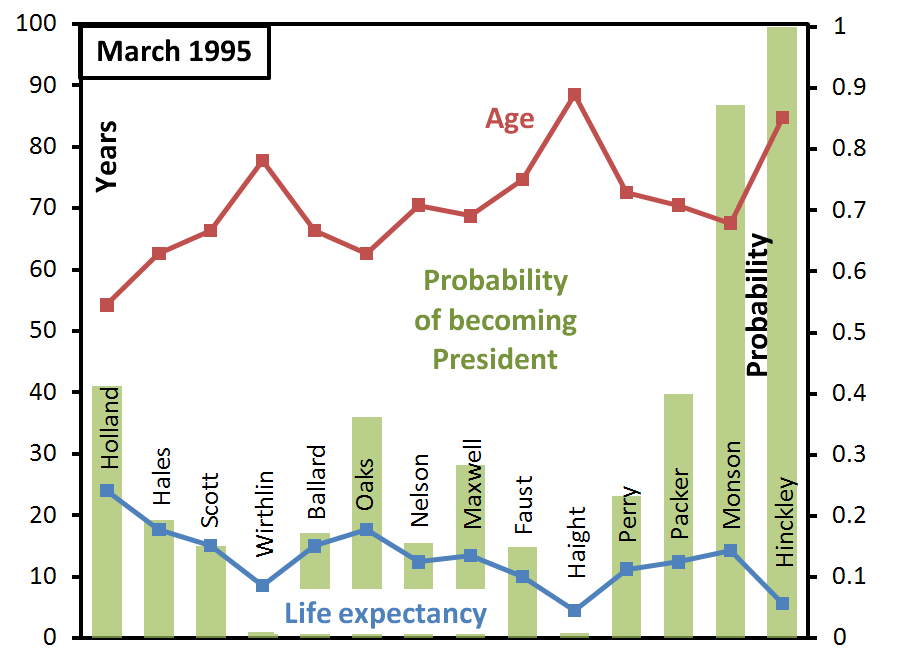 At this point, President Monson was pretty much a shoe-in to take over as the next President. At the junior end of the Quorum, Jeffrey R. Holland had entered with quite a high chance of becoming President. He had the same advantage as Elders Oaks, Monson, and Lee when they were called: he was quite a bit younger than anyone senior to him.
Here's the Quorum when Thomas S. Monson took over as President.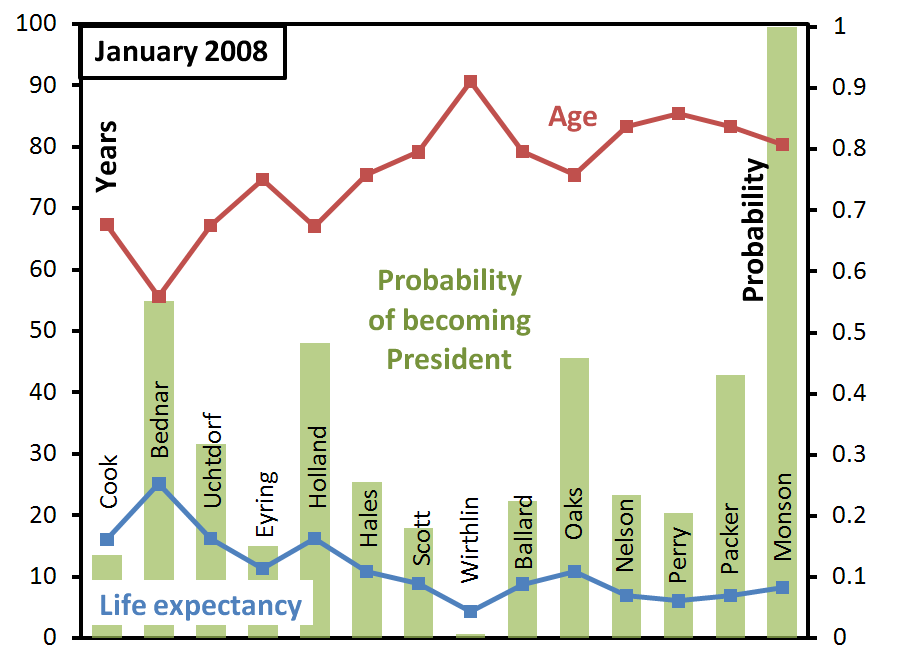 The hot new candidate was David A. Bendar, who followed the pattern of being far younger than anyone senior to him when he was called. The difference was larger for him partly because he entered the Quorum after a long period of stability. For nearly a decade, nobody in the Quorum had died, meaning that they were all aging together. Elder Bednar was young when he was called (52.4), but not dramatically different from the ages at which Elders Oaks (51.8) and Holland (53.6) were called. Entering after a long period of stability, though, gave him a higher probability at entry than Elders Oaks or Holland had.
Finally, here's the Quorum as of September 2009. This corresponds to the table at the beginning of this post.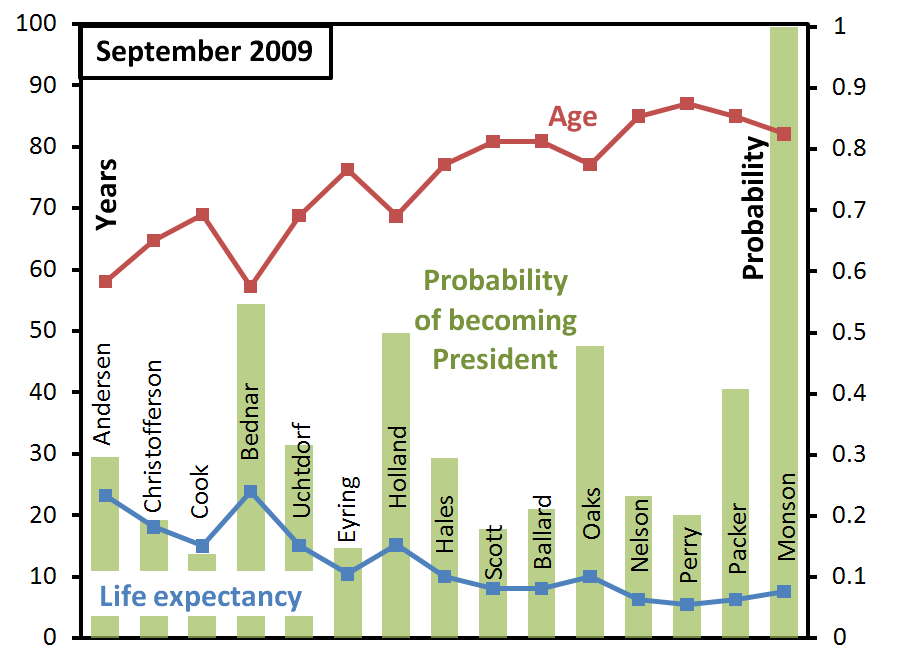 Not a whole lot has changed since President Monson became President. One member to keep an eye on is Neil L. Andersen. He's similar in age to Elder Bednar, although a little older. But other than Elder Bednar, he's younger than everyone else, and in many cases (e.g., Quentin L. Cook, Dieter F. Uchtdorf, Henry B. Eyring), a lot younger. So if he were to outlive Elder Bednar, he would be a really good candidate to become President. Of course, it will likely be a few decades before we know if that's going to happen or not.
This is the end of the fun part of the post. If you're interested in how I came up with the life expectancies and probabilities of becoming President, read on. If not (and I wouldn't blame you), skip down and make a comment. Suggested topic: Who are you rooting for to become Church President next?
Where do these probabilities come from? I'm glad you asked. I figured them using a three-step process.
First, I found birth, calling, and (where applicable) death dates for every member of the Quorum since its organization in 1835.  (These came from the very helpful site ldsfacts.net.) I rounded all dates to the nearest month to avoid having to deal with issues like leap years. Then, I looked at life expectancy tables for White American men to determine each Quorum member's life expectancy in each month of his life. For life expectancies for years from 1900 to the present, I looked at the United States Life Tables 2004 (Table 11), issued by the CDC's Division of Vital Statistics. For life expectancies from 1850 to 1900, I looked at the book Historical Statistics of the United States, specifically table Ab656–703: Expectation of life at specified ages, by sex and race: 1850–1998.
Of course neither of these sources gives life expectancies for a man of an age specified in months. They also don't give life expectancies for every year, but only about once a decade (e.g., 1920 but not 1923 or 1917). For example, they could tell me that a White man who was 50 in 1950 had a life expectancy of 24.70 years, but they couldn't tell me his life expectancy if he was 51, or if it was 1954. Another problem was that the tables didn't go far enough at either end–they only reached back to 1850 and forward to 2004.
I solved both of these problems by assuming linear change between values in the table. I did this both to estimate between ages and between years. For example, to find the life expectancy of a Quorum member who turned 50 in 1955, I found his life expectancy if he had turned 50 in 1950 (24.70) and if he had turned 50 in 1960 (25.57). Then, since 1955 is halfway between 1950 and 1960, I went halfway between 24.70 and 25.57 and estimated his life expectancy as 25.135. The process worked the same way when working between ages. For example, to find the life expectancy of a Quorum member who turned 52 in 1940, I found his life expectancy if he had turned 50 that year (23.26) and his life expectancy if he had turned 55 that year (19.47). Then, since 52 is 40% of the way from 50 to 55, I went 40% of the way from 23.26 to 19.47 and estimated his life expectancy as 21.744. Naturally, because most Quorum members don't have round number birthdays that matched round number years, and because I was refiguring everyone's life expectancy once for each month of his time in the Quorum, I had to use this method to estimate both between years and between ages for almost all life expectancy estimates.
I used a similar process to estimate life expectancies for years outside the tables. For years more recent than the end of the newer table (2005-2009), I took the change between the two most recent years in the table (1990 and 2004) and projected them out as a line. For years before the earliest years in the older table (1835-1849), I took the change between the two oldest years (1850 and 1860) and projected them back as a line.
Second, once I had an estimated life expectancy for each Quorum member, I wanted to represent variability in his possible life expectancy. For example, someone having an estimated life expectancy of 20 years could live 2 more years, or 15, or 35. A life expectancy of 20 just means that's the average of the possibilities. To simulate this variability in possible life expectancy, I drew 1000 random numbers based on the  Quorum member's life expectancy. As with finding life expectancies, I repeated this for each month of each Quorum member's time in the Quorum.
Random values were drawn from a Weibull distribution having a shape parameter of 2.1 and a scale parameter chosen, in conjunction with the shape parameter, to give the distribution an expected value equal to the estimated life expectancy. The value of 2.1 for the shape parameter was chosen because it gave the best fit between predicted probabilities of becoming President and actual probabilities.
Third, once I had these 1000 possible life expectancies for each Quorum member in each month of his time in the Quorum, I put them together to see what they implied for how the Presidency would pass from one member to another. For example, just looking at part of a Quorum, consider the four most senior Quorum members at the moment–Thomas S. Monson, Boyd K. Packer, L. Tom Perry, and Russell M. Nelson. So if the random number draw yielded the following life expectancies:
Monson: 8.9
Packer: 6.2
Perry: 7.1
Nelson: 5.5
this would suggest that President Packer, Elder Perry, and Elder Nelson will not become President of the Church (since President Monson will outlive them all). If, on the other hand, the random number draw yielded these life expectancies:
Monson: 5.0
Packer: 3.9
Perry: 10.7
Nelson: 12.1
this would suggest that President Packer would not become President of the Church (since President Monson would outlive him), but Elder Perry would (since he would outlive President Monson), as would Elder Nelson (since he would outlive Elder Perry). Of course, the first set of random number draws is more likely than the second, given that President Monson is the youngest of the four.
Anyway, I repeated this process 1000 times for the Quorum as it existed each month from March 1835 to September 2009 (2095 months). So for any Quorum member in any month, his predicted probability of becoming President estimated in a particular month is simply the proportion of the 1000 scenarios (based on the random number draws, which are based on every member's life expectancy) in which he outlives all Quorum members senior to him. For Elder Bednar in September of 2009, he became President in 546 of 1000 scenarios: 546/1000 = 0.546, which rounds to 0.55, or 55%.
Assumptions
In doing this particular analysis, I've made a number of assumptions:
I've assumed that the historical pattern of having the senior member of the Quorum take over as President when the previous President dies will continue to be followed.
I've assumed that all Quorum member's life expectancies can be described by a single distribution. Of course this is false, given that with more information about their medical condition, more precise predictions could be made. But I don't think it's a bad approximation.
I've assumed that members will only leave the Quorum through death. This certainly wasn't true in the first few decades after the Church was organized, but given that the most recent exit by a means other than death was over half a century ago (Richard R. Lyman in 1943), it's probably not too far off.
I've assumed that Quorum members' life expectancies are independent of one another. In other words, I'm not accounting for any lengthening (or shortening) of life that might take place when a member rises to the Presidency–or takes any other position in the Quorum, for that matter. (For a way that this assumption might go wrong, see this comment by Matt W.)
Obviously I'm assuming that life expectancies follow a particular distribution (Weibull), and of course there's no way that's exactly true. But that distribution is frequently used for survival analyses like this, so it's probably not a bad choice.
In doing all that linear interpolation and extrapolation, I'm assuming that change in life expectancy from year to year or age to age is linear. While it probably isn't, it's likely not far off. For instance, if life expectancy for a 50 year old is 23.26 and life expectancy for a 55 year old is 19.47 (as they were in 1940), then life expectancy for a 52 year old may not be exactly 21.744 as I estimated, but it's more likely that than something outside the range of the age 50 and age 55 life expectancies, like 15.5 or 34.2.
The root mean square error (RMSE–the square root of the average squared prediction error) in probability was 0.36, so a member who didn't end up becoming President was on average estimated to have a 0.36 probability and a member who did end up becoming President was on average estimated to have a 0.64 probability. This doesn't sound too good, I know, but this fit is actually much better than, for example, simply guessing that every member will die at exactly his life expectancy and working through who would be President or not. Using that approach, all predicted probabilities are zero or one (i.e., not President or President), and the RMSE was 0.55.
Note that for both of these calculations, I excluded living Quorum members other than President Monson, since it is as yet unknown whether they will end up becoming President or not. I also excluded all predictions based on months during Joseph Smith's tenure as President, since so many Quorum members left by excommunication then, and I was more interested in finding good fit for the current norm of having Quorum members leave only by death.