I've always thought that a big positive of the Proclamation on the Family is that it mentions Heavenly Mother. Or to be more precise, it mentions Heavenly Parents. Here's a quote from the section where they're brought up:
All human beings—male and female—are created in the image of God. Each is a beloved spirit son or daughter of heavenly parents, and, as such, each has a divine nature and destiny.
I have always read "heavenly parents" here to mean a heavenly couple: Heavenly Father and Heavenly Mother. But I was part of an online discussion recently in which Nancy Ross (who you might know from the papers she has co-written on Mormon feminism) pointed out that the wording here is completely compatible with the possibility of a polygamous Heavenly Father married to many Heavenly Mothers. "Heavenly parents" could be two (as I've always read it) or it could be 50 or 10001. Another participant in the discussion, Melissa Mayhew (who you may know from her blogging as Rune at Feminist Mormon Housewives), suggested that it would be interesting to look at other statements GAs have made about Heavenly Mother to see if they're also compatible with a multiple-Heavenly Mother reading. I thought that was a great idea, so that's what I'll be doing in this post.
Fortunately, there is a great data source for GA statements on Heavenly Mother. A few years ago, David L. Paulsen and Martin Pulido published an article on this very topic in BYU Studies. As part of their research, they searched numerous Mormon sources for statements on Heavenly Mother (see their Note 16). Of course they didn't have space to report every single one in the article, but at least with the ones they did quote, they gave me a sample to work with. Note that not all of their statements come from GAs; some come from other sources that might be considered to have some authority (e.g., hymns). I looked at all statements in their article, regardless of the source.
I classified each quote in the body of the Paulsen and Pulido article (I didn't check the footnotes) into one of four categories: not compatible with a multiple-Heavenly Mother reading, somewhat compatible, very compatible, or not enough information. The last category applied only to a few quotes where the way the authors chose to excerpt meant that the words actually mentioning Heavenly Mother or Heavenly Parents were excluded. For some references, the authors paraphrased or summarized and didn't quote directly at all; I excluded these references.
I'll give you examples of quotes I put into each category so you can hopefully get a better sense of what I was doing. Here's one from Gordon B. Hinckley (on p. 84 of the article) that I classified as "not compatible":
I regard it as inappropriate for anyone in the Church to pray to our Mother in Heaven.
By saying "our" Mother in Heaven, referring to one Mother we all share, Hinckley makes clear that he is referring to just one divine being.
Next, here's a familiar one from Eliza R. Snow (on p. 71 of the article) that I classified as "somewhat compatible":
In the heav'ns are parents single?
No, the thought makes reason stare;
Truth is reason—truth eternal
Tells me I've a mother there.
When I leave this frail existence—
When I lay this mortal by
Father, mother, may I meet you
In your royal courts on high?
Snow mentions "a" mother, and plans on greeting her after this life ends, but her phrasing doesn't rule out the possibility that other people might have other mothers there that they also might plan to greet in the next life. That being said, it seems like the one-Mother reading is much more natural for this quote, so I only classified it as being somewhat compatible.
Finally, here's one from M. Russell Ballard (on p. 80-81 of the article) that I classified as "very compatible":
We are part of a divine plan designed by Heavenly Parents who love us.
Just like with the Family Proclamation, saying "Heavenly Parents" leaves open the possibility that there could be any number.
Here's a graph showing how many of the quotes fell into each of the first three categories (excluding the "not enough info" category):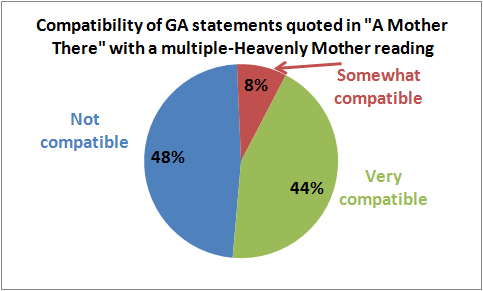 The quotes were about evenly split between those that could be read with multiple Heavenly Mothers and those that couldn't. You can see I classified very few as "somewhat." Most were about evenly split between "not" and "very." Almost all the quotes that I classified as "very compatible" I put in that category because they mentioned Heavenly Parents but didn't explicitly describe a Heavenly Couple.
One important thing to clarify is that I'm not making any assumptions about intent. I'm not assuming that speakers making statements that are compatible with a multiple-Heavenly Mother reading are doing so to intentionally suggest a polygamous Heavenly Father. I'm just classifying the content of what they've said to see if it could be read in that way, regardless of what their intent might have been. If I had to guess, I would say that in general, I don't think they're doing it intentionally. The existence of quotes that go both ways suggests that this might not be an issue GAs are even thinking about.
Intentional or not, though, I wish that they would stop referring to Heavenly Mother in ways that leave the door open for celestial polygamy. I think polygamy was harmful and wrong, and I think it's a painful message to send to women in particular that polygamy is part of heaven. Even if they're not intending to send this message, it does matter when GAs say things that can be read this way. And as all the quotes that aren't open to a multiple-Heavenly Mother reading illustrate, it's possible to talk about her in a way that excludes the possibility of polygamy. Unfortunately, given the influence of the Family Proclamation, speakers will likely take cues from it and talk about "heavenly parents," and thus leave open the possibility of a polygamous Heavenly Father, for a long time to come.
_______________
1. For that matter, it could just as well refer to multiple heavenly couples, or many other kinds of arrangements, but given our history of polygamy and the many ways it persists in the Church today, I think the polygamous reading is more interesting than these other possibilities.