Last month, I wrote a post where I used a mortality table and the current ages of the First Presidency and Quorum of the Twelve to see who among them would be most likely to become Church President. One question that was raised on the post and in some Facebook discussions was how well that mortality table matched up to historical mortality rates of Q15 members. In this post, I'll try to answer that question.
I looked at historical data from January 1960 to April 2014. Each month1, for each current Q15 member, I noted two pieces of information: his age at the beginning of the month, and whether he was still living one year later. When I aggregated all the data together, they made an empirical mortality table. For any age that at least one Q15 member during that time period lived to, the proportion of such members who died within one year was the empirical mortality rate. Of course, there's more data for the table at some ages than others, as few Q15 members during this time period were as young as their forties, but many have been in their sixties, seventies, and eighties.
Here's a graph showing the mortality rate for Q15 members (in red), along with the mortality rate for the Society of Actuaries mortality table I used (in blue). I included only ages for which I had at least 120 person-month observations (or 10 person-years).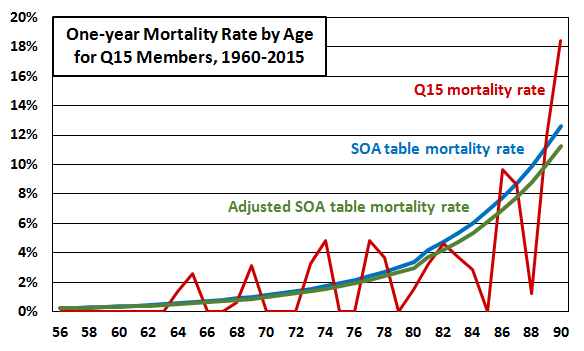 Read More