This guest post comes to us from Christian Anderson.
It's always nice to hear how the old folks at home are doing. It seems like we've been hearing more and more about Them recently.
Back in April 2013, Ziff (http://zelophehadsdaughters.com/2013/04/29/heavenly-parents-are-we-really-talking-about-you-more/ and references therein) noted that there seemed to be an increasing number of references to "Heavenly Parents" in General Conference and more widely in church materials. This post discusses three aspects of that trend: 1) It has not only continued but accelerated over the last three years, 2) there has been a shift in which authorities are mentioning Them, and 3) the fraught issue of capitalization.
An accelerating trend
Few speakers mentioned Heavenly Parents in the decades before 1995, with an average of 0.48 references per year (that's both April and October conferences combined). That all changed with "The Family: A Proclamation to the World", which affirms in its third sentence that each human being is "a beloved spirit son or daughter of heavenly parents", triggering seven references to Heavenly Parents that year. In the years 1996-2012, references to "Heavenly Parents" nearly tripled to 1.41 references per year (p=0.0057), but never more than three in any one year. 2013 saw a spike to a record nine references, followed by a fall back to one reference in 2014, a return to nine references in 2015, and finally a grand total of 15 references this year. Exactly half of the 56 talks that mention Heavenly Parents have been delivered in the last four years.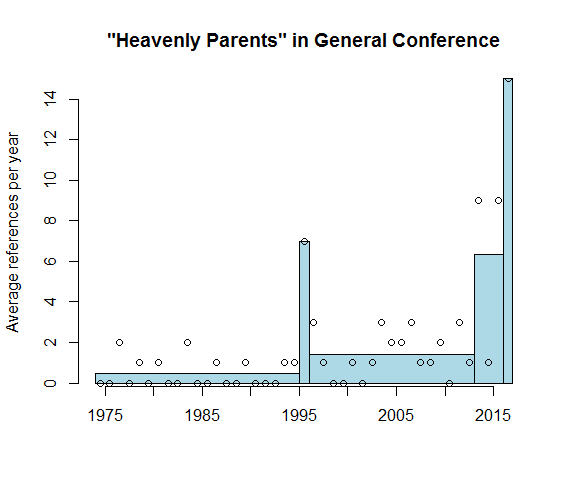 Read More