As you are no doubt aware, President Monson passed away Tuesday evening. As I have before when a member of the Q15 passes away, in this post I'll show how the probabilities of becoming Church President change for the other members as a result.
All the probabilities come from a simulation I did for a post back in 2015. It's a straightforward simulation: it uses an actuarial table and each Q15 member's age and seniority in the quorum as inputs, and it draws a series of random numbers to simulate different possible life expectancies for each member. The life expectancies are then compared to find in what fraction of the simulations each member outlives all other members senior to him to become President. I did 100,000 replications for each run. That is, 100,000 times I drew random numbers for each Q15 member and compared them to his survival probability each year, and then worked out whether each member would become President or not in that scenario, and how many years he would serve if he did. For a more detailed description of the process, see my earlier post.
I realized when writing this post up that I had never done a post to show changes in the probabilities after Elder Hales passed away last October. I'll start with that. This table shows the changes in probabilities and average number of years serving as President for the other Q15 members after Elder Hales died. Note that all the numbers, including ages, are as of October, 2017.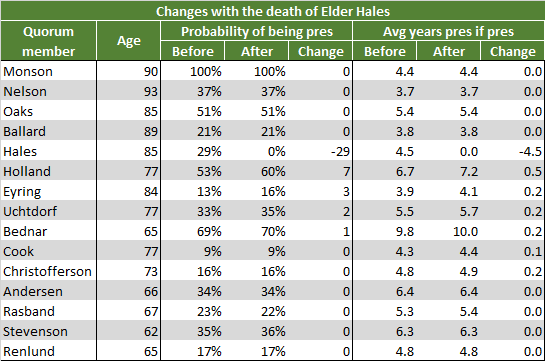 The reason I didn't put this table together at the time of Elder Hales's death is that I expected that little had changed. Elder Hales was quite a bit older than all members junior to him except for Elder Eyring, and Elder Eyring was already unlikely to become President because he was blocked by a much-younger Elder Holland. I have to say that the movements, while not large, are actually larger than I had expected. Elder Holland in particular got a seven-point increase in his probability, and a six-month increase in his expected term as President (assuming he becomes President). Elder Eyring, President Uchtdorf, and Elder Bednar also got smaller bumps in their probabilities of becoming President. There's not much movement further down on the seniority list, as these men were already almost certain to outlive Elder Hales.
One other thing to note is that the change values in the table don't exactly line up with the separate values they are showing change between. For example, for Elder Christofferson, the change from a 4.8 year average presidency length to 4.9 years is shown as 0.2 years. This isn't an error, but rather it occurs because all three values are rounded separately. The unrounded values might be 4.76 years to 4.94 years, for a difference of 0.18 years, for example.
Here's the table for changes with President Monson's passing.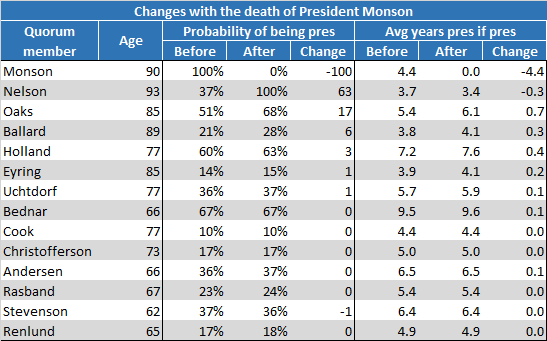 The obvious change here is that President Nelson went from having only a 37% chance of becoming President to having a 100% chance (assuming the Q15 doesn't break with tradition or something unusual like that). As he was next in line, this just reflects that the actuarial table gave him a 37% chance of outliving President Monson. This fact really shows the limitation of the process of using the same actuarial table for all Q15 members, as it has seemed quite clear in recent years that President Nelson was in better health than President Monson, even though the age difference (and therefore the actuarial table) favored President Monson to live longer.
Elders Oaks and Ballard also got noticeable increases in their chances of becoming President. As with the previous table, there is little to no action further down in the seniority list, as the men in more junior positions were almost certain to outlive President Monson already. Note that Elder Stevenson's chances decline by one percentage point. I'm pretty sure this is just a quirk of the simulation. I ran 100,000 replications each time, and by happenstance, he made it to President a little less often in the second run, that excluded President Monson. If I had run with more replications (a million or even more), his probability would likely come out to be virtually the same in the runs that included President Monson versus the ones that excluded him.
I'll post an updated graph in the next few days that shows each Q15 members' probability of being President at individual points in time in the future (like the lower graph in my 2015 post).