Elder L. Tom Perry died on May 30th at the age of 92. I'm sure you won't be surprised to learn that one question that I immediately wondered about on hearing the news was how this would affect the other Q15 members' probabilities of becoming Church President.
Here are their probabilities and average predicted years of being President before and after Elder Perry's death. These come from the simulation I posted about a couple of months ago where I used a mortality table to run 1000 scenarios and see in how many each Q15 member would become Church President.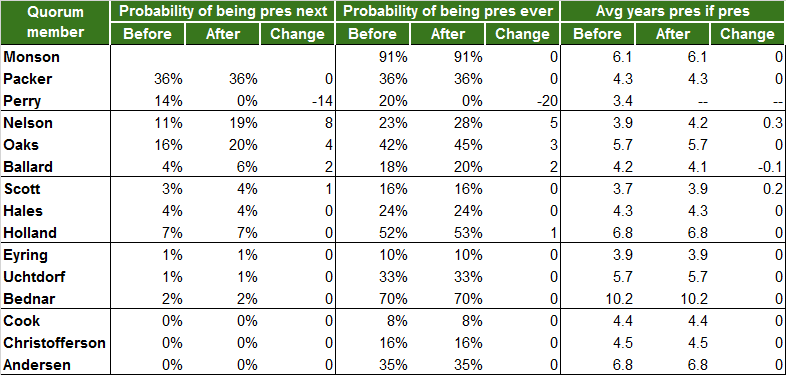 There's some change for Elders Nelson and Oaks, particularly in his probability of becoming the next President, and a little for Elder Ballard, but after that, it's pretty much nothing. This probably shouldn't be surprising, as Elder Perry was the oldest member of the Q15, and the age gap between him and the younger members of the quorum was so large that they were all almost certain to outlive him. The simulations using the mortality tables already were anticipating that Elder Perry wasn't likely to be blocking, say Elder Bednar, from becoming President, so when he died, nothing changed for the least senior members of the quorum.
If you're interested in this question more generally, of how probabilities change when a quorum member dies, you might enjoy this post I wrote a few years ago where I looked back at how historical probabilities had changed since 1950.
Once the new Q15 member has been called in October, I'm planning to re-do the simulation in a new post that's continuously updated like my post in April was, so you'll be able to refer to that post on an ongoing basis to track the quorum members' probabilities of becoming President.