How many of the fifteen men in the First Presidency and the Quorum of the Twelve are currently suffering from Alzheimer's disease? Of course I don't know the answer to this question. I can give you an estimate, though. Since I've been crunching numbers recently to predict which Q15 members might become Church President, I have all these data on their ages and life expectancies lying around, and given that age is a strong predictor of Alzheimer's, I thought it would be an interesting exercise to match up the age data with an Alzheimer's prevalence table to see what proportion of the quorum might suffer from it in the past, present, and future.
The major data sources I used are (1) ldsfacts.net for birth, calling, and death dates for historical Q15 member ages, (2) the simulations I did for my post last month on predicting who will become Church President, for future Q15 member ages, and (3) this paper from the journal Alzheimer's and Dementia for the Alzheimer's and dementia prevalence rates. If you're interested, I've described the process I followed in more detail at the end of this post.
Here's a graph showing the average age of the Q15 and the age of the Church President from 1835 to 2014 (taken at the end of each year), and predicted ages for the Q15 and for the Church President for the next 15 years. I calculated predicted ages in two ways, one using the SOA mortality table that I used for my post last month about predicting which Q15 members would become Church President (labeled "not adjusted" in the graph, with darker colored lines), and the other (labeled "adjusted," with lighter colored lines) with the mortality rates in the SOA table multiplied by 0.89 because I found in analyses for another post that this provided better fit to actual historical mortality rates of Q15 members.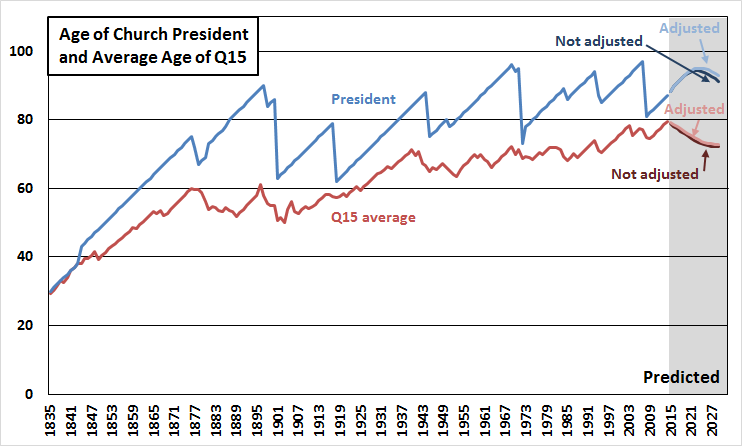 Read More