In her post last week on Mormon fixation with small issues at the expense of larger more important ones, Jana Riess pointed out that the majority of all references to pornography that have ever been made in General Conference have occurred just since the turn of the millennium. I thought it might be interesting to look at the data in a little more detail, because it was my impression that discussion of porn might be declining.
I looked up the yearly rates of usage of the word "pornography" in General Conference at the LDS General Conference Corpus site. Here's a graph showing the yearly rates and the five-year moving average. The graph starts in 1959 because that's the first year pornography was mentioned in Conference.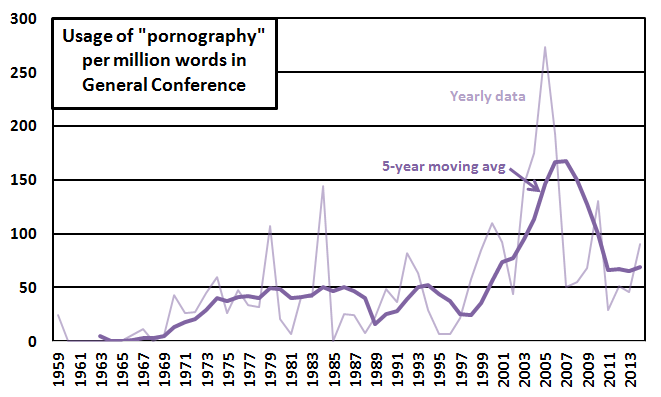 It looks like usage might have flattened out again after a big bump in the 2000s. I would guess that the big bump occurred as the internet grew and internet porn grew with it. I wonder if its usage then declined again because no one issue can be the hot topic forever. Maybe something like gay marriage took its place as the topic of the moment.
I also counted articles in Church magazines that mention pornography. To find these, I used Google to search each magazine in turn. The search I used was "pornography site:lds.org/ensign" (subsituting "new-era" and "friend" in turn for "ensign." To avoid double-counting, I didn't include articles from Ensign issues that report General Conference. To be able to convert the counts of articles to percentages of articles in each year, I estimated the total articles for each year by counting articles in the March and September issues of each magazine and multiplying by 6 (since I was sampling 1/6 of the year).
Here is the result. As in the graph above, each magazine's year-to-year counts are in faded colors, and the five-year moving averages are in more saturated colors.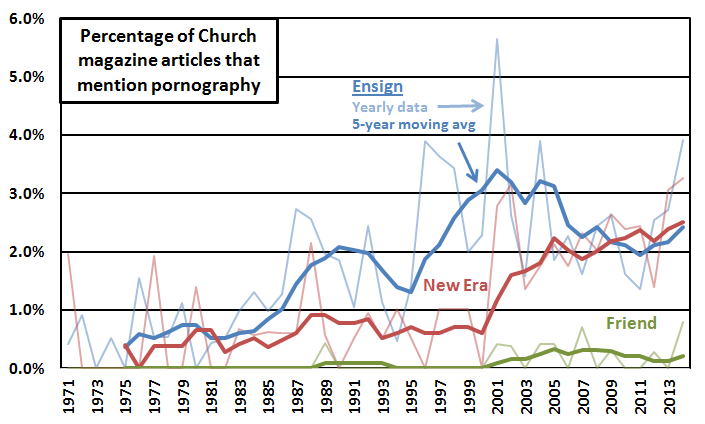 The Ensign data looks kind of like the General Conference data, except the bump occurs earlier. The New Era has had the increase, but hasn't had the decline. This is somewhat consistent with the modesty rhetoric trend I blogged about earlier this year, where references in the New Era have increased dramatically in the last few years. The connection makes sense given that, as many commenters on the modesty rhetoric thread pointed out, some General Authorities do appear to see immodest dress as a kind of porn (as Elder Oaks famously said, for example).
I'm interested to hear if you have any thoughts on what these patterns might mean. I think it's entirely possible, for example, that the five-year moving averages aren't smoothing the data enough, and that the only real pattern is an increase in recent years since the rise of internet porn. Anyway, hit me with your theories!