How do we lance the following Gordian knot in our theology?
Ordinances are only legitimate when they're performed by authorized priesthood holders. All authorized priesthood holders are male, exclusively. Yet ordinances performed by authorized women are equally legitimate.
There have been a number of attempts to develop a theological vocabulary that describes female-performed ordinances in relation to priesthood without actually accounting for their existence in any meaningful way: men occupy offices in the priesthood where women simply have access to raw priesthood power, or women perform ordinances under the auspices of priesthood without actually exercising priesthood.
(There have also been attempts to capitalize on this apparent inconsistency to construct rationales for expanding the role of women in the church, since endowed women are seemingly already divinely invested with priesthood power—or, conversely, to construct rationales for maintaining the status quo, since worthy women are already allegedly on the same footing with regard to priesthood as worthy men.)
In this post I hope to address this problem from a different, more sociological and less theological angle, proposing a framework that allows us to conceptualize how this odd state of affairs came to be and continues to operate; the exploration of its theological implications I'll leave to others.
As I see it, the murky concept of priesthood is invoked in Mormon contexts to answer two fundamental, but very different, questions: 1) What distinguishes us from other religions? and 2) What distinguishes men from women? The first use is what I'm going to call the "interchurch" paradigm for priesthood, the second the "intrachurch" paradigm. In its interchurch paradigm, priesthood is the concept that explains our near monopoly on access to metaphysical power dispensed especially through rituals, where in its intrachurch paradigm priesthood is the concept around which Mormon masculinity is most centrally constructed and is invoked to account for a masculine predominance in social power in the church. Others have pointed to the odd and non-original conflation in the term "priesthood" of ritual power with administrative power—that is, "priesthood power" with "priesthood offices"; however, I believe the second paradigm encompasses not administrative power per se, but, much more specifically, what it means to be masculine in the church, which includes inter alia privileged access to administrative authority and responsibilities.
For the most part the admixture of these two different paradigms works reasonably well, largely because men perform virtually all ordinances; their privileged access to metaphysical power reinforces their privileged access to social power and vice versa. Additionally, the two paradigms dovetail nicely in that they do not represent equivalent conceptual categories: the interchurch paradigm centers on particular (ritual) activities where the intrachurch paradigm accounts for particular (masculine) identities. They are thus mutually compatible in theory.
But at a few sites in our practice and language the paradigms do not overlap perfectly and ragged, untidy edges are visible. The clearest of these can be seen in the performance of women's initiatories: According to the interchurch paradigm, women's enactment of legitimate and binding rituals can only constitute priesthood, since it has metaphysical effects that are exclusively available in the church. But in the intrachurch paradigm, women must by definition not be exercising priesthood since priesthood is the exclusive province of men. This is how I resolve the dilemma with which I open the post: there are women who do exercise priesthood in the temple as it is construed in an interchurch context (the performance of metaphysically valid rituals), but they do not exercise priesthood as it is construed in an intrachurch context (the performance of Mormon masculinity).
On the other side, "priesthood" can designate the men's organizations in the church, which are frequently counterposed directly to the women's organizations. Priesthood is the concept around which all male spaces and male activities are structured. Although it has been denounced from the pulpit, a tendency to use the term "priesthood" in reference to men as a group, in whatever capacity they are performing their masculinity in a specifically church context (e.g., putting away folding chairs), persists. In fact, on several occasions I have seen male members complain, in response to the Ordain Women movement, that women don't really want the priesthood because then they would be obligated to put chairs away and help people move. I believe this betrays an understanding of priesthood specifically as the performance of masculinity in Mormon contexts, and I identify such activities as a somewhat complementary site to female-performed ordinances—at which the two paradigms do not perfectly line up—because, as I understand it, the expectation that men carry out any activity that requires the slightest degree of physical strength arises quite straightforwardly from our expectations around masculinity and is only tenuously connected to access to metaphysical power.
(It is because of the nature of this second paradigm, in which the disparate activities that fall under the conceptual rubric of "priesthood" are bound together by nothing more than our concept of masculinity, that men frequently experience women's stated interest in priesthood as a direct assault on their masculinity, and understand women's ordination to entail the dismantling of Mormon masculinity entirely.)
How did this mismatch in our concepts of priesthood arise? I'm not qualified to do more than venture a guess. I suspect the first paradigm is older than the second; this would explain why it is trivially easy to find quotes from early church leaders referring to priestesses: priesthood had not yet developed its masculinity vector. As the church was forming, the interchurch (then only) priesthood paradigm likely had paramount importance: priesthood was what animated our religion and gave it legitimacy vis-à-vis all others, making provision for the dispensation of metaphysical power not available through other channels. At this time patriarchy was absolutely taken for granted. In fact, in the nineteenth century even churches that ordained women tended to continue to preach their subordination and even inferiority to men. This situation was likely reflected in early Mormonism, in which it is possible a masculine monopoly on the metaphysical was not understood to constitute an aspect of priesthood even though the church was explicitly patriarchal and priesthood offices were occupied by men. It is the situation that obtains in the temple to this day: women are inducted into an explicitly patriarchal structure as their husbands' subordinates, a fact that does not, however, preclude their becoming priestesses.
It seems likely to me that the combination of patriarchy with the process of the institutionalization of the metaphysical power to which the church claims exclusive access had a natural tendency to clamp down on women's means of accessing metaphysical power over time, evidenced especially in the increasing opprobrium with which women's administration of blessings came to be viewed. In other words as the (patriarchal) structure of the church more closely regulated expressions of charismatic authority through rituals, women were increasingly sidelined: men's privileged access to social power organically resulted in their increasingly privileged access to metaphysical power. The institutionalization of an already patriarchal religion may have brought about a progressively tighter association between the masculine and the metaphysical. All that spared women's initiatories from becoming streamlined into the developing masculine monopoly on the metaphysical may have been the intimate nature of the physical contact these rituals required as recently as 2005.
By at least the mid-twentieth century, women's ordination in North American culture more broadly had become inextricably linked with a commitment to gender egalitarianism, and it is likely this linkage informed the church's evolving understanding of both patriarchy and priesthood. Just as women's priesthood came to be seen as a manifestation of a commitment to women's equality, women's lack of priesthood may have similarly been construed, even by those advocating it, as a commitment to women's subordination and alienation from ecclesiastical power structures. The virtual monopoly that had developed on men's access to metaphysical power—in its origins an organic outgrowth of patriarchy—may thus have come to be invoked to explain that very patriarchy.
This developing association between the masculine and the metaphysical may have allowed a new paradigm for priesthood to take root and flourish, one that construed priesthood not simply as the authority to perform valid rituals or even the divine license to exercise social/ecclesiastical power rooted in that privileged access to metaphysical power, but as masculinity specifically, in all its complexity. When patriarchy became a question, priesthood-as-masculinity became a prominent part of the answer. Naturally in an institutional religion metaphysical power, accessible in Mormonism especially through the performance of rituals, ratifies social power; this relationship is obviously far from coincidental. Because priesthood holders can access the power of God, they are entitled to exercise social power as well, both domestically and ecclesiastically. But what makes the two paradigms of priesthood an imperfect fit is that priesthood as an overarching concept does not simply connect metaphysical power with social/ecclesiastical power, but with masculinity.
Here's how I conceptualize it: The connection between metaphysical and social power is institutionalized religion, where the connection between social power and masculinity is patriarchy. In Mormonism, there is a third connection, if imperfectly drawn, between metaphysical power and masculinity: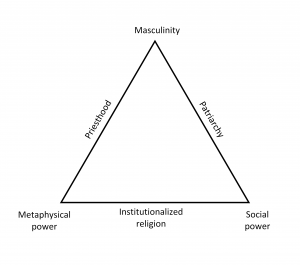 This connection between metaphysical power and masculinity makes sense in Mormonism in a way that it would not as cleanly even in other denominations in which priesthood is restricted to men, because virtually all Mormon men are priests. Additionally, in the abstract it is satisfying to "round out" the triangle such that each of the three points is implicated in both other points; creating a third leg associating metaphysical power strongly with masculinity cinches all of the connections tighter. However, this connection is neither ineluctable nor perfectly carried out: as we have seen, even in patriarchal religions, metaphysical power need not be the province of the masculine. And while men have always had privileged access to metaphysical power in the church, they have never had exclusive access, as evidenced by the continued  practice of authorizing endowed women to perform initiatories.
It is my contention that patriarchy, the relationship between masculinity and social power, precedes and is not entirely dependent on the association between metaphysical power and masculinity, although it appears to be justified by it. They might reinforce each other, but patriarchy and priesthood are not inextricably intertwined. For this reason it is entirely conceivable that women could be ordained and continue to be marginalized. However, to the degree that I am right that priesthood as presently conceived is one of the primary ways by which we currently account for patriarchy, in such conditions the church would perhaps have to develop new theological mechanisms to explain women's continued subordination and marginalization.