Note: I was unaware of it at the time I wrote this post, but there's a much more in-depth look at these terms, as well as some additional ones like "plan of redemption" at the blog Nearing Kolob.
When I was growing up and I learned in church about God's plan to get people back to live with him, the plan was always called the "plan of salvation." But sometime between my childhood (1980s) and now, this plan has come to be described more often as the "plan of happiness." The two terms are clearly used to refer to the same thing. For example, here's Elder Nelson in an April 2013 Conference talk:
The Book of Mormon . . . explains God's great plan of happiness—the plan of salvation.
I don't recall when the change took place, though. So I did some digging in the Corpus of LDS General Conference Talks. The corpus goes all the way back to the 1850s, but it looks like the first usage of "plan of happiness" didn't even take place until 1979. And it didn't really become popular until 10-15 years later. I'll make a graph to show you some more complete data.
This graph shows five-year moving averages for how often the phrases "plan of salvation" (hereafter, PoS) and "plan of happiness" (PoH) have been used in General Conference in the past 30 years. I see two interesting patterns. First, PoH appears to have risen to popularity in a relatively short period of time. In the early 1990s, PoH was pretty rare. But by the late 90s, it had already passed PoS in popularity. The second interesting pattern is that PoH has not really been a substitute for PoS. Instead, PoS has continued to be used even after being surpassed by PoH, and has even increased its frequency of usage in the past decade or so. I guess this means that we're generally getting more talk about God's plans, whether they be PoS or PoH.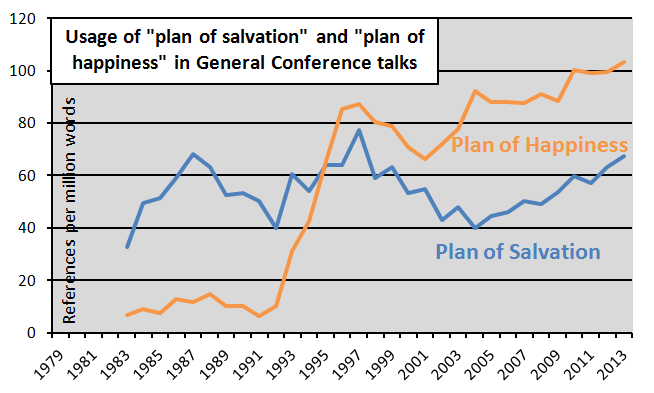 Another interesting question is which of the Conference speakers did the popularizing. The graph below shows the breakdown by speaker for five-year periods since 1979. To make the graph easier to look at, I've only split out individual speakers who used PoH relatively frequently.
It looks like Elder Maxwell referred to PoH a few times in the 1980s (1980, 1982, 1984), but he really wasn't the one who got the trend going. It had died down for a while before Elders Packer, Nelson, and Oaks revived it in the early 1990s. The graph isn't fine-grained enough to show it, but 1993 was really the crucial year, as these three members of the Q12 really made a push for the term by using it several times in Conference talks. (As Kent Larsen pointed out in a post at T&S on this topic a few years ago, then-Elder Packer gave a CES address in 1993 where he explicitly equated the PoS and PoH, and this may have kicked off the increase in usage.) Elder Scott really took up the torch and has carried it for a long time (along with President Packer to a lesser degree). But by the late 1990s, the trend was pretty much self-sustaining, as can be seen by the larger and larger gray bars that represent all other Conference speakers. Elder Scott may still be saying PoH a lot, but it's likely no longer having an effect, because everyone else has already been won over.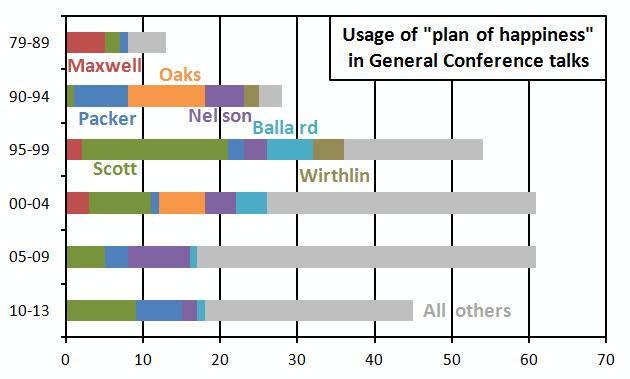 I don't have any grand conclusions. I just thought this would be a fun question to look at. Like I said at the beginning, I was raised in the 1980s, so PoH still sounds a little weird to me, and PoS more normal. My feelings are well-summarized by a commenter named mike on Kent Larsen's post that I mentioned earlier. Mike said:
To me "Plan of Happiness" sounds like something the Chinese communists came up with. It sounds too cult-like to me. I wince a little bit every time I hear it. I prefer the "Plan of Salvation" with its hints of similarity to Protestant salvation. Salvation is something we can't do to ourselves, but requires Christ.