Last week I blogged about looking for differences in General Conference talk complexity by session type. I thought it would be fun to break down the same data in a couple of other ways.
A couple of commenters on the last post asked about whether there were differences among the general sessions. Here are boxplots for talk complexity by Flesch-Kincaid grade level for the four general sessions across 1971-2013. (I'm excluding priesthood sessions because, even though they're called "general" sessions, they have a more specific audience, so I separated them out in the last post.) These boxplots have the same form as the ones I put in the last post. the difference is that I've turned them on their sides.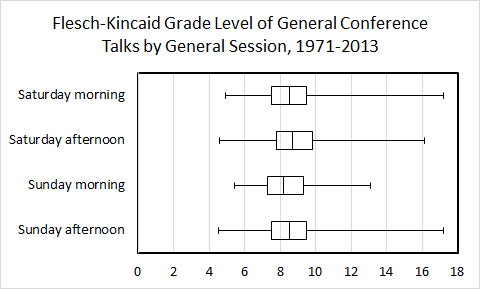 It does look like maybe the afternoon sessions on each day have slightly more complex talks than the corresponding morning sessions, but the effect is really small, and I'd guess it's most likely just noise.
More interesting (to me, anyway) is this next breakdown, which shows Flesch-Kincaid grade level for the 123 speakers who have given at least five talks in Conference in the 1971-2013 time period. As with the above boxplots, they're turned on their sides compared to the ones in my last post. I've ordered the speakers by their median F-K grade. I've also added color to some of the boxes to highlight different groups. Living members of the Quorum of 15 have light blue boxes. Past members of the Q of 15 have dark blue boxes. Women have red boxes. Everyone else (Seventies, Presiding Bishopric members) have white boxes.
I'm not sure that I had any strong expectations going in about who might score high or low. I'd love to hear in the comments about any people who fall where you expected them to, or out of line with where you expected. One general trend is worth noting: The women score noticeably lower than the men. Aileen H. Clyde, the highest-scoring woman, ranks 30th out of the 123. Six of the bottom ten scorers are women. This is obvious, I'm sure, but I think this result highlights that women rise in Church hierarchy (as far as they can) probably for different reasons than men do. I suspect a women who spoke like Elder Bednar, for example, would be less likely to be  called into general leadership.
I'm interested to hear of any other patterns you see in these results by speaker.