In comments on Steve Evans's recent post at BCC on how birth rates might be increased in accordance with GAs' counsel to have more children, the question was briefly raised of how many children GAs themselves have. One commenter pointed to a post at By Study and Faith where Jared had found that younger members of the Quorum of the 12 have fewer children on average than do older members.
In this post, I will try to expand a little on Jared's study by looking at FP/Q12 members over a longer period of time, as well as by trying to look at the link between GAs having lots of children and GAs encouraging Church members to have lots of children more explicit.
FP/Q12 Number of Children Across Time
I began by expanding Jared's list of FP/Q12 members back in time to see if there was a clearer trend. I wanted to get as much data as possible, but I didn't want to go far enough to get into years of polygamy, where the number of children a man had might be strongly affected by how many wives he had. I chose my dataset to be all FP/Q12 members called since 1920. I got the list of members from ldsfacts.net, and the numbers of children for each man from Grandpa Bill's General Authority Pages. Grandpa Bill did fail me for three men, who I looked up on Family Search. (My sister Elbereth will be so proud!)
Here's a graph showing the number of children each FP/Q12 member had, organized by calling date. (A graph by birthdate–not shown–looks very much the same.) I added a best-fit line (in green) and a 10-year moving average (in red).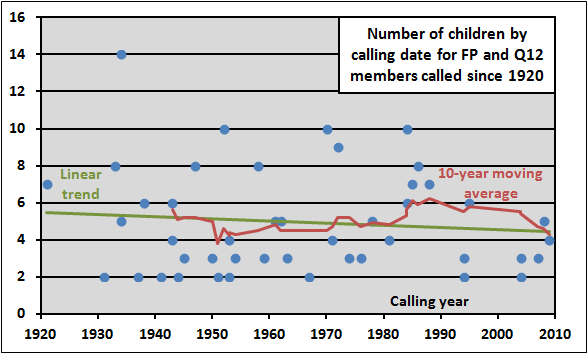 Wow! I was totally expecting to find obviously declining birth rates here. The US birth rate fell by about in half during this time period, and even though the Mormon birth rate has been higher, I thought it had still declined. But from both the linear trend (very slightly negative) and the moving average, it appears that there's no trend over time for FP/Q12 members.
Regarding Jared's original finding that newer FP/Q12 members had fewer children, it's possible that this is just a chance finding that happens when you pull 15 data points out and analyze them. Or perhaps it's a real trend, but the trend has only begun. I guess only time will tell.
Conference Talks on Having Children
I also thought it would be interesting to look at whether there is a trend in how often the importance of having children is discussed in Conference. I looked for Conference talks that brought up this issue given between 1971 and 2013. If a talk met either of the following two criteria, I counted it as mentioning the topic:
Here's a graph showing the number of talks each year meeting either or both of the above criteria. I added a 10-year moving average (in orange).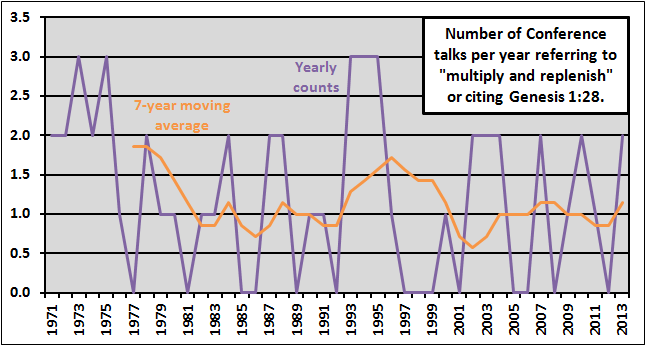 Like with the previous graph, it really doesn't look like there's much of a trend. There's a bump around the introduction of the Proclamation on the Family in the mid-1990s, and there's maybe a decline from a higher level in the 1970s, but this might just be a random wiggle.
Also like the previous graph, I was expecting to see more change. It would make sense for the rate to go down over time as reproduction maybe becomes less of an emphasis in the Church. Or it would make sense for the rate to go up as Church members start having fewer kids and GAs' try to counteract the trend. But a flat trend with a few bumps isn't at all what I was expecting.
GAs Having Children and Talking about Having Children
Going back to the discussion on Steve's post, it looks like it was being suggested that FP/Q12 members who have more children might talk about the importance of having kids more. So I decided to look at this question too.
For each current member of the FP and Q12, I counted up how many talks he has given in Conference that meet one or both of the criteria in the previous section for having brought up having children. Then I looked at how long each man has served to get a rate of number of talks per decade he gives that address this topic. (I originally used number of talks per year, but the resulting fractional rates are harder to wrap my head around.) I then compared this rate for each man to how many children he has.
Here is a graph showing the result. The graph is a scatterplot, in case you've come across such things before. Each man is represented by a single point on the plot. The horizontal distance from the left side of the plot to the point tells how many children the man has. The vertical distance from the bottom of the plot to the point tells how many talks per decade he has given on having children. For example, toward the upper right hand corner is Elder Nelson's point. It is 10 units from the left side of the plot because he has 10 children. It is 2 units up from the bottom of the plot because he has given 2 talks per decade on having children.
We finally have something interesting to talk about! It looks clear that the more children a man has, the more likely he is to talk about the importance of having children in Conference. (The Pearson correlation between the variables is 0.48. This is on a scale from -1 [perfect negative relationship] to 1 [perfect positive relationship].) Also striking is the variability in how often different members talk about having children. Seven of the 15 have never talked about it in Conference at all, while others bring it up as often as 10% of their talks (2/decade=1/10 for a non-FP member).
Of course this analysis is like Jared's that I linked to at the beginning of this post. It uses only a small number of records, so it might be showing just a chance relationship that would vanish if studied more thoroughly. I do suspect that there is something real going on here, though. It would make sense for FP/Q12 members to talk more about commandments that meant more to them personally, and that they felt they might have done well at fulfilling.
I'm interested to hear your thoughts on any of the results or on the topic more generally.