What was your favorite General Conference talk? Was it President Uchtdorf's, where he said this?
Some struggle with unanswered questions about things that have been done or said in the past. We openly acknowledge that in nearly 200 years of Church history—along with an uninterrupted line of inspired, honorable, and divine events—there have been some things said and done that could cause people to question.
Or perhaps Elder Holland's where he said this?
If you had appendicitis, God would expect you to seek a priesthood blessing and get the best medical care available. So too with emotional disorders.
Since the Quorum of 15 all got official Facebook pages back in July, I thought it might be fun to follow the number of "likes" on their pages during Conference weekend as a possible indicator of how much people liked their talks. You can probably figure out my reasoning. Since the Facebook pages were put up, all 15 Quorum members have received an ever-increasing number of "likes," although the counts differ for FP members versus everyone else, and Elders Holland and Bednar stand out among the members of the Quorum of the 12. (I blogged about this a few months ago.) Anyway, I figured that the likely jump in "likes" over Conference weekend, if it diverged from the pattern of who had the most "likes" before Conference, might indicate that Church members were clicking "like" in response to GAs' talks.
I counted Facebook "likes" for each member of the Quorum of 15 two days before Conference, and again one hour after the last session ended. (I probably should have waited a couple of days again, but I was impatient to get to the results.) Here are the results: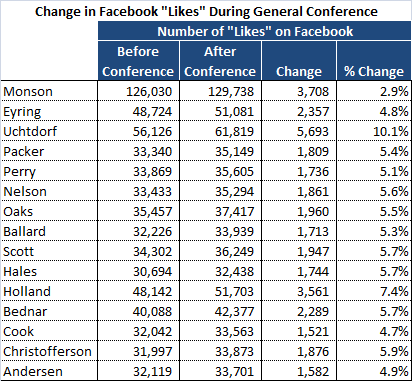 If you look at the "Before Conference" column, you'll see the same pattern I mentioned above. President Monson has the most "likes," followed by his counselors, followed by Elders Holland and Bednar, followed by everyone else in a tight group. Look at the "Change," column, though. President Uchtdorf had by far the biggest increase in "likes," even though before Conference he had less than half as many as President Monson. And Elder Holland had nearly as many as President Monson did, even though he also started Conference far behind him. The "% Change" column calculates this increase as a percentage of before-Conference "likes." It's pretty much President Uchtdorf and Elder Holland way out in front of the pack, with President Monson trailing. (I think President Monson scores unrealistically low on this measure, though, as it's just a result of him having so many more "likes" than anyone else before Conference started.) So as I suggested at the beginning, it appears that President Uchtdorf and Elder Holland gave the talks in Conference that Church members liked the most.
One complication, of course, is that President Uchtdorf didn't give a Conference talk. He gave two. So did Presidents Monson and Eyring. To try to capture change in "likes" in response to individual talks, I also counted "likes" for each Quorum member approximately one hour after each Conference session. I then calculated a percentage increase in "likes" for each speaker, and compared it to the percentage change for a control group of Quorum members who were not speaking in the same session. I also ended up having to exclude from the control group anyone who had given a talk earlier in the same day, because the increases in "likes" did not slow down immediately after the sessions ended. For example, President Uchtdorf had a larger percentage increase in "likes" during the Saturday afternoon session (when he did not speak) than he did during the Saturday morning session, so I excluded him from the control group for Saturday afternoon speakers.
Here are the results. I've ordered the speakers and their talks by the ratio of the speaker's percentage increase to the average percentage increase of control group members for the session.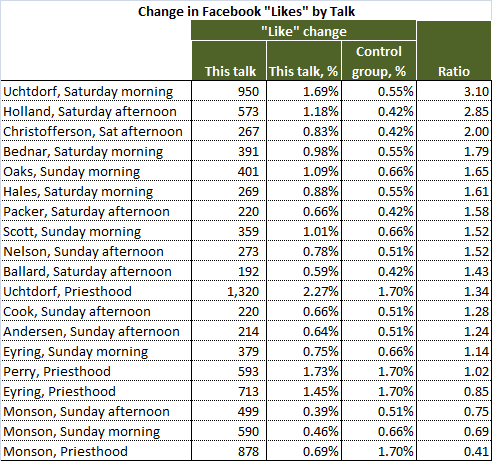 I have less confidence in these results than I do the previous ones because of the artificiality of cutting measurement off an hour after each session ended. In retrospect, it might have been better to cut off right before the next session began. In any case, though, it looks like President Uchtdorf's first talk and Elder Holland's talk were most popular by this measure. Or if you want to go by raw increase in "likes," not as a percentage or compared to the control group, President Uchtdorf takes the top two slots.
Before you jump in to tell me all the methodological flaws in my so-called "study," let me just concede that all your criticisms are probably correct. There's no way Church members who use Facebook are representative of Church members in general. They probably differ by nationality, age, and education at the very least. Also, counting "likes" is a really crude measure of whether people like individual talks, and the counts aren't very big. It's a flimsy little dataset to try to use to extrapolate to the whole Church. But on the other hand, I'm actually kind of surprised at how clearly the two talks that I thought were the most outstanding stood out from the others in the data. And more importantly, it was fun for me to put these numbers together, which is my most important criterion for blogging. I hope you enjoyed reading about this stuff too.