A few weeks ago in my elders' quorum, we had the lesson from the George Albert Smith manual on the Word of Wisdom. As often happens with lessons on this topic, a couple of people raised their hands and talked about how the Word of Wisdom is the perfect health code, that it tells us exactly what we must do to be the healthiest we possibly can. Along similar lines, in response to some provocateur asking why we don't drink a little wine since some research suggests it might be good for us (no, the provocateur was not me :D), people also commented that if any "science" (their tone suggested the quotation marks) suggested something different than the Word of Wisdom, then the science was sure to be proven wrong sooner or later.
The manual is more conservative. While it says that we'll be physically blessed for following the Word of Wisdom, it doesn't say that the Word of Wisdom is necessarily the perfect health code. I think this is actually a strength of the commandment: it's reasonable, but it's not too reasonable.
The benefits of having reasonable commandments are pretty clear. I think the major benefit is that the more reasonable a commandment is, the more likely people are to comply with it. If Church leaders tell us to get out of debt, for example, the reasons they're saying we should are obvious. Of course we typically have competing interests (getting more education, buying a house, etc.) that might make actual compliance difficult, but I suspect people typically don't argue with the suggestion itself. Or to take a more exaggerated example, if Church leaders told us to be sure to eat regularly, compliance would likely be extremely high.
But there's a cost to making commandments too reasonable. If we can reach the same conclusions about what we should do by reasoning things out ourselves as we can by listening to Church leaders, why would we listen to them? Why not just cut out the middle men and do the reasoning ourselves? I think this is why commandments have to be at least somewhat unreasonable, or in other words, at least a little bit arbitrary. If commandments are too reasonable, we may comply with them at a high level, but we will be less likely to attribute our compliance to a desire to follow the commandments. Instead, we will simply attribute our behavior to doing what makes sense, particularly if commandments got as extreme as my "eat regularly" example.
Here's a graph to illustrate: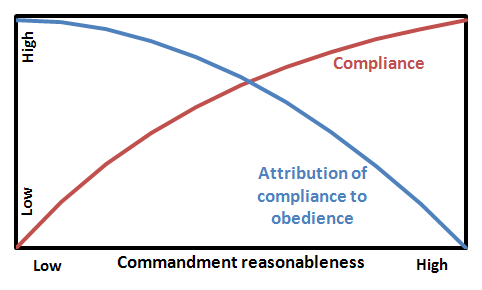 As commandments get more reasonable, compliance goes up, but our attribution of our compliance to obedience to commandments goes down. (Note that I'm not trying to say anything with the particular shapes of the curves. I could have them completely wrong. I just think the one is increasing and the other decreasing.)
As both compliance and attribution of compliance to obedience are goals of commandment writers, this suggests that there is an optimal level of (un)reasonableness for commandments. They should be reasonable, but not too reasonable. I think the Word of Wisdom is a good example of this balance. The abstaining from alcohol and tobacco seems very reasonable. The abstaining from coffee and tea seems pretty arbitrary, especially considering that the Word of Wisdom (particularly in the form it's asked in the temple recommend interview) includes such a short list of behaviors, and how many other unhealthy things aren't explicitly mentioned. On the whole, it's reasonable enough to get fairly high compliance, but also unreasonable enough that if someone complies, it's fairly easy for her to attribute her compliance to a desire to follow the commandment rather than just a desire to be healthy.
Having said all this, I must concede that I might be overgeneralizing from a single example. Much of what Jesus taught seems extraordinarily unreasonable. For instance:
Love your enemies, bless them that curse you, do good to them that hate you, and pray for them which despitefully use you, and persecute you
This is very difficult to comply with, but if you do, you probably wouldn't question why you were doing it.
So I'll leave this to you to answer. Are most commandments in the Church in the optimally (un)reasonable spot I've argued the Word of Wisdom falls? Or are most of them in the extremely unreasonable end with "love your enemies"? Or maybe do a lot of them fall toward the end where they're too reasonable? Or perhaps does this categorization of commandments by reasonableness not even make sense?