In one of the fMh Conference threads, Elisothel said that Wyoming gets a mention in every Conference. This got me to wondering how often any of the US states are mentioned. So I looked it up.
I used the lds.org search tool, which can easily be limited to search only General Conference by just accessing it from the Conference main page. I looked up each of the 50 US states and counted how many hits there were. For a few states, I had to look through the results manually to make sure I wasn't getting references to things not in the state. For example, Mississippi's count dropped from 42 to 5 when I excluded references to the Mississippi River. (But, for comparison, I wasn't concerned about references to New York being to the city rather than to the state, since the city is in the state.) For Virginia, I excluded references to women named Virginia (the General Relief Society Presidency, General Young Women's Presidency, and General Primary Presidency have all included a woman named Virginia in the past 40 years [not the same woman, though]) and to West Virginia. For Washington, I excluded references to Washington, D.C. and to people named Washington.
So, without further ado, here's what I found:
 References to US States in General Conference, 1971-2012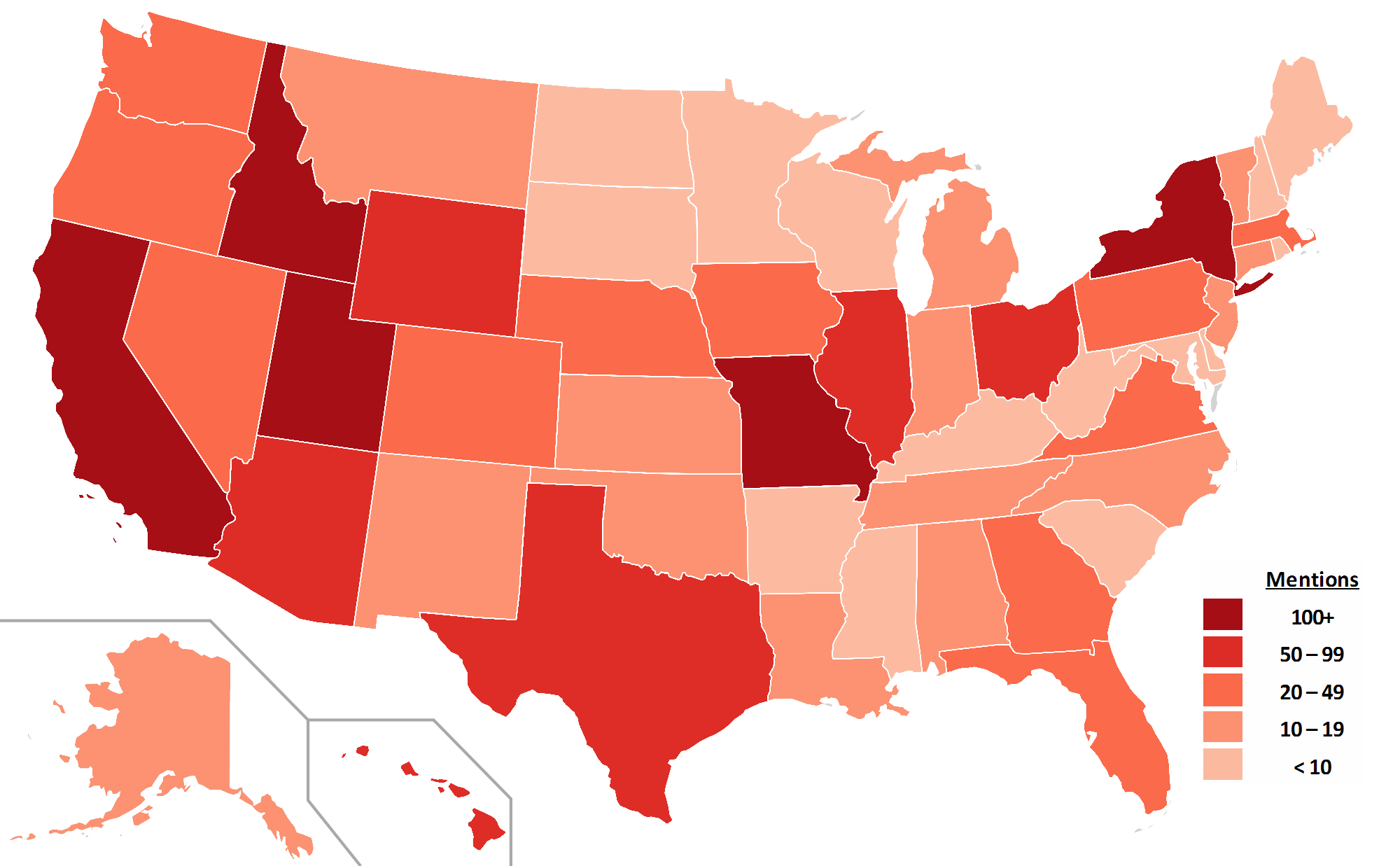 I guess it's about what you would expect. You can see the early Church marching across the map in the states with lots of hits, from New York to Ohio to Missouri to Illinois, and you can see all the mentions of the pioneers crossing the plains to Utah. The references to Idaho, California, and Arizona also make sense, given how many Mormons moved and now live there. The one outlier I can't figure out is Texas. Why would it get nearly as many mentions (67) as Ohio (72)?
Notes
I apologize for being US-centric. I considered doing this for countries of the world, but there are so many more of them, and the map is so much harder to handle, that I decided to save it for another day. The map I used comes from Wikimedia Commons. The color scheme is from ColorBrewer 2.0.