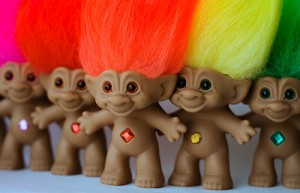 1. Whatever you do, DO NOT READ THE ORIGINAL POST. At most, skim it and then free associate on the basis of a few words you happened to catch sight of.
2. Blatantly hijack the thread anytime it suits your whim. Blogs are your stage, your soap box, your bull horn, your talent show, and you wouldn't want to hide your candle under a bushel.
3. Develop a juicy martyr complex—with one of these you can derive enormous enjoyment from blogging. Remember: everyone else is out to get you. You're being victimized at every turn by sadistic sharp-fanged fiends wielding gross undeniable differences in opinion. Lick your wounds in public with loud slurping noises to emphasize what meanies the other bloggers are.
4. Righteousness entitles you to rudeness. Let other people be tentative and polite; they're wrong. You're in the right, so your shrillness serves a justifiable end. The sword of the spirit isn't for tapping people on the shoulder, but for skewering them.
5. Clamor for attention—insist that if people don't respond instantaneously to any scintillating comment you cook up, they're dissing you. A whiny toddler is a good model for this. Nag. Remember: your comments are brilliant and worth immediate attention; other comments are drivel.
6. Impute the worst possible motives to your interlocutors. Blogging is like politics. Truth is obvious. The only reason people disagree is because they're shameless devil-worshippers who get a secret thrill from shredding society's moral fiber.
7. Never apologize under any circumstances. Your behavior is unwaveringly justifiable.
8. Fixate on trivialities. If people call you on it, accuse them of having fixated on said trivialities.
9. Monopolize any thread you happen to perch on. In the blogging world, tenacity always trumps cogency. You win arguments not by responding to people, but by shouting them down. Watch a dog with a slipper if you need ideas on how to go about this.
10. Use CAPITALS LIBERALLY! You have a caps-lock key for a reason. Don't be shy—nobody ever got hoarse from typing.