What name do Mormons most often use to refer to Satan? A few months ago, Julie M. Smith suggested in a post at T&S that we might be cutting back on naming him specifically as being responsible for evils in favor of blaming "the world."
Naturally, I wanted to check out her claim by searching LDS.org. Not because I doubt her–her conclusion actually matches  my experience too–but because I often have fun looking at such things. Unfortunately, I found that searching LDS.org for the phrase "the world" turns up hundreds of matches, most of which are not references to the evils of the world in the sense Julie was talking about. So, since I was looking for a quick-and-dirty solution that allowed me to just count results rather than an in-depth one that actually required me to comb through and look at them, I decided to look only at usage of names that are unambiguously applied to Satan.
Here are the names I came up with:
Satan
Devil
Lucifer
Adversary
That's it. I know there are other familiar names for Satan–Beelzebub, for example–but I don't think these get used much in LDS discourse. (Please correct me in the comments if there are other commonly-used names I've missed.)
First, I looked at changes over time in usage of these four names in documents on LDS.org. Here's a graph showing their usage from 1971-2010.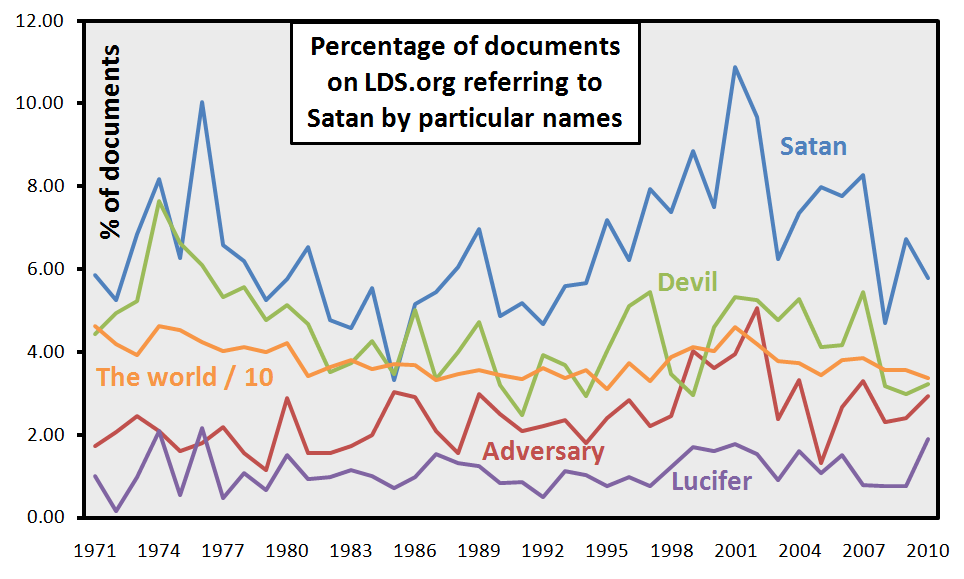 "Satan" has clearly been the most popular name, followed by "Devil," "Adversary," and "Lucifer." The ordering of these has remained almost completely consistent across the last 40 years, although the differences haven't always been the same. For comparison in the graph, I also threw in "the world," but divided by 10 so its scale would fit in with the other names. Note that even the most popular name, "Satan," only appears in about 10% of all documents in its peak years. "The world," on the other hand, appears in over 40% of documents.
For each of the four names, I also used permutation tests to test whether there was an increase or decrease across the entire 40-year period, as well as whether there was an increase or decrease within each 10-year period (i.e., 1971-1980, 1972-1981, etc.). The only trend I found that was steep and consistent enough to not likely be a chance effect1 was for "Adversary." Its usage increased by an average of .03% (i.e., .0003) of articles per year, or in other words, .3% per decade, or 1.2% across the entire 40 years. Not a whole lot. Looking at individual decades, I found the following: for "Satan," a decline from 1976 to 1985 and increases from the early 1990s to the early 2000s; for "Devil," declines from the mid-1970s to the mid-1980s; for "Lucifer," an increase from 1992 to 2001.
In a similar post a couple of years ago about usage of names of Jesus, I compared LDS usage to evangelical Christian usage by looking for the same names in Christianity Today. I thought a similar comparison might be interesting for names for Satan. I compared the percentage of documents in which each of the four names was used on LDS.org and in articles in Christianity Today in the past decade (2001-2010). Here is a graph showing the results: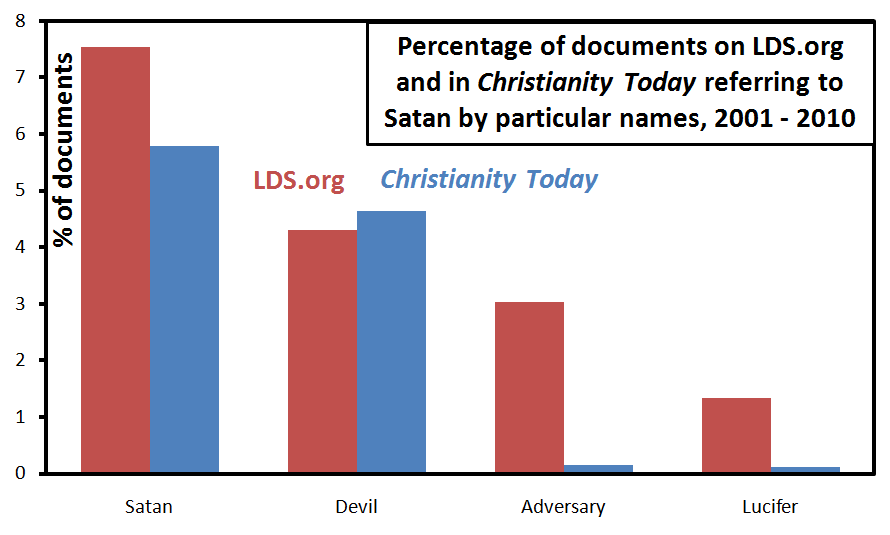 It's interesting that "Satan" is #1 and "Devil" is #2 for both LDS.org and Christianity Today, but after that, Christianity Today is pretty much done, while the LDS documents still have quite a few references to "Adversary" and "Lucifer." (I realize this difference may be a result of my lack of familiarity with evangelicals' preferred names for "Satan.") It appears that Mormon publications may make both more total references to Satan, and references using more different names for him.
I don't have any grand conclusions. I'd love to hear your thoughts on the question of names for Satan.
Update: Brian-A (comment #3) suggested some good alternative terms to get at usage of "the world." Based on his suggestion, I gathered data for the term "worldly" and added data on it to the first graph. Although they may not be directly comparable, it falls behind only "Satan" and "Devil."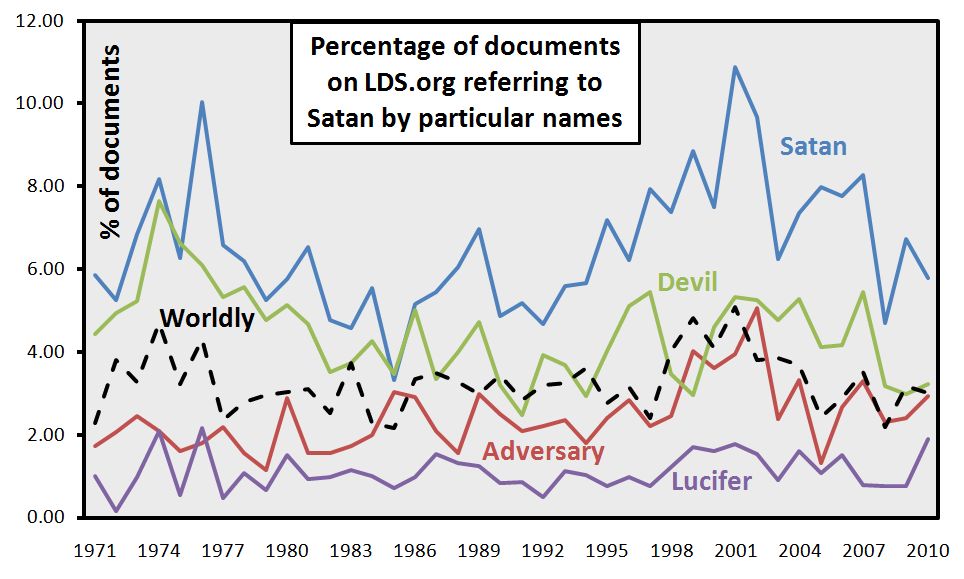 I also did permutation tests to see if there were trends in usage of "worldly." There was not an overall trend across the 40 years; the only decade within which there was a trend was 1999 – 2008, during which there was a decline.
__________________________
1In other words, these were the statistically significant results. I used alpha (Type I error rate, or false alarm rate) = .005.