In Mark Brown's post "Mormon Buzzwords" ("on words and phrases we don't need") at BCC last month, a number of people suggested that our frequent use of appositive phrases beginning with "even" used to describe Jesus or the prophet is particularly annoying. Here's an example from President Uchtdorf's otherwise excellent talk "We Are Doing a Great Work and Cannot Come Down," given in April 2009 Conferece:
I have witnessed with my own eyes and joyfully testify that in our day, God speaks through His prophet, seer, and revelator, even Thomas S. Monson.
So who started this usage of "even"? And who's perpetuating it among current General Authorities?
Scriptures
I began trying to answer these questions by searching General Conference talks (using the wonderfully helpful LDS Scripture Citation Index) for the phrase "even Jesus." I quickly ran into something unexpected: appositive phrases beginning with "even" (hereafter, APEs) appear in our scriptures. Did you know that? I certainly didn't. I had thought it must be a recent trend. Anyway, here are a couple of examples:
And Ananias went his way, and entered into the house; and putting his hands on him said, Brother Saul, the Lord, even Jesus, that appeared unto thee in the way as thou camest, hath sent me, that thou mightest receive thy sight, and be filled with the Holy Ghost. (Acts 9:17)
Be faithful unto the end, and lo, I am with you. These words are not of man nor of men, but of me, even Jesus Christ, your Redeemer, by the will of the Father. Amen. (D&C 31:13)
So I went back and searched the scriptures for the phrase "even Jesus." This turned up 21 matches. What's particularly interesting is their distribution in the Standard Works0:
| | |
| --- | --- |
| Old Testament | 0 |
| New Testament | 4 |
| Book of Mormon | 1 |
| Doctrine and Covenants | 14 |
| Pearl of Great Price | 2 |
Seventeen of the 21 come from uniquely Mormon scriptures. So although APEs appear in the New Testament a few times (in the KJV–I didn't look at other versions) it looks like this might be a phrasing Joseph Smith might have particularly liked, since all the other matches are in scriptures that came to us through him.
General Conference
But there are a lot of APEs in General Conference talks that are not just quotes of these 21 scriptures. Returning to my original search of Conference talks, I looked at Conference talks from 1942 (as far back as the LDS Scripture Citation Index goes) to 2010 for the phrase "even Jesus." To find references to prophets (like in the quote from President Uchtdorf above), I searched for the phrase "even President" and also for "even [first name]," inserting the first name of every latter-day prophet in turn. I also searched for "even" attached to the names of a few ancient prophets1 to see if anything would show up.
The oldest match I found for "even Jesus" was in a talk given by Milton R. Hunter in April, 1952:
The Fall came about; thus [Adam and Eve] became mortal beings. A veil was drawn over their minds, and they forgot their pre-mortal existence and the gospel by which they had previously lived in the spirit world. It was necessary, therefore, for Jehovah, even Jesus Christ, to reveal to them the gospel plan.
The oldest match I found for "even" and a prophet's name was in a talk given by Joseph L. Wirthlin in April, 1959:
The Prophet had borne his testimony of the existence of God the Father and his Son, Jesus Christ, for he saw them and lost his life for bearing this testimony; but another new prophet was selected, even Brigham Young, who led the membership of the Church in making the long trip across the plains to the area of these mountains where the Church is now located and where we, its membership, have the privilege of dwelling.
These are a long time after the beginning of the search period (1942), which suggests that APEs certainly weren't common at the time, or likely in the time immediately before. Of course, it would be pure speculation to assume this went very far back without actually searching, but I would be surprised if, for example, GAs were using APEs in Conference talks a lot in 1941 and then suddenly quit in 1942.
Okay, that's who said it the earliest. Who has used APEs the most? Here are results for "even Jesus." (Note that I excluded talks that only quoted a scripture that says "even Jesus" and talks that did not use the words in an appositive phrase.) Everyone who used "even Jesus" in two or fewer talks is lumped together.
| Name | Talks with "even Jesus" |
| --- | --- |
| Thomas S. Monson | 22 |
| L. Tom Perry | 9 |
| Neal A. Maxwell | 8 |
| Ezra Taft Benson | 4 |
| Gordon B. Hinckely | 3 |
| James E. Faust | 3 |
| All others | 32 |
| Total | 81 |
This usage is clearly a favorite of President Monson's. He accounts for over a quarter of all talks using APEs with "Jesus." One approach here might be to look at the proportion of his talks in which the speaker used APEs with "Jesus" rather than the total number. This would adjust for the fact that President Monson has given far more Conference talks (since he's been in the First Presidency so long) than has Elder Perry. I chose not to go this route because I was interested in who was most influential in keeping APEs alive rather than who used it most on a per-talk basis.
Here are results for "even [prophet's name]." (I again excluded talks where the phrase wasn't an appositive.)
| Name | Talks with "even [prophet]" |
| --- | --- |
| Thomas S. Monson | 21 |
| N. Eldon Tanner | 6 |
| Dieter F. Uchtdorf | 3 |
| All others | 16 |
| Total | 52 |
President Monson dominates this list even more than the previous one, accounting for over 40% of talks that use APEs with prophets' names. Taking these two tables together, it seems clear that it's primarily President Monson who has perpetuated the use of the APE. In fact, he's used APEs not only to refer to Jesus and to prophets, but to all kinds of things. In a 1972 Conference talk titled "Hands," he used by my count nine appositive phrases, including three referring to prophets and two to Jesus, but four others referring to other things and people.
Another list that might be interesting is to count up who speakers are talking about when they use an APE. Note that the total in this table is higher than the total in the previous table because in a few talks (like then-Elder Monson's "Hands") the speaker referred to more than one prophet using an APE.
| Name | Times referred to with an APE |
| --- | --- |
| Gordon B. Hinckley | 16 |
| Spencer W. Kimball | 15 |
| Joseph Smith | 6 |
| Ezra Taft Benson | 5 |
| Harold B. Lee | 4 |
| All others | 11 |
| Total | 57 |
It's not surprising, I guess, that President Hinckley would top the list given that he served so long with President Monson as his first counselor. I was surprised to see President Kimball  at such a close #2, though. It appears that he got a bump from having N. Eldon Tanner serve as his first counselor.
One last issue I haven't dealt with is change over time. Are APEs on the rise or the decline? In the figure below I've plotted counts of Conference talks in which a speaker used an APE in referring to Jesus or to a prophet. I've separated out President Monson since he's the top user of APEs and lumped everyone else together to avoid making the figure too difficult to look at. I've also collapsed counts into five-year intervals to make the numbers big enough to be even worth plotting.
Note that the data are stacked, meaning that other than the bottom series (all others — "even Jesus"), the number of talks each point represents is its value on the vertical axis minus the value for the next lowest series. So, for example, at the far right, the top series (President Monson — "even [prophet]") is at 11. This doesn't mean he gave 11 talks using APEs referring to prophets, but that he gave 1, since the value for the next series down (all others — "even [prophet]") is 10. Really, this makes it sound more complicated than it really is. If you look at the figure, I think you'll be able to figure it out2.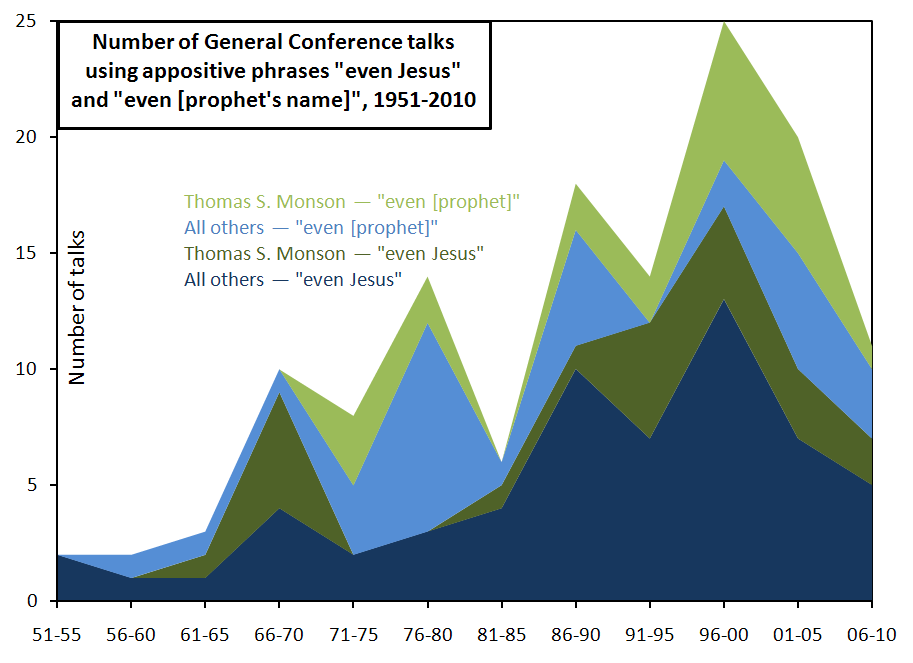 So for everyone who complained on Mark's thread, there clearly is something to complain about, as the use of APEs increased dramatically between the early 1980s and early 2000s. On the bright side, though, the drop between  2001-2005 and 2006-2010 has been quite dramatic. I suspect that the number one reason is that President Monson has taken over as President of the Church and it would sound silly for him to refer to himself using an APE.
__________
0Here's the complete list: Acts 9:17, 1 Thessalonians 1:10, Hebrews 6:20, 1 John 5:6, Ether 12:22, D&C 31:13, D&C 34:1, D&C 38:1, D&C 39:1, D&C 42:1, D&C 62:1, D&C 63:60, D&C 66:13, D&C 68:6, D&C 76:41, D&C 79:4, D&C 80:5, D&C 81:7, D&C 95:17, Moses 6:57, Moses 7:50. (Footnote numbering beginning with 0 is for Cynthia L.)
1This is the list of ancient prophets I searched for: Adam, Abraham, Moses, Elijah, John (the Baptist or the Revelator), Peter, Paul, Lehi, Nephi, Alma, Heleman, Mormon, and Moroni.
2This figure double counts three talks, all by President Monson, in which he used an APE to refer to Jesus and another to refer to a prophet.