In a recent post at T&S, Kaimi suggested
it seems to me that church members (and leaders) tend to de-emphasize the use of the single-name description Jesus. We regularly use the name Jesus when it is associated with the title Christ. However, when we use a single-word name, LDS speakers — unlike speakers I've heard from other denominations — tend to use the name Christ, not Jesus.
I think he's probably right, but I thought it might be interesting to gather a little data to check.
To answer the question of whether Mormon usage of titles for Jesus differs from more general Christian usage, I compared use of several titles for Jesus in LDS publications on lds.org to use of the same titles in Christianity Today. I chose this publication because my understanding is that it's published by evangelicals, and Kaimi and several commenters on his thread suggested that perhaps Mormons don't say "Jesus" so much because we think that's what evangelicals do.
These are the titles I compared:
Jesus Christ
Jesus
Christ
Lord
Savior
Redeemer
Son of God
Jehovah
Messiah
(Notwithstanding the title of this post, I did not include Wonderful, Counselor, the Mighty God, the Everlasting Father, or the Prince of Peace, as I think they are just not used all that often.)
I searched for "Jesus Christ" and "Son of God" as phrases. To get counts for "Jesus" and "Christ" separately, I took counts for each of them and subtracted the number of hits for "Jesus Christ," since a search for "Jesus" or "Christ" alone would also match "Jesus Christ." Finally, in the LDS searches, I subtracted from "Jesus Christ" the number of documents that matched only "in the name of Jesus Christ" in order to reduce the number of hits based solely on the fact that the article was a talk (and therefore necessarily ending with "in the name of Jesus Christ")1.
Christianity Today has at least partial archives from 1994, so I compared use of the different titles aggregating across the years 1994-2009. Here's a graph: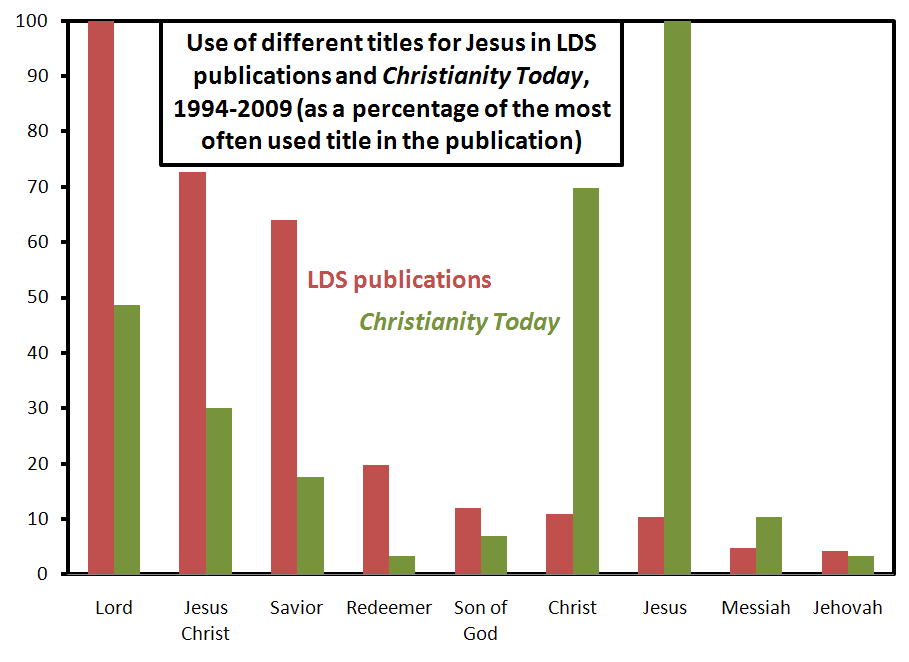 In this graph, I am comparing how often each title is used in each publication versus the other titles in the same publication. In other words, I am concerned with relative frequency rather than absolute frequency. (I don't care, for example, if LDS publications or Christianity Today refers to Jesus more overall; I just want to know when the do refer to him, which titles they use more or less often.) To show relative frequency, I converted the number of hits for each title into a percentage of the most frequently used title for the publication. For example, for LDS publications, the most frequently used title was "Lord," which had 9178 hits. So where the graph shows "Jesus Christ" with a bar reaching to over 70%, this means there were over 70% as many hits for "Jesus Christ" as for "Lord" (6670, if you're curious: 6670/9178 = 73%). Similarly, for Christianity Today, the most frequently used title was "Jesus," which had 7390 hits. So where the graph shows "Lord" with a bar reaching to just under 50%, this means there were just under half as many hits for "Lord" as for "Jesus" (3597; 3597/7390 = 49%).
It looks pretty much as Kaimi said: LDS publications use "Lord," "Jesus Christ," "Savior" and a little of the others. Christianity Today uses "Jesus" and "Christ" separately a lot more than do LDS publications, with some "Lord," "Jesus Christ," and "Savior" and a little of the others. At the low end, neither LDS publications nor Christianity Today uses "Redeemer" a lot, but LDS publications do use it quite a bit more frequently.
Change Over Time in LDS Publication Use of Titles

Since I had the data, I also looked at the question of whether use of the various titles for Jesus has changed over time in LDS publications. Here's a graph showing use of each title from 1971-2009: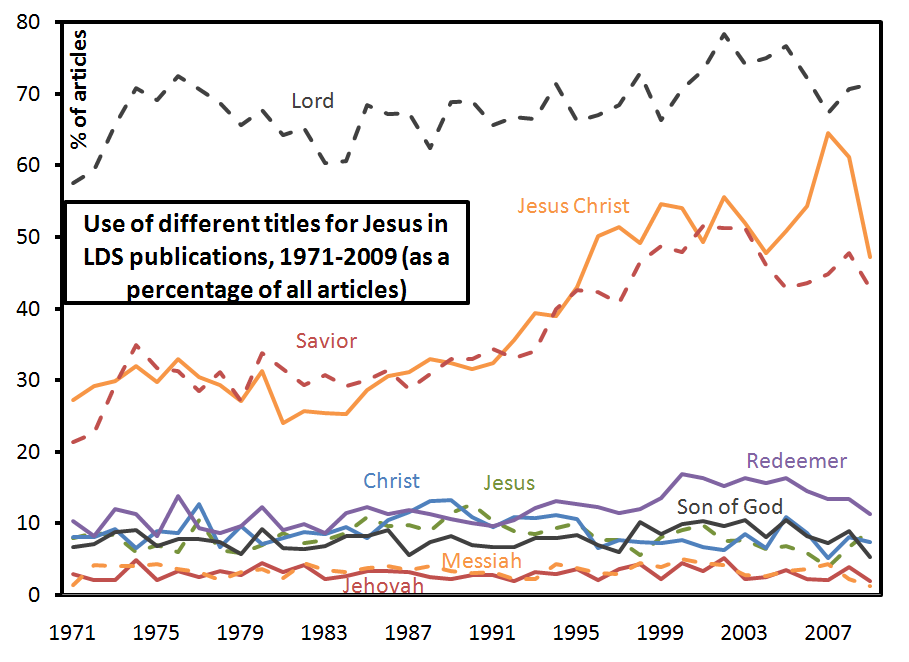 In this graph, I am comparing not only how often each title is used versus the other titles, but also how often the titles are used as a percentage of all articles. (In the previous analysis, I ignored this because it wasn't of interest whether the LDS publications and Christianity Today referred to Jesus at the same rate.) Therefore, the percentages shown in this graph are percentages of all articles. For example, where "Lord" starts at just below 60% in 1971, this means that just under 60% of all articles in 1971 used "Lord" at least once2.
It looks like the overall pattern from the previous graph–"Lord" is most often used, followed by "Jesus Christ" and "Savior" with a little of the others–has been somewhat consistent over time. While the ordering of which titles are most often used has largely been maintained, use of some titles has increased over time, particularly during the 1980s and 1990s. I found statistically significant increases3 for "Jesus Christ" (increasing 9 percentage points per decade), "Savior" (6 percentage points) "Lord" (2 percentage points) and "Redeemer" (1 percentage point). Statistical significance means that their increases across the 39 year period are unlikely to be simply chance fluctuations. Some of the changes, though, particularly for "Lord" and "Redeemer" are quite small even though unlikely to be due to chance.
_____________
1In all these calculations, I was limited by the advanced search feature of lds.org, which does not handle Boolean OR searches well and doesn't do NOT searches at all. Otherwise, I could have figured some of these counts more directly. Christianity Today is kind enough to use intuitive URLs for their archives, so even though their site doesn't have an advanced search feature, it was possible to search their archives using Google.
2Unfortunately, the advanced search at lds.org does not tell how many total articles there are for any time period. I estimated the number by searching for a few very common words. This required some trial and error, as the search tool refuses to search for the most common words–articles, pronouns, most helping verbs, etc. Oddly, while it appears to interpret two words as being joined by OR–the number of matches is greater than the number of matches for either word alone–for more than two words it starts assuming AND, as the number of matches starts to go down. Anyway, I settled on searching for "may or come," as it consistently got the most hits across several years in comparison with other pairs of common words.
3All p = .0001 (two-tailed) using a permutation test and shuffling the data 9,999 times. To do permutation tests, for each title, the best fit line was estimated for the original data and for each shuffled sample. The proportion of all 10,000 samples (the original unshuffled sample and the 9,999 shuffled samples) in which the slope of the best fit line was equal to or greater than the slope for the unshuffled data is the p-value for the test.