As a follow-up to my last post discussing who in the Quorum of the Fifteen would likely be Church President at some point, I made some figures that show Quorum members' changing probabilities over time for the last 60 years. (A description of where these probabilities come from is in the previous post.)
A few notes about the figures:
Each Quorum member's line is labeled with as short a label as possible, which for most of them is just a last name. Where more than one member had the same last name, I've added only his first initial. Since the figures only cover 1950 – 2009, this means that "J. Smith" is Joseph Fielding Smith, not Joseph Smith, Jr. or Joseph F. Smith.
Each Quorum member's line is the same in color and style from one decade's figure to the next. I hope this makes them easier to follow.
Because the probabilities of becoming President are estimated based on only 1000 random number draws, the figures were initially quite jagged. I've smoothed the lines to make them easier to look at, which is why, for example, a new President's line doesn't jump immediately to 1 when his predecessor dies.
Okay, here are the figures. I don't really have much to say about them. I made them because I thought they would be fun to look at and thought you all might enjoy them too.
Here's the figure for 1950-1959: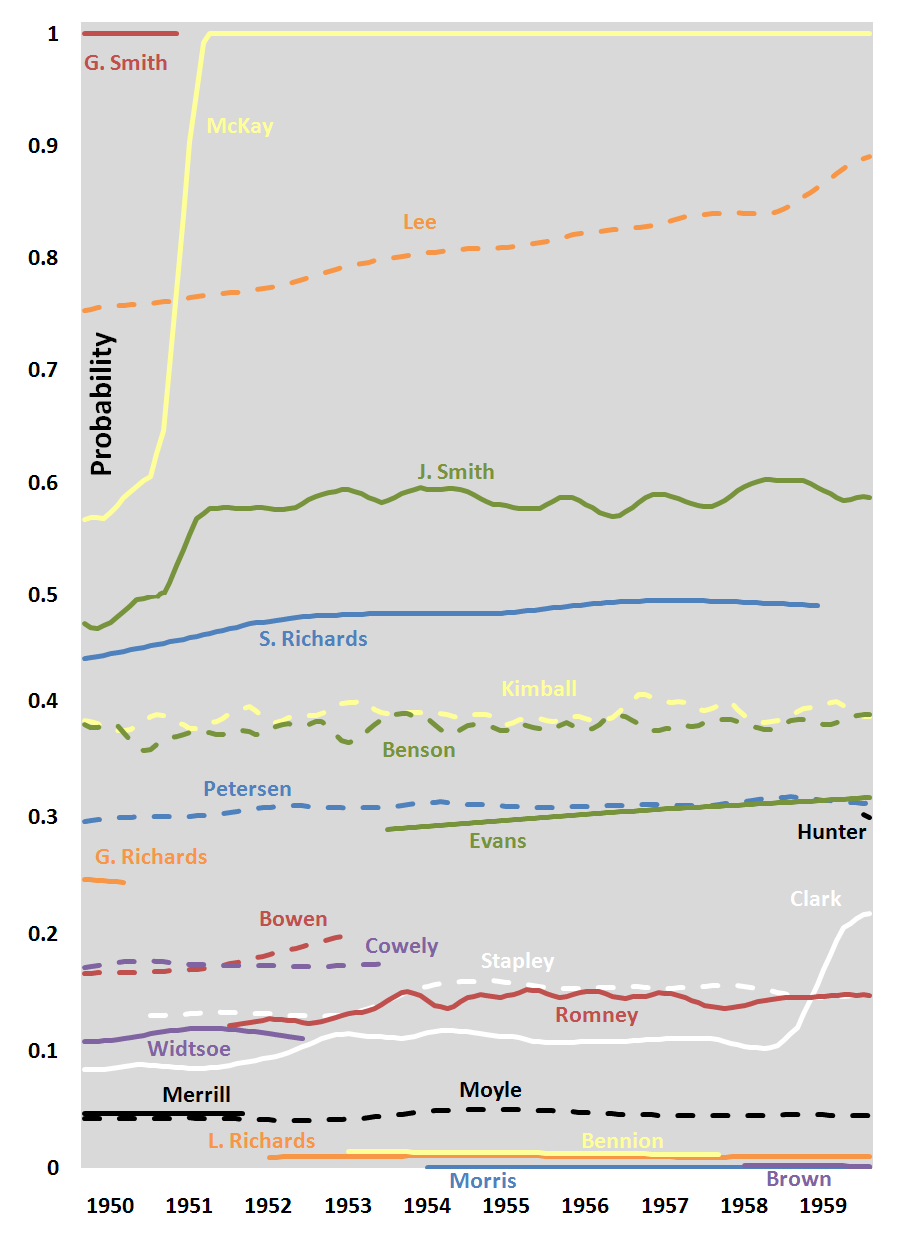 David O. McKay's chances (yellow line) obviously got a big boost when George Albert Smith's death elevated him to the presidency. But Joseph F. Smith (who moved from #3 to #2; green line) got a similar if smaller boost. I think I mentioned this in the previous post, but it's interesting to see how this had no impact on, say Spencer W. Kimball or Ezra Taft Benson's chances. They were far younger than President Smith, and extremely likely to outlive him anyway.
In the lower right part of the figure, you can see how J. Reuben Clark's chances (white line) got a boost with the death of Stephen L. Richards, who was both younger than and senior to Elder Clark (actually President Clark–I think he was in the First Presidency at the time).
At the bottom, it's apparent that people like LeGrand Richards, Adam S. Bennion, George Q. Morris, and Hugh B. Brown (sniff!) never had any real shot at becoming President.
Here's the figure for 1960-1969: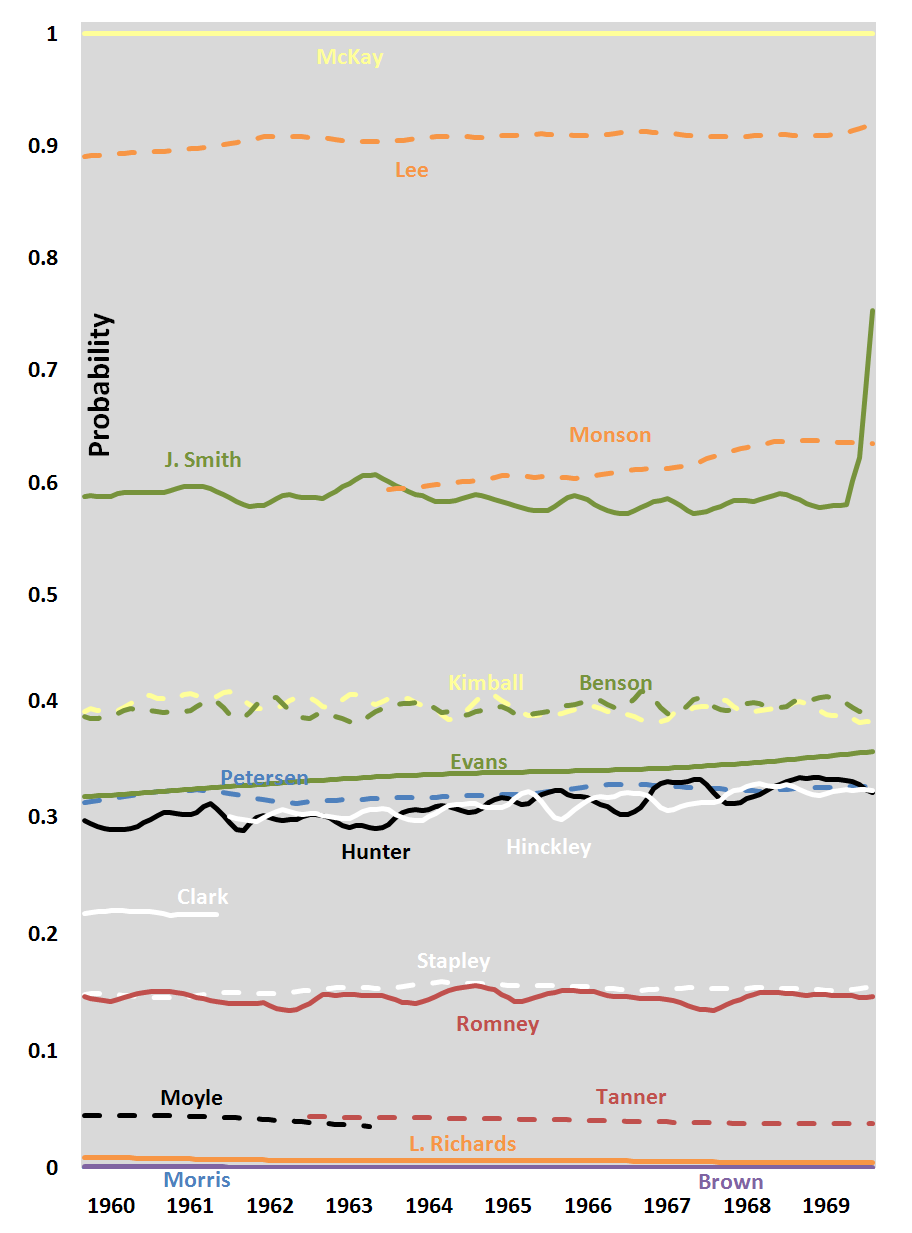 Everyone's lines are pretty flat. When nobody much dies, nobody's probabilities change much. You can see Thomas S. Monson (dashed orange line) entering in 1963 at an absurdly high probability.
Here's the figure for 1970-1979:
Now this was a decade with some action. President Lee's early death (or maybe not so early given his family history, as BrianJ pointed out in the other thread) boosted Spencer W. Kimball (who was older than Lee; dashed yellow line) to the Presidency, but also notably increased probabilities for Ezra Taft Benson (dashed green line), Howard W. Hunter (black line), Mark E. Petersen (dashed blue line), Delbert L. Stapley (dashed white line), and Marion G. Romney (red line).
Earlier in the decade, lots of members moved up at the deaths of Joseph Fielding Smith, and perhaps surprisingly, Richard L. Evans (green line). Although he was only #9 in seniority when he died, Elder Evans's death cleared the way for Howard W. Hunter (black line) and Gordon B. Hinckley (white line), as he was younger than and senior to both of them.
Here's the figure for 1980-1989: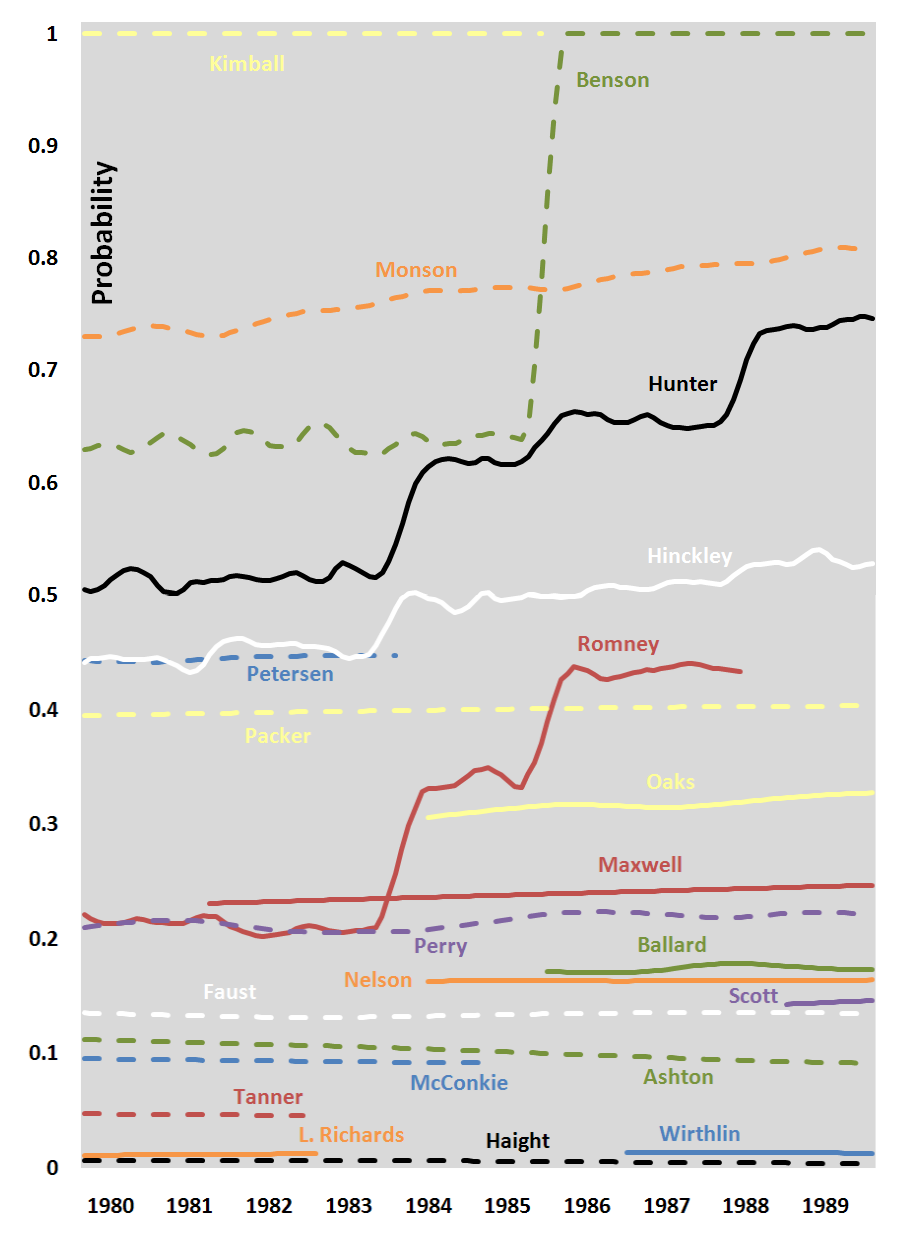 In this decade, Howard W. Hunter (black line) and Marion G. Romney (red line) saw their probabilities jump at the deaths of Mark E. Petersen (dashed blue line) and Spencer W. Kimball.
Here's the figure for 1990-1999: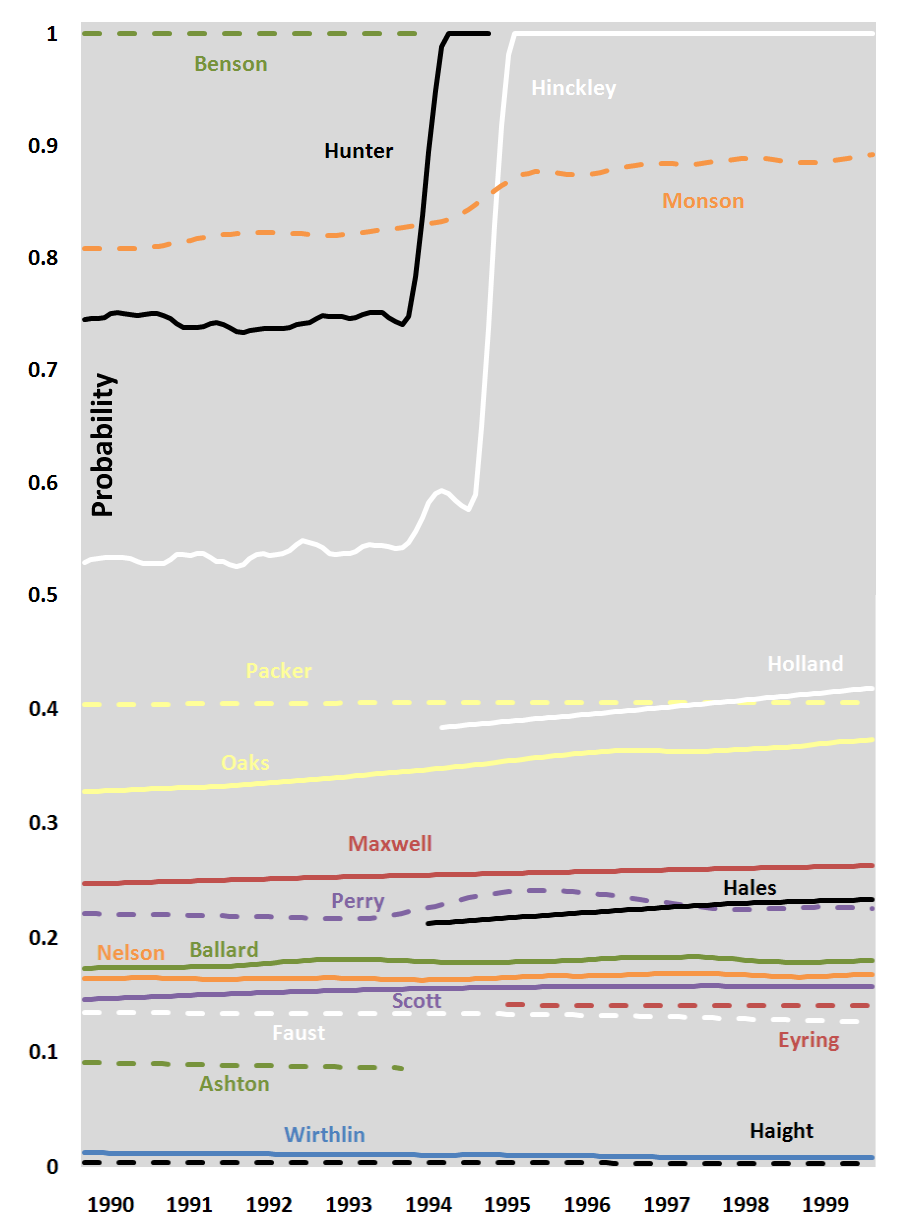 Ezra Taft Benson's and Howard W. Hunter's death's made way for Gordon B. Hinckley to take over as President. But everyone else's probabilities were pretty flat. They were far enough back in age that these deaths didn't make a difference. Thomas S. Monson's probability increased gradually, but again, these were men he was already very likely to outlive. And then of course in the latter half of the decade, nobody's probabilities changed because nobody died.
Here's the figure for 2000-2009 (only through September of this year):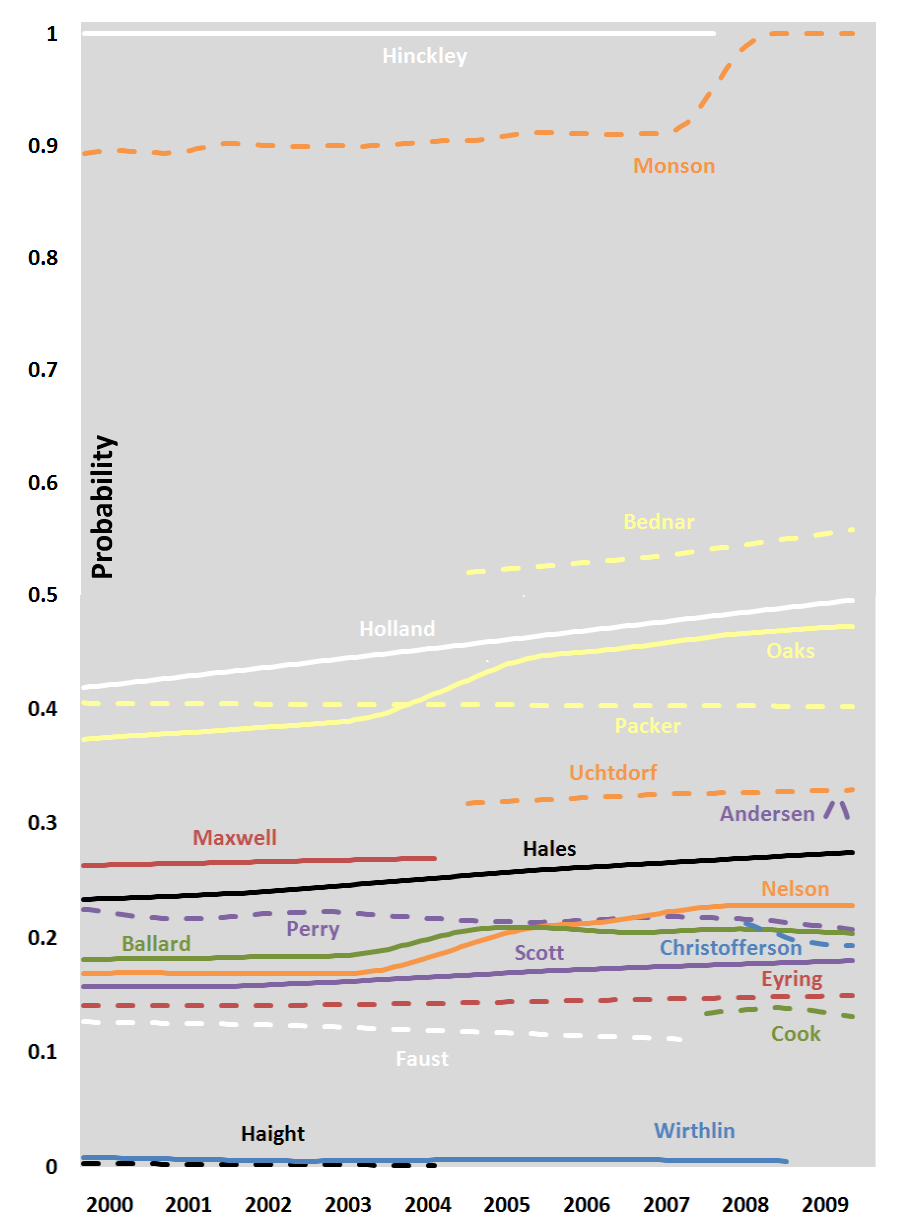 Again, there's not a whole lot going on here. As I noted in the last post, David A. Bednar (dashed yellow line) entered much like Thomas S. Monson did 40 years before–with a very high probability of eventually becoming President given his age compared to the rest of the Quorum. And Jeffrey R. Holland (white line) and Dallin H. Oaks (yellow line) are also right there with him, their probabilities increasing gradually as passing time reduces older members' life expectancies faster than it does theirs.
I'll be interested to hear any observations you all have on these figures or on the topic of Quorum member longevity or succession more generally.