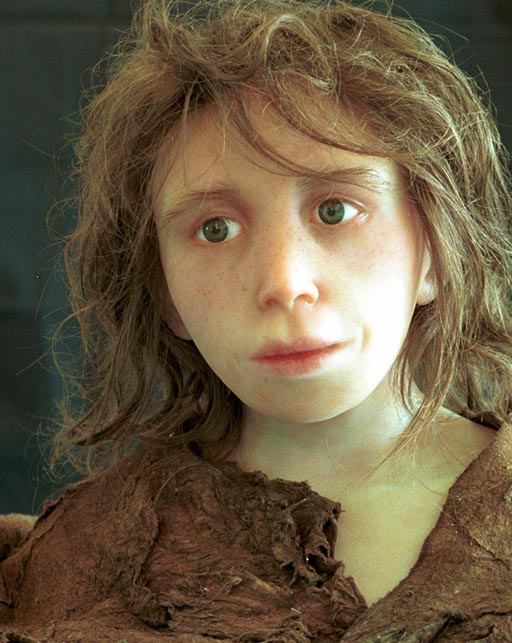 (This charming face is that of a reconstructed Neanderthal child based on recovered skull fragments.)
For a good portion of our species' 100,000 years or so of history on this planet, we've shared our stomping grounds across Europe and the Near East with our close cousins the Neanderthals. Considerably stronger than our own ancestors, and possessing slightly larger brains (probably), Neanderthals were skilled hunters who made weapons, wore jewelry, cared for injured members of their communities, and buried their dead (sometimes with objects). Additionally they built shelters, controlled fire, and were apparently anatomically capable of vocal language. It's unclear whether the two populations ever interbred, but the traditional model suggests that Neanderthals constitute an evolutionary dead end, perhaps eventually pushed out of their ecological niche by their lighter-boned relatives the Homo sapiens sapiens.
From a theological perspective, in your own opinion (since obviously all we have to go on is wild speculation), who are the Neanderthals, these eerily humanlike not-quite-humans, liminal figures hovering on the threshold between full-blown human civilization and the animal kingdom? Do they have "souls" or "spirits" in any meaningful sense? Will they be resurrected, and if so, what opportunities will be available (or denied) to them in the afterlife? Will they be residents in a celestial zoo adjoining displays of bears and warthogs in their respective native habitats, or will they play some role in polite society? Will we have opportunity to interact with Neanderthals again as our ancient relatives did?