Over at T&S, Kent Larsen wrote an interesting post based on the Church's statistical report from Conference. He compared this year's data with statistical reports from 5, 10, and 25 years ago. Since I find this kind of speculation so entertaining, I searched lds.org and found statistical reports all the way back to 1973 to fill out the data set a little. To make the resulting data easier to look at, I've put some of the numbers Kent and the commenters discussed into graphs.
I apologize in advance: I am sure I will be repeating at least some of what was said on Kent's thread, probably at times without even knowing it. I will endeavor to make at least a few original comments in addition, though.
Here's a plot that was discussed on the T&S thread: number of members per unit (ward or branch). Please note that I have reduced the vertical axis to only the 300-500 range, so this plot exaggerates changes over time.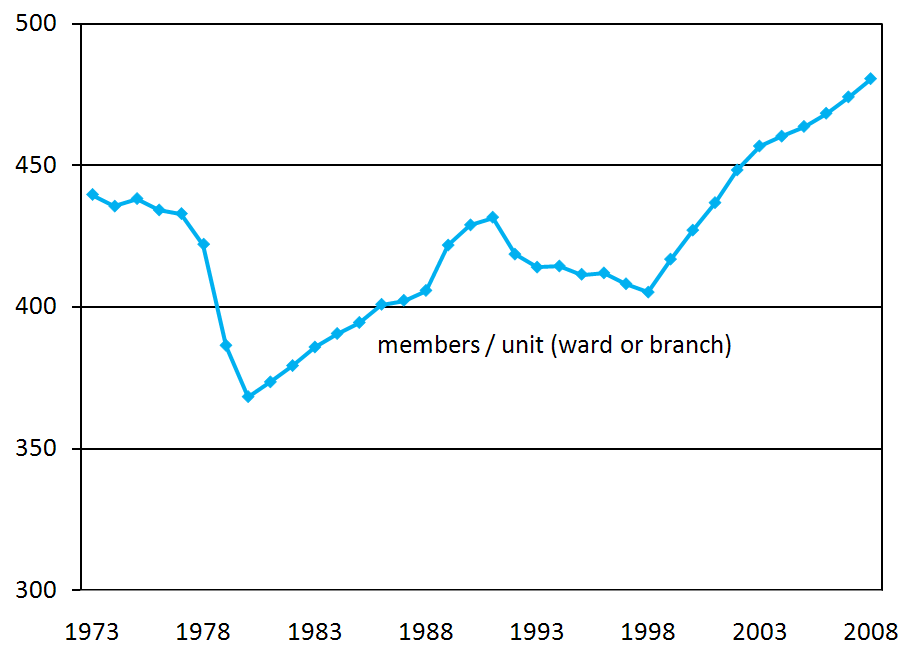 It looks like the number of members per unit is higher now than it's been before (at least in this 35-year period). I don't know if this reflects changing inactivity rates or deliberate policy decision (suggested on the T&S thread). The big dip around 1980 is also interesting. I wonder if this was related to the introduction of the consolidated (3 hour block) schedule. Once that was in place, then multiple wards could share a building, so more wards could be created.
Here's a plot of missionaries per 1000 members. It looks largely similar to a plot of missionaries per unit, but I thought it might be interesting to ignore the effect of unit size. Note that it only goes back to 1977 because this number wasn't included in statistical reports before then.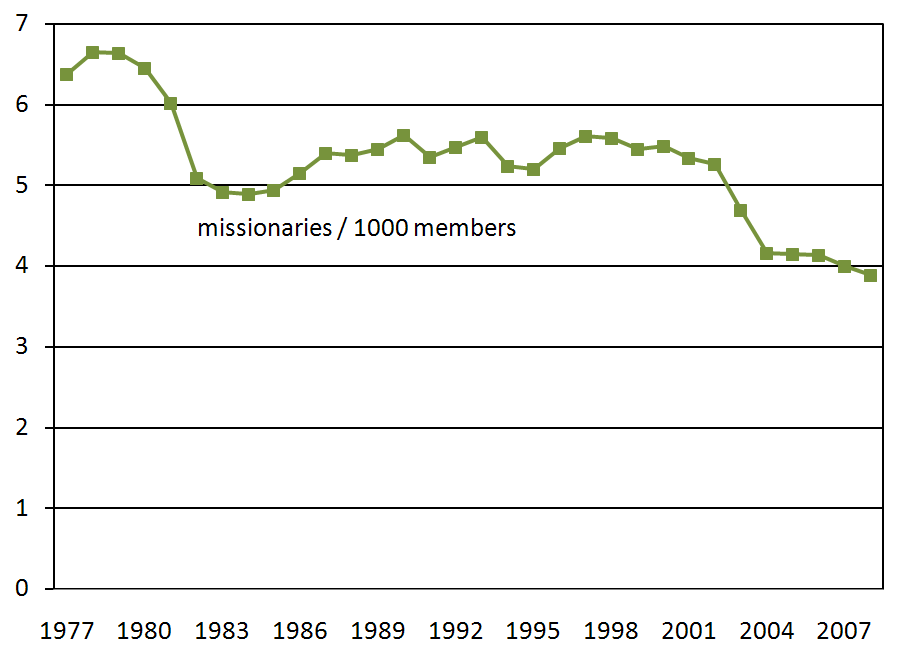 There are at least three processes going on here. First, there's the declining birth rate that's making Church members on average older, and reducing the number of missionaries per 1000 members (or at least reducing the number of young single missionaries). Second, there are changes in stringency of criteria for young people to be eligible to serve a mission. The recent "raise the bar" effort is the most obvious example, but on another thread (before the T&S one) I think Ray pointed out the earlier drop in missionaries, around 1980. Regarding this, I found a talk–I think by Mark E. Petersen–from the mid-1970s, where he mentioned how the number of missionaries had tripled in the previous decade or so. I wonder if the early 1980s downturn in missionaries was the result of a similar process that yielded "raise the bar." Perhaps the General Authorities decided that in trying to encourage everyone to go, they were ending up with too many unqualified missionaries. The third trend that might contribute to changes in number of missionaries is changes in activity rate, but I find it difficult to tell how. (This assumes of course that the general activity rate in the Church has been changing over this time period. I've seen this suggested a lot, but I haven't seen any data on it.)
Here's a plot of convert baptisms per 1000 members and 8-year-old baptisms per 1000 members.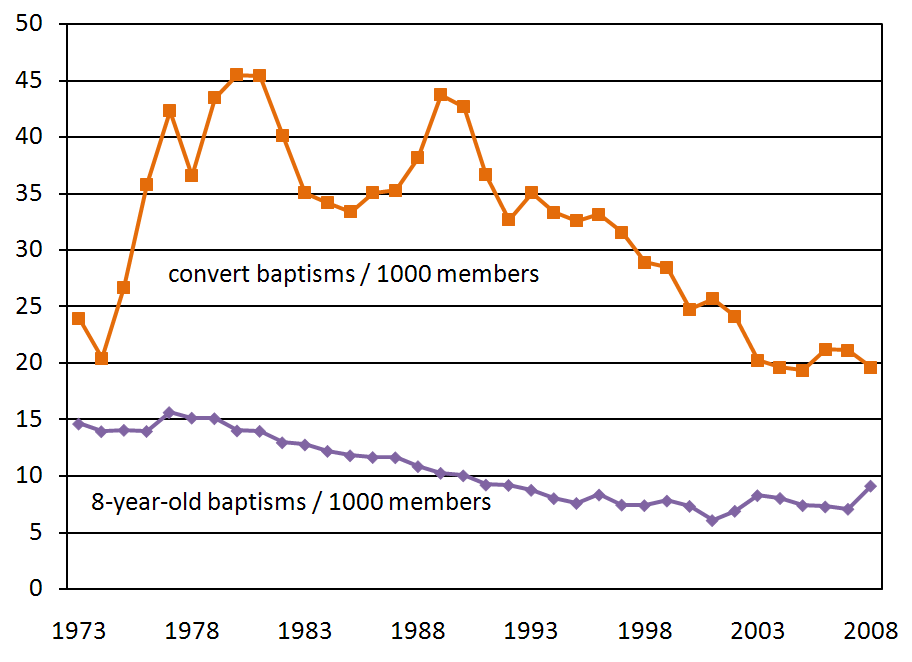 The convert baptisms are all over the place. They're low now and they were in the early 1970s, but there were peaks over twice as high as the troughs through the late 1970s and early 1980s, and then again in the late 1980s. Since the late 1980s, though, it's been all downhill. There may be a very slight recent recovery, one might hope associated with raising the bar, but given the size of the variations, it's most likely just noise. To the degree that this recent decline represents an effort to only baptize people who are really interested in the Church, then it seems like a positive trend. If it just represents a decline in number of people baptized across the board (both interested and not interested but easily persuaded) then of course it is more negative.
The 8-year-old baptism rate is mostly just one long slide, with a little recent uptick. By the way, I agree with Kent on his T&S thread that the 2008 figure is way out of line with the last few years, and seems like it must be a mistake. The general trend is of course attributable again to declining birth rates, although there might be some activity level changes hidden in there too.
Finally, here's a plot of a couple of values I came up with to try to estimate how well the Church is doing at retaining children and teens. One approach to this is to look at the number of 8-year-olds baptized in a particular year and then ask how many later served a mission. Another approach is to look at how many children were blessed (a figure no longer included in the statistical report) and then ask how many later served a mission. In this plot, the red line gets at the first question. It's the number of missionaries in a given year as a fraction of the number of 8-year-olds baptized 11-12 years prior. (Everyone is counted twice because they'll be counted twice as missionaries in a two-year mission.) The blue line gets at the second question. It's the number of missionaries in a given year as a fraction of the number of births 19-20 years prior. Again, there isn't data for this latter value beyond 2007 because "children blessed" was last included in the statistical report in 1988.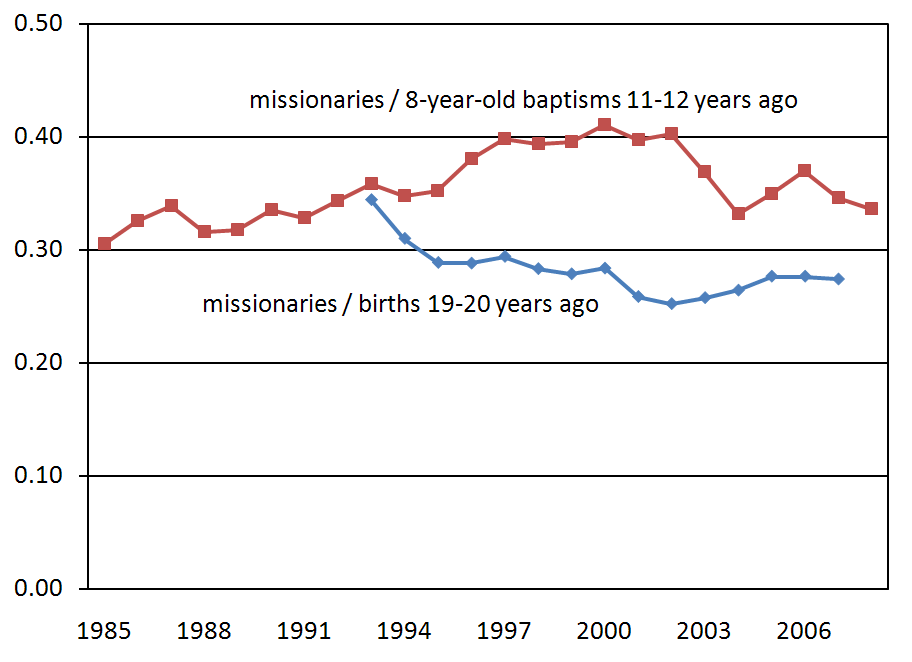 This analysis ignores at least four groups of people. First, women who serve missions don't serve until they're at least 21, so looking back 19-20 years to birth or 11-12 to baptism isn't going to include them. Second, converts who serve missions won't be included in either the blessing or baptism numbers. Third, men who serve missions but leave when they're older than 19 won't be included. Finally, senior couple missionaries will of course be missed.
Given that the numbers of people in these groups is not zero, and is not likely even near zero as a proportion of the total missionary force, it would be wrong to think that the fractions in the plot could be taken literally as fractions. For example, the leftmost red point does not actually suggest that 30% of children baptized as 8-year-olds in 1973-74 went on to serve missions in 1985.
If, however, we make the weaker assumption that the number of people in these four missed groups is fairly constant across time, then the relative sizes of the values in the plot might be meaningful. Having offered all those caveats, I actually don't have a whole lot to say about the plot except that I'm a little surprised at how flat these values are across time. The baptism to mission retention line (the red one) even appears to have been increasing through the late 1990s, although it's flattened out and declined since then.
Finally, here are a few random thoughts that came up while I was putting the data set and plots together.
I am surprised at how sloppy some of the record keeping appears to be. I am far from the first person to notice this, but you can estimate the number of members lost to death, resignation, and excommunication each year by looking at the change in total membership versus the number of baptisms. For several years, this is a negative number, which should be impossible. And not just a little negative. In 1989, it was -186,000. You might blame this on badly trained clerks, and I guess that's possible, but my guess would be that if clerks were off, they would tend to be off in random directions, and would therefore cancel each other out. To make an error this big really requires mistakes at the top of the record-keeping chain.
The yearly statistical report used to contain a lot more interesting information. Look at the 1973 Statistical Report, for example. It has birth rate, death rate, and marriage rate. It tells how many members held each priesthood office, as well as Relief Society, Sunday School, and primary enrollments. It has counts of temple ordinances performed. Think of the fun we could have speculating with numbers like that now!
Related to the previous point, it appears to me that parts got cut out of the statistical report as they became bad news. For example, take the birth rate. It was increasing from 1973-1977, leveled off in the early 1980s, fell dramatically in 1983, and hasn't been reported since. Or the number of children blessed. It increased through the early 1980s (with convert baptisms fending off the flattening birth rate), but then fell from over 120,000 per year to the 90,000 range. After a couple of years in the 90,000s, it was gone. Also, the number of temples was reported through 1985, when it had nearly doubled in three years, and then wasn't reported again until 1998, when the most recent temple-building boom began.
I mentioned that the death rate used to be reported. I applied it to the total membership count and tried to match that up with the estimate of number of members lost mentioned in my first point. Some years it matched up quite well, which you would expect, I think, since likely far more members are lost to death than resignation or excommunication. For example, in 1983, the estimated number of members lost was 23,419 and the estimated number of deaths was 21,600. But that was an exception. 1980 was more typical, with an estimated membership loss of 77,000, but only 18,088 estimated deaths.
This is getting back to the issue of sloppy records, but I wonder how many of the oddities in these data are the result of re-definitions of the categories. I know this is an endless problem for social scientists doing longitudinal (over time) data collection, and even more particularly when they look at archival data. Change the definition of things and the counts or measures will jump all over the place, even if the underlying phenomenon remains constant. This year's jump from five years in a row of 90,000-100,000 8-year-old baptisms to over 123,000 seems like it must be the result of some definitional issue like this. Did they decide to count 9-year-old children of members who were baptized as child of record baptisms? If I recall correctly, in my mission at least they were counted as converts once they were 9, regardless of whether their parents were members or not.
The Church has hugely detailed membership records, and should be able to do all kinds of interesting studies about what makes for active adult members. In fact, I'm sure they do those studies but they just don't report them to us. For someone like me, they know, or could figure out, how big my ward was as a kid, as a teen, and as a young adult. They could figure out how many other kids were my age, how far I lived from the church building, how active my parents were, and perhaps even through matching records from different sources, how often I went to seminary. I would find it interesting to be able to poke through all these data and see what kinds of relationships turned up.
Okay, enough from me. I'd love to hear any interesting information or speculation you have on these numbers or any of the questions I've raised. And if you want to see more plots, let me know and I'll try to put them up.